Pool Tiling Costs
Pool tiling averages about $15,000 but can get as high as $70,000 for large pools with luxury materials. Basic materials like porcelain and ceramic average between $2,000 and $4,000 for a standard sized pool. Glass and mosaics can run you up to $50 or even $100 per square foot. Average labor rates fall between $4 and $32 per square foot or $30 to $120 per hour. To install replacement tile, the price ranges from $2,500 to $5,000, although the final cost depends on materials used, pool size, and overall labor.
Pool Tile Cost Per Square Foot
Standard pool tiles, such as stone, porcelain, or ceramic costs between $1 to $35 per square foot. Premium tile selections fall between $35 and $100 per square foot for high-end ceramics, glass, or handmade murals.
| Types | Cost Per Square Foot |
| --- | --- |
| Granite | $5 - $6 |
| Marble | $10 - $20 |
| Travertine | $3 - $30 |
| Limestone | $2 - $11 |
| Glass | $7 - $50 |
| Mosaic | $75 - $100 |
| Ceramic | $1 - $35 |
| Porcelain | $1.60 - $56 |
Natural Stone
Natural stone tiles cost anywhere from $5 to $30 per square foot for granite, marble, travertine, or limestone.
Granite: $5-$6 per square foot; durable, bold texture, affordable
Marble: $10-$20 per square foot; sleek finish, variety of colors, less durable than granite
Travertine: $3-$30 per square foot; durable, prone to staining, cost-effective
Limestone: $2-$11 per square foot; affordable, variety of colors, durable
Make sure stone units are at a maximum of 2 inches wide. Sizes greater than this may not fit your pool accurately, leading to additional natural stone tile repair costs.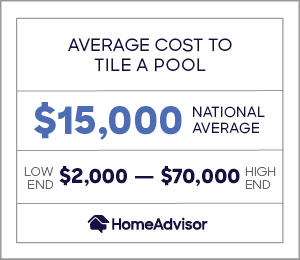 Glass Tile Pool Cost
The cost of glass tiles range from $7 to $50 per square foot due to their popularity and beauty. Depending on the type of finish you choose like mosaic or murals, it's common to see prices between $75 and $100 per square foot.
Additional factors when considering this material are durability and installation. The material is prone to developing cracks and chips from temperature changes and normal wear and tear. Also, the installation process can be damaging if surfaces are uneven or installers aren't familiar with the material.
Ceramic or Porcelain Tile
Ceramic tiles cost between $1 to $35 per square foot, and possibly more for those with a mural finish. They are durable and simple to maintain. With proper installation, a ceramic finish can last up to 75 years, as opposed to other materials lasting between 10 to 20 years.
Porcelain tiles fall between $1.60 and $56 per square foot or about 60% more than ceramic. They're more expensive because they have a higher density and greater durability.
Having trouble determining how many tiles you'll need when budgeting? Let our porcelain and ceramic tile calculator help you calculate tiles by square footage.
Get Quotes for Your Pool Tiling Project
Pool Tile Installation Cost
Aside from the cost of tiles, average tile installation costs fall anywhere from $4 to $32 per square foot or between $30 and $120 per hour with respect to the difficulty of the project. Factors that impact the final rate of a certified, professional tile installer include the surface material of the pool, the type of tile chosen, and the size of the pool.
Cost to Replace Waterline Tiles in Pool
It costs an average price of $25 per linear foot to replace waterline tiles, with respect to the additional cost of materials. The removal process is less demanding since the entire pool doesn't have to be drained. Plus, waterline tile is fixed to the outside surface of the pool rather than inlaid tile that's molded with the pool's surface to create an even finish.
Tile Pool Cost
Tile pool interiors fall between $15,000 and $70,000 with materials and installation, on top of the price of pool base. Before your tiling project begins, install the concrete or fiberglass foundation base and walls. In-ground pools cost between $35,000 and $65,000.
The cost to repair a vinyl pool liner is modest, but they must be replaced every 15 to 20 years, so installing tile over the vinyl, even at the waterline, creates issues in the long-run.
Other Types of Pool Finishes
Plaster or aggregate finishes are cheaper than tile, but lack diversity.
Plaster: $3.60-$4 per square foot to install; great for concrete pools, bland appearance.
Aggregate: $4.75-$5 per square foot; durable, visually appealing.
Check out our guide for information on other pool refinishing costs.
Get Real Quotes From Local Pool Tilers Near You
Cost to Retile a Pool
Retiling an entire pool costs anywhere from $2,000 to $5,000. Initial tiling is more expensive because of the amount and cost of materials used. In addition, the cost to repair a swimming pool cracks, hollow spots, or bubbles increases the total price to accommodate resurfacing beforehand.
Concrete removal costs range between $500 and $1,500 and are also important to consider throughout the repair process.
Individual Pool Tile Replacement Costs
Replacement costs for individual tiles or small sections are around $25 per square foot. This does not include the price of the materials needed per square foot.
Average Cost of Pool Tile Repairs
Determining an average cost for pool tile repairs in your area comes down to the seriousness of the damage and size of the affected area. Cracks to individual tiles may incur modest charges, whereas breeches in the foundation can result in a complete concrete resurfacing costing between $10,000 and $20,000. After inspecting the areas of repair, it's best to consult with a professional to calculate a firm estimate since situations may vary.
Need To Hire a Pro To Retile Your Pool?
DIY vs. Hiring a Tiler
You may be able to pick out your own tiles but installing them is a job for a professional familiar with the process. Your goal is to conserve materials and make the most of your investment, so your decision when hiring a tiling contractor should reflect those priorities.
Something else to consider is that an experienced pool tiler can suggest tile options for you according to your pool specifications and budget. If you're unsure of what materials to choose, consult with a local pool tiler to answer your questions.
FAQs
How much does it cost to tile a small indoor swimming pool?
The cost to retile a small indoor swimming pool of about 600 square feet is roughly $12,000. This estimate assumes a material price of $5 per square foot and a median labor cost of $15 per hour. Of course, this estimate is subject to the type of material chosen, the price of labor from a contractor, and the size of the pool.
What type of tile is best for my inground pool?
One type of tile isn't necessarily better than another for your in-ground pool. Ask yourself the following questions before purchasing tile.
What styles do you like best?
What's your final budget?
How long do you want it to last?
What qualities are you looking for?
Glass tiles offer a beautiful look, but they lack durability over time, whereas ceramic tiles have the best lifespan and offer a higher density. Consider your preferences and compare the pros and cons of each type before deciding. You may also want to consider these questions when deciding to install a pool as a remodel of your home.
How much are pool mosaics?
Pool mosaics are the most expensive tile option. Glass or ceramic mosaics can run between $75 to $100 per square foot and tiling an average sized pool costs between $30,000 to $60,000, not including labor.
How much does pool tile cleaning cost?
Pool tile cleaning costs vary depending on the type of process chosen.
Bead blasting: $400 with an additional $4 per linear foot above that price.
Soda blasting: $10 per linear foot. Between $500 and $1,200 per pool.
How do I clean calcium deposits off my pool tiles?
Calcium deposits, such as calcium silicate and calcium carbonate,require a hydrochloric acid solution and a pumice stone to remove. For light stain removal, a household toothbrush and any of the following cleaning supplies will work:
Baking soda
Toothpaste
Vinegar
Dish Soap
Cleaning your pool is a full-time job and the last thing you want is to work harder than you must. To save yourself some time, here are a few mistakes to avoid during pool maintenance.
Find Pool Tiling Contractors In Your Area
Thank you for submitting your feedback.