The average price to install an above ground pool is $2,322. Homeowners most often pay between $744 and $4,038. Kits bought from big box stores can be an affordable DIY project. For a longer-lasting pool, expect to pay more for leveling, installation, hook ups, and equipment.
Above Ground Pool Prices

| | |
| --- | --- |
| 12' round | $1,030 |
| 15' round | $1,650 |
| 18' round | $3,000 |
| 24'x12' | $2,400 |
| 33'x18' | $3,200 |
| 41'x21' | $4,400 |
On This Page:
You want a pool, but you don't want to deal with the processes of installing a built-in. You just want something to splash around in. If this sounds like you, it's time to check out above-ground pools.
These pools have several advantages over built-ins. Among them are:
They are cheaper than built-ins by a significant amount.
They get installed a lot faster, sometimes in as little as one day.
They can be smaller than a built-in, allowing them to fit in almost any size backyard.
If you relocate, you can take the pool with you.
Maintenance and repairs are easier because everything is above ground.
As they are not considered a structure, they won't increase your property taxes.
They are easier to secure if you have small children or pets.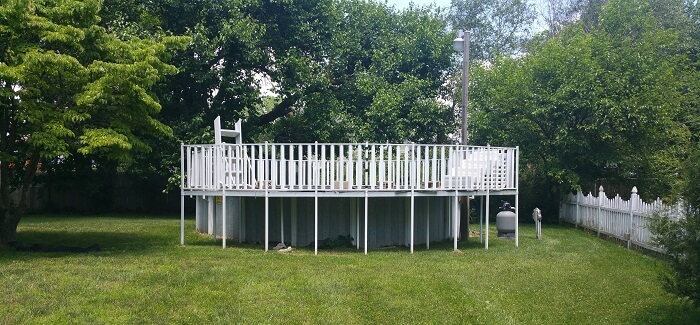 Average Above Ground Pool Prices
Size is the biggest factor in determining your cost. The manufacturer and whether you have it professionally installed or do it yourself will be the other big factors. While there are some large inflatable pools available for a few hundred dollars, they are usually only good for a couple of seasons or so. Here are some average sizes and costs of sturdier above-ground pools:
12' round - $1,030.00
15' round - $1,650.00
18' round - $3,000.00
Round isn't the only shape available. Some are oval or rectangular and have length and width dimensions to rival a built-in. Some common sizes of oval pools are:
24'x12' - $2,400.00
33'x18' - $3,200.00
41'x21' - $4,400.00
The actual cost will vary depending on the depth of the pool and the manufacturer. The choice to go round or oval doesn't have much effect on the cost.
Pool Kits and Installation
The above costs are for the pool only. This usually includes the pool liner, sides, and edging as well as a pump and ladder. These pool kits are designed for the average DIYer to install in a day or two. Some handy DIYers install the pool and then build a deck around it for a truly custom look.
Some people prefer to have a professional install their pool. Because this involves leveling the ground, laying down sand, and running electricity to your pump, this can cost another $1,000.00 to $3,000.00. However, if you decide to install it yourself, you might spend around $200.00 on leveling sand and food and drinks for your buddies who have come to help.
Keep in mind that some companies sell kits but don't offer installation. Decide beforehand if you want someone else to do the work and ask up front. Be sure the work as well as the pool is warrantied.
Need more information on this pool installation? Get a quote today.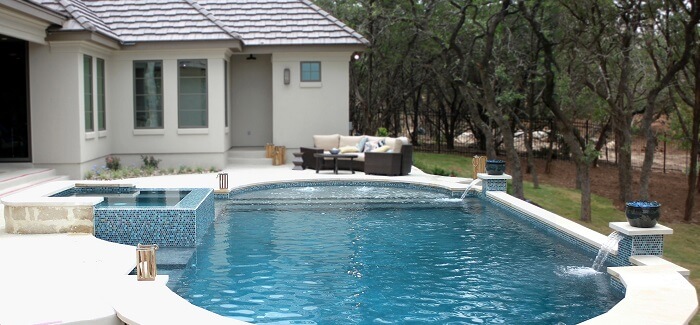 by Emerald Pools and Spas. San Antonio, TX.
Features and Add-Ons
While pool kits generally include a pump and ladder, there are other things you might consider for your pool. Whether you plan to use it for relaxing, partying, or exercising, there are plenty of options to suit your lifestyle.
Heaters
Adding a heater to your pool helps keep it viable much longer than normal. If you live in warmer climes, you can keep your pool open year round. They generally cost around $300.00 to $700.00, and can be gas, electric, or solar. This is another area where this luxury is much cheaper than typical pool heaters.
Winter Covers
If you do have to close your pool for the winter, a winter cover is a necessity. Not only do they keep leaves and debris from your pool, some can also double as safety covers. (Check before you buy. Not all are safety rated.) These covers start at below $100.00 and fit your pool's shape. If you buy a winter cover, you may want to consider pool pillows. These float on the water and support the cover, helping ease strain on it. They cost about $10.00 each and many are freeze resistant.
Lighting
Lighting isn't just for built-ins and spas. Underwater and floating lights are available that can illuminate your whole pool. They range in price from $30.00 to $113.00 depending on wattage, manufacture, and features such as solar chargers, color lighting, and fountains. Some even turn off automatically after a certain time.
You've seen them installed on home improvement shows like "Insane Pools", but you can also have them for your above-ground pool. Some floating lights have integrated fountains, but a stand-alone fountain can be had for around $30.00 to $60.00.
Waterfalls are usually associated with built-in pools, but with a little imagination and landscaping, you can add a waterfall to your above-ground pool for as little as $130.00 not including what you do for the landscaping.

by Summit Construction Solutions, Inc. Deltona, FL.
Decking
Adding a deck to your pool adds a touch of luxury. If you buy a deck kit, you will pay around $1,500.00 to $4,500.00 plus installation. Installation can run another $1,000.00 to $3,000.00. If you decide to build your deck yourself, consult Home Advisor's cost guide for designing and building your own deck.
Ready to install an above ground pool? Hire a professional & start today.
Other Considerations
Before you make your final decision, there are some other considerations to take into account.
Permits and codes. There may be limitations on where you can place your pool in relation to power lines, underground utilities, etc. Many communities require permits for installing a pool. Check with your local authorities.
Existing landscaping. Does your ground slope or are there large trees or rocks in the way? You will have to pay to have these removed or relocated. Some communities have codes regarding tree removal.
Pool purpose. If you just want a personal relaxing retreat, you might not need much in the way of a pool. If you want it for entertaining or for the kids to play in, you may want certain features like a safety ladder to keep children from getting trapped behind it or colored lights and fountains for a festive look.
Will this affect insurance? Check with your insurance carrier as to how installing a pool will affect your rates. In general, guests are covered for injuries that may occur while using the pool, but the pool itself is not covered. Many will require you to put up a protective fence or child-proof gate before they'll even consider coverage.
What about my property taxes? Above-ground pools aren't considered structures by most communities. They don't normally affect your property taxes any more than adding patio furniture.
Electrical requirements. Your pump and filter will need electricity to run. You must use a 110/20 amp dedicated line and the pool must be bonded and grounded. Electrical requirements might be different if your pool is considered "storable". Check with the manufacturer and consult a professional electrician to make sure everything is safe.
Soil stability – Though some people recommend putting your pool on a hard slab, this isn't very comfortable. When you excavate the surface of the soil for the leveling sand, take a tamper to it and pack it down before adding sand. The weight of the pool may cause the soil to settle after a while, but pre-tamping it will help mitigate this.

by Wolbers-Possehn Pools, Ponds & Landscapes, Inc., Ionia, MI.
Pool Maintenance
There's no way around it; pools require maintenance. Maintaining your pool is not difficult, but it can be a little time consuming. Fortunately, it can be summed up in five steps:
Skim the pool regularly. Debris will fall into your pool no matter what, and skimming it will keep larger particles from getting into your filters and/or decaying and contaminating your water.
Clean out your pump filter. A skimmer can't get everything, and that's what pump filters are for. You may have to replace your filter once per year depending on pool use. If these get clogged, your pump may stop working and your water will be unsafe for swimming.
Clean your pool. Take a soft-bristled pool brush and sweep the bottom and sides of the pool. This will knock any stuck debris loose. A pool vacuum can then be used to vacuum it all up.
Test the water. A pool test kit is a must to make sure you have the proper balance of chlorine and other chemicals. Follow the instructions exactly and keep up on this to make sure your water stays safe to swim in.
Add chemicals as necessary. Following the directions in your test kit, add what is needed to bring your pool into balance.
The total cost to maintain your pool year after year can be less than $100.00 per year, not counting one-time purchases of a skimmer ($7.00), brush ($7.00), and vacuum ($23.00). Professional services are available to keep your pool maintained, and they cost from $85.00 to $150.00 a month, depending on the size of your pool. However, they usually also provide winterizing your pool and preparing it for the start of the swimming season.
Properly maintained, your pool should last 6 to 10 years.

by Dig-M-Installers, Inc., Middle River, MD.
In Conclusion
Adding a pool is a great way to bring the family together during hot summer days, or to simply relax after a long day. Above-ground pools make this attractive feature very affordable and are a worthwhile investment.
Thank you for submitting your feedback.