Cost to Install or Replace a Pool Heater
The average cost to install a pool heater is $2,834 with a typical range between $1,786 and $4,000. Labor alone runs $500 to $1,500 in most cases with the heating unit making up the rest of the cost.
Heat pumps and electric resistance hit the high end at $2,000 to $5,000+ with electric and gas types coming in at $2,000 to $4,000. Depending on type, running the heater costs an additional $100 to $600 per month.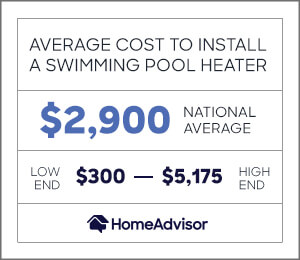 A heater lets you enjoy your watery oasis well into the cool months and late into the night. Climate's your biggest cost factor. For example, it's going to take a far larger heater burning more fuel in Minneapolis, MN than it would in Phoenix, AZ. Your first step should be to contact a professional who can help you determine the best kind of heater for your local climate and budget.
Thank you for submitting your feedback.