Most ceilings lack dimension, texture and drama. They consist of a plain painted surface — sometimes with slight texturing — but it's possible to incorporate your ceilings into your home's overall design by adding architectural interest. A coffered ceiling is one of the most popular choices to do just that.
On This Page:
Coffered Ceiling Costs
Coffered ceilings do not look cheap and that's because they aren't. However, they pay back greatly in aesthetic appeal and resale value since they add a touch of luxury to any plain room. The cost to install coffered ceilings varies depending on the type of wood and the size of the room, but is usually about $25 per square foot. For a basic ceiling of 150 square feet, the total cost may be around $3,750. Installation costs are high because the work is extensively customized and has to be done by a master craftsman.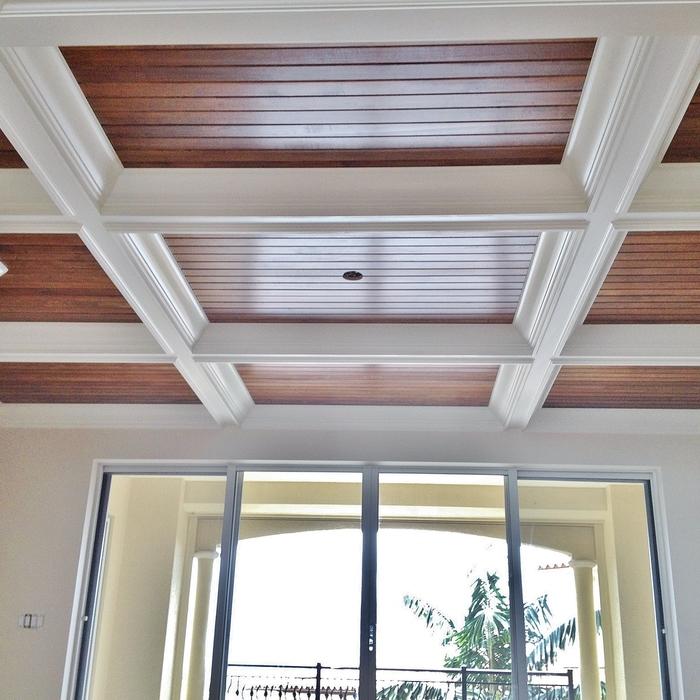 Photo courtesy of William Bennett Carpentry, Inc. in Naples, FL
Types of Wood and Their Costs
The type of wood you choose to create the crossbeams will influence the total cost of the project. If you want to save money, you might use a synthetic material instead of wood. MDF (medium-density foam), fiberboard and particle board all cost less than wood, but won't detract from the visual appeal of your ceiling if you paint it rather than stain it.
Real wood offers several advantages over synthetic substitutes, however, including:
Stability: Wood is stronger and more durable.
Stainability: If you want to show off wood grain with stain, you'll want real wood.
Value: When you use solid wood for architectural elements, your home's value increases.
Status: Many homeowners feel better about solid wood.
MDF, fiberboard and similar materials cost between $3 and $20 for each 4-by-8-foot sheet. Solid wood prices vary considerably depending on the species. Average prices for the most common unfinished, raw solid woods include:
Mahogany: $6 to $28 per board foot
Cherry: $7 to $15 per board foot
Red Oak: $8 to $34 per board foot
In addition to wood's increased cost, you will probably have waste when you work with solid wood. Warped, knotted or otherwise damaged boards cannot be used on coffered ceilings, so these waste pieces might add to your overall project budget.
The main disadvantage to wood beams on a coffered ceiling is the potential for swelling, shrinking and warping. Because solid wood is more susceptible to temperature changes and humidity levels than wood alternatives, it's important to maintain temperature control in the home where it is used.
You can also use drywall and plywood to build coffered ceilings. Drywall costs an average of $9 to $10 per sheet (32 square feet per sheet), and plywood costs between $7 and $25 per sheet, depending on the thickness and size. You'll spend less money if you use drywall and plywood, especially if you intend to paint the ceiling once it's installed.
What is a Coffered Ceiling?
The word coffered comes from the Old French word for box (coffre) and refers to the boxy construction used to make a coffered ceiling. This type of ceiling resembles a grid; beams attached to flat panels criss-cross the ceiling in horizontal or diagonal lines. The installer uses wood, medium-density foam or fiberboard planks to create the grid pattern, then adorns the panels and beams with molding and other decorative elements based on the homeowner's preferences.
Also called a sunken ceiling, a coffered ceiling adds dimension and texture to a space. It lowers the ceiling by the depth of the beams, which can foster a more intimate environment. When constructed professionally, coffered ceilings look like they're part of the home's original construction instead of an add-on.
You can build a coffered ceiling in one of three patterns:
Straight: A straight coffered ceiling features boxes (coffers) that run parallel to the edges of the walls.
Diagonal: Turning the coffers 90 degrees creates a diagonal coffered ceiling so the boxes resemble diamonds.
Octagonal: These coffered ceilings usually feature a large octagon in the center of the room with straight beams or coffers radiating out to the edges of the room. Repeating octagons also form a coffered ceiling.
A coffered ceiling painted or stained a single color creates a neutral, spacious backdrop. Add
contrasting or dark colors to create a more dramatic look. Homeowners can also choose whether to match the existing molding or trim in the room or to use a contrasting finish. In some cases, these ceilings serve practical purposes as well as aesthetic ones. For example, if you install them on an existing house, you can run wires or cables through them rather than across the floor or along the wall. Coffered ceilings can also disguise imperfections in the ceiling or correct a slope.
Some homeowners claim that coffered ceilings reduce echoes in homes with high ceilings. The coffers eliminate the ceiling's flat surface so sounds don't bounce off it as much. If you have trouble with noise control in your home, a coffered ceiling might offer a solution.
Because you have total control over your ceiling's design, you can create a completely unique aesthetic in your home. This is especially useful if you live in a neighborhood with similar home designs on multiple lots. Several features can influence the way a coffered ceiling looks:
Depth: Deeper beams make the recessed panels more pronounced.
Molding: Scalloped, ridged or other decorative edges lend an ornate appeal to the ceiling. Plain beams, on the other hand, look modern and refined.
Width and Height: Smaller panels make the ceiling seem busier and more textured, while larger panels give the illusion of more space.
Area: Install coffered ceilings over a larger area for greater impact or draw attention to a smaller space.
You have almost limitless options in terms of design and aesthetic. Consider allowing your home's style and period to dictate your coffered ceiling's design.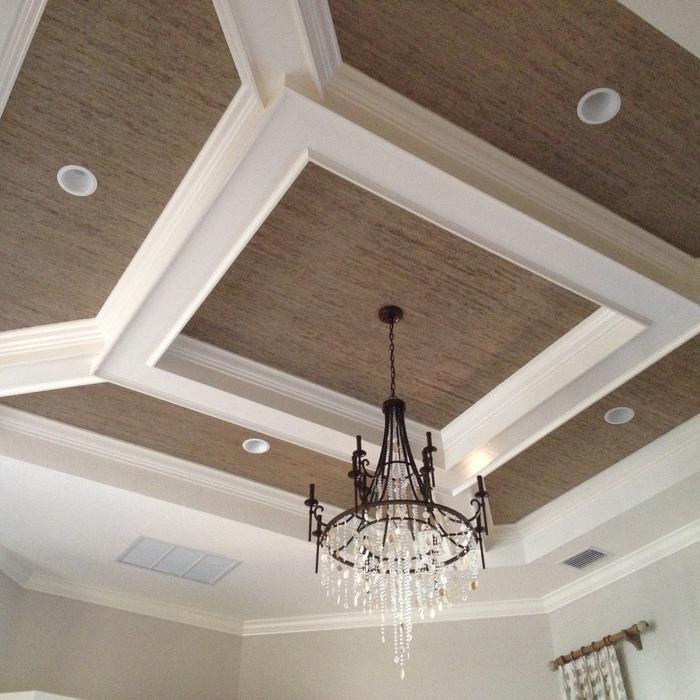 Photo courtesy of William Bennett Carpentry, Inc. in Naples, FL
Where Should I Install Coffered Ceilings?
Coffered ceilings look refined and sophisticated in any room. Choose a single room to give that space a more elegant treatment, or install coffered ceilings throughout your home. Some of the rooms in which they make the biggest impact include:
Living and great rooms
Studies, home offices and libraries
Master bedrooms with high ceilings
Dining rooms
Home entertainment rooms or theaters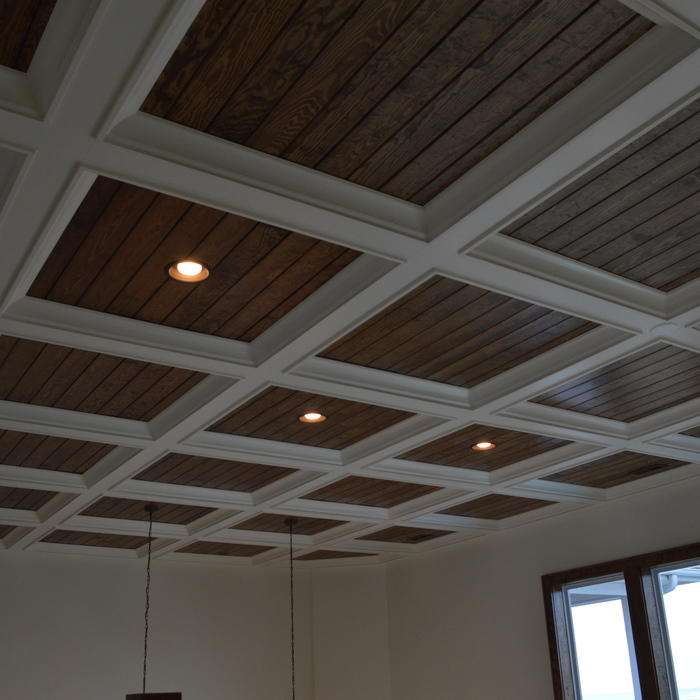 Photo courtesy of Artisan Kitchen And Bath Remodeling in Leland, NC
Coffered Ceiling Extras
A plain coffered ceiling consists of nothing more than panels and beams. However, you can add other decorative elements to make your ceilings unique and impactful. Although these extras add to the cost, they can increase your home's resale value.
Soffits: If you want your ceiling to drop lower than the depth of the beams, consider installing soffits underneath the ceiling. A soffit lowers the ceiling and creates a more intimate space. This is particularly useful for large rooms with high ceilings, which sometimes feel cold and too open.
Tin Tiles: Installing tin tiles between the ceiling beams adds texture and detail to the panels. The impact is like that of tin tiles on Victorian- or Edwardian-era buildings. Use new or vintage tiles to add visual interest to the ceiling.
Medallions: If you want to suspend a chandelier or other light fixture from your coffered ceiling, consider attaching a ceiling medallion in that space. Your light fixture will seem like more of a focal point than an afterthought.
Trim and Molding: Give your beams more dimension with decorative trim or molding. You can attach these elements to the sides and base of each beam. If the room already features trim, you can match it or use something different.
Paint and Stain: Use paint and stain colors to add drama to a space. Your coffered ceilings will stand out more if they feature an unusual color or tone. Alternatively, paint them the same color as the walls to create a more uniform look.
Recessed Lights: If you want more direct lighting, recessed lights installed in the panels or beams will flood the space with light and make the coffers seem more intentional.
Finials: Small finials or medallions installed at the intersection of each set of crossbeams will also add dimension and visual interest.
Variation: If you use coffers of different sizes, you'll create an unusual design. For instance, the coffers might get smaller as they approach the center of the room.
Combinations: You might combine a coffered ceiling with a tray ceiling. Use the ceiling's central recessed area for the coffers, then add matching molding around the tray area.
If you aren't sure what type of design appeals to you most, consult with a contractor and ask his or her opinion. In many cases, the design possibilities depend on your room's shape, height and other qualities. For example, bump-outs (such as fireplaces) often complicate coffered ceiling designs.
DIY Coffered Ceilings
If you want to install coffered ceilings in your home, you can hire a professional or do it yourself. The DIY approach might appeal to you because of the potential cost savings, but consider these factors before you make your decision:
Safety: Working on a ceiling requires you to get on a ladder. If you fall, you could seriously injure yourself. Tall, vaulted or cathedral ceilings make this even more dangerous.
Mistakes: While you'll save money on labor, mistakes could set you back in the budget department. Hiring a professional ensures it's done right the first time with minimal material costs.
Equipment: You'll need power tools to create and install your coffered ceilings. If you don't have them in your garage, renting or buying them will add to the project cost.
Speed: If you want to enjoy your coffered ceilings right away, hire a professional. It will take several weeks for you to install them unless you can devote yourself to the project full-time.
If you still want to take the DIY approach, look for plans online or buy a book that details the process. If you try to create a design from scratch, you'll likely waste hours with mistakes and frustrations.
8 Coffered Ceiling Design Ideas
When you're ready to create a coffered ceiling, spend some time looking for inspiration and design ideas. The right design for your home might be different from that of your best friend's or family member's home.
1. Take a Modern Approach
If you're drawn to crisp, clean lines and minimalist spaces, create a simple drop ceiling with squared-off beams and no ornamentation. Chunkier beams will give the ceiling more weight, while thinner beams make the ceiling appear higher and more spacious.
2. Think Outside the Square
One advantage to MDF is the opportunity to use alternative shapes. Create a coffered ceiling made of circles or other rounded shapes rather than squares. Use thin pieces of MDF, plywood or a similar material so the beams rest almost flush against the ceiling panels. Let the gaps between the circles function as negative space to provide a little breathing room.
3. Work on the Diagonal
If you want to create a unique coffered ceiling without the squared-off look, consider installing beams in diagonal lines of varying lengths across the ceiling. If you paint or stain the beams a different color than the panels, the geometric shapes you create will stand out.
4. Frame the Panels
For extra dimension, frame or trim the panels with thin molding material. It will create the illusion of a double-coffered ceiling and add a greater sense of opulence to the space.
5. Use Three Colors
Paint the ceiling panels one color, the beams a second color and the molding a third color. You'll create depth and visual interest. Consider installing recessed lighting in the center of each coffer for dramatic effect.
6. Cover Panels With Wallpaper
If you love patterns, use your favorite wallpaper to give your panels extra impact. Paint the beams and trim a neutral color so your wallpaper stands out.
7. Incorporate Architectural Elements
If the room where you plan to install coffered ceilings features a unique architectural element — such as built-in bookshelves, archways or a large fireplace — incorporate it into the ceiling design. Ask your contractor how to make it so the ceiling beams look original to the house.
8. Plan for Furniture
When you already live in your home, building coffered ceilings allows you to plan the space based on where you keep your furniture. Consider designing the coffers so they reflect your seating arrangement in the living room, for example. You'll create a focal point and naturally lead the eye into the most important part of the space.
A coffered ceiling gives your home more character and variety. Whether you hire a professional contractor or do it yourself, take time to plan the design so you never tire of the decision you made.
Thank you for submitting your feedback.