June 4, 2021
Reviewed by Robert Tschudi, Home Building & Remodeling Expert.Written by HomeAdvisor.
Popcorn Ceiling Removal Cost
On average, the price to remove a popcorn ceiling falls between $1 and $2 per square foot, with the average homeowner spending around $1,848. Most homeowners spend between $899 and $2,840 on the project. Texture, painting or other options like decorative tiles will add extra to the overall budget in addition to getting rid of the original finish.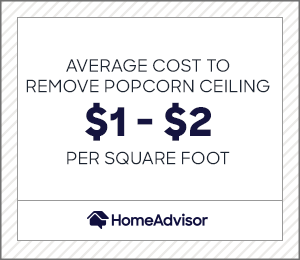 Remove Popcorn Ceiling Costs
Removing popcorn ceilings costs $899 and $2,840, or $1 to $2 per square foot. Whether for a remodel, before selling a home or after buying a home, individuals may want to get rid of popcorn ceilings from an existing structure. While the process can be relatively straightforward in some cases, it can be more challenging if there is asbestos present in the popcorn ceiling material. Consider consulting a licensed professional for a safe and successful removal.
| | | |
| --- | --- | --- |
| Labor for removal | $1-$2 | $500-$1,000 |
| Supplies, including a scraper, ladder, protective gear | $0.10-$0.15 | $65-$75 |
| Debris disposal removal | $0.30-$0.35 | $148-$168 |
| Ceiling painting | $0.80-$2.15 | $440-$1,055 |
Popcorn Removal Rate Per Hour
Basic labor, including scraping and disposing of the debris, planning, area preparation, and cleanup will generally run homeowners between $15 and $40 per hour when hiring a professional. It could take up to 20 hours of work for a 500-square foot space, averaging between $300 to $750.
The average amount you can expect to pay for removal is only one piece of the puzzle. Understanding everything involved in this project can help you build a more accurate budget. It's also important to know that these prices vary among contractors and locations.
Compare Local Estimates For Popcorn Ceiling Removal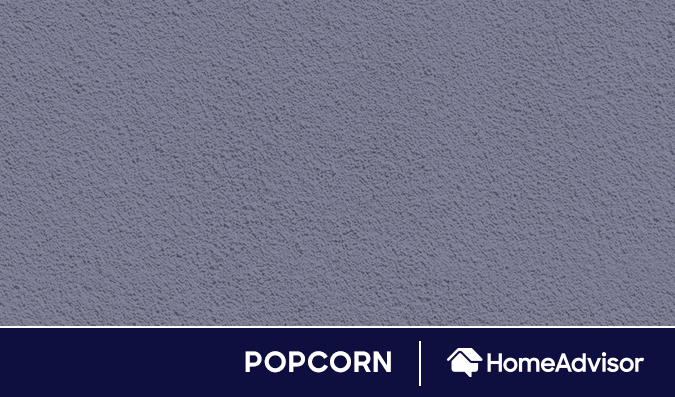 Cost Considerations & Options
As you plan for the project, it's important to consider all your options and potential for hidden problems that could affect your bottom line. For example, if your popcorn ceiling contains hazardous materials (asbestos), you could be looking at a more complicated and expensive project. Additionally, if budget allows, you could opt for something other than a simple scrape job to give the finish a super-smooth or subtle look.
Another added cost is if the popcorn ceiling has been painted (paint over original popcorn ceiling installation). A painted popcorn ceiling is more difficult to remove, and the cost will increase by 50% or more.
When you're budgeting for this project, it's a good idea to leave extra room in case your ceiling tests positive for asbestos. The extra work required will typically run you anywhere from $3 to $7 per square foot, up to $2,750 in additional fees depending on the extent of the problem and size of the space.
Asbestos is an insulating, fire-retardant material that provides acoustic and thermal insulation. Because research has shown that the tiny fibers can be easily inhaled and create serious health risks, disposal of this building material requires special safety procedures and standards. Before 1977, it was both legal and common to use asbestos throughout the home. If your home was built before that time, there is a good chance that it might have been used. Before removing the finish, it is important to test for asbestos, which will influence the process. To do so, the homeowner needs to spray water onto a portion of the area, remove a small sample and send it to a testing facility such as EMSL Analytical, a nationwide laboratory that offers convenient test kits, and lab fees start around $100. You can also contact an asbestos testing pro in your area for help.
One popular option for this project is having a contractor scrape the lumps and bumps off, lightly sand the surface and then paint over it for a smooth look. Hiring a professional painter costs typically run between $1 to $3 per square foot for labor and materials. Expect to pay anywhere from $30 to $200 in materials to do this yourself with a scraper, primer and new paint.
Removing a popcorn ceiling and replacing it with knockdown averages $1 to $2 per square foot in labor, materials and equipment, like an automatic texture sprayer. Depending on where you live and the square footage of your ceiling, you can expect to pay an average of $500 to $1000. Although, if you need to have any patching done the final cost will be higher.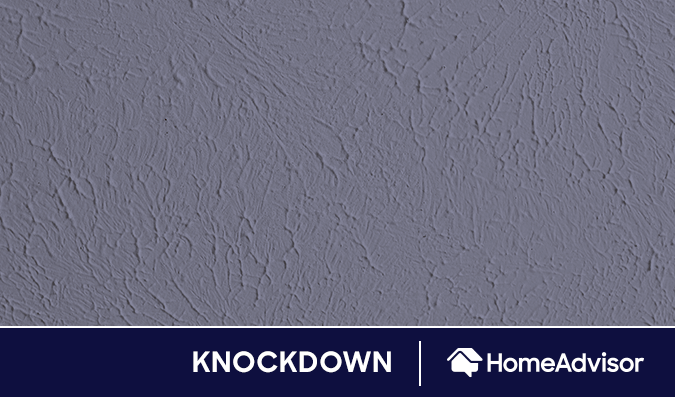 The whole point of the popcorn finish is to disguise surface flaws like warps, cracks or uneven areas. But, if you're like many homeowners and the dated look just isn't for you, finish with a texture sprayer loaded with unaggregated spray texture. The knobs and bumps catch dust and make the room feel smaller. Scraping the heavy texture and replacing it with a lighter knockdown finish will give you all the benefits of camouflaging imperfections without the dated look of popcorn. To apply the new finish, you or your contractor will need to scrape off all or most of the original finish, lightly sand the new surface and then apply the new, lightly textured knockdown.
Texture Option
Labor Cost Per SqFt
Details
Skin coat over popcorn
$1

much smoother texture
DIY-able
Can create additional weight that could compromise ceiling structure.

Smooth it over with drywall
$1.50

smoothest finish option
8'x4' x 1/4" panels sell for $10-$20.
Compound & joint tape: $8-$14

Install Santa Fe textured drywall
$1-$1.50

Low profile appearance.
Looks like two smooth layers with the lower layer showing through.

Decorative tiles
$5-$7

Ready-to-hang tiles and panels sold at most home improvement stores.
Placed over existing surface.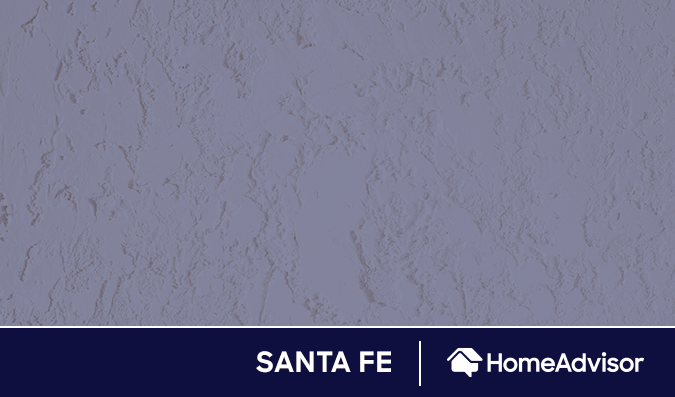 DIY vs. Hiring a Popcorn Removal Contractor
In a perfect world, this would be a messy, but relatively simple DIY project. After all, you only need a ladder, scraper, elbow grease and time to physically eliminate the old finish. However, it's a very messy project that involves a lot of dust and debris, and several potential hazards. If you have any doubt about whether your ceiling has asbestos, structural issues or if you lack time and experience with this sort of project, it's well worth the cost of hiring a professional.
Compare Quotes From Local Pros Near You
FAQs
What is a popcorn ceiling?
A popcorn ceiling goes by many different names, including cottage cheese and acoustic ceiling, but all the terms refer to an outdated interior, covered with a textured look and feel similar to popped kernels of the beloved snack. It sprays onto the surface, and it was incredibly popular throughout much of the 20th century. Today, however, many potential home buyers find the style unattractive and out of date.
Believe it or not, this was once a home trend for practical and design reasons. Spraying on the material was a stylish way to update the home between the 1930s and the 1980s, but it was also a way to cover up anything unsightly on the ceiling itself. Whether made from drywall or plaster, the texture hid nail holes, screws, uneven seams and any spots caused by water damage. Today, people are far more familiar with the various cons associated with this finishing style, like how repairs are expensive and time-consuming, and how its rough appearance makes it difficult to clean properly. The look is also outdated and may discourage new buyers.
When should I remove popcorn ceiling texture?
The texture should be eliminated from the home if it is cracking and in need of serious repair, causes the home to look outdated, there is a health concern related to asbestos, or if the homeowners are planning to sell their home in the future. Since repairing and even repainting can be expensive, it often makes sense to replace them altogether. Some homeowners may not have any real problems with their popcorn ceilings other than their look, but that is as good of a reason as any to replace them, budget permitting. This is especially true if the owner plans to sell the home in the future as these finishes can lower the value of a home and decrease the interest of potential buyers. Finally, asbestos may be a health concern for residents, and a complete removal may be the only solution.
Whenever possible, try to tackle this project before you move into your new home. That way, you won't need to cover or remove your possessions to protect them from dust and falling debris.
How do you remove popcorn ceiling?
How these ceiling covers get removed has a lot to do with whether they contain asbestos. If they do contain this hazardous material, professionals should be brought in to seal off the space and safely scrape the paint. Otherwise, the process can be half the price, and some homeowners might even tackle the job on their own. The texture simply has to be scraped off, and laying down a sheet of plastic on the floor makes cleaning up relatively simply as well.
What will my ceiling look like after the popcorn texture is removed?
It is important to keep in mind that a simple removal won't be enough to update the look of the home. Once it's scraped off, there may be visible marks, stains, nails and more that age the ceiling. The best course of action in this case is to re-texture it, sand it down for a flat and more modern surface, prime it, and then paint it in a color that fits in with the room's style and decor. Only after all these steps are completed, many of which are time-consuming and require professional equipment, can the ceilings be considered modern and stylish once again.
What are some ways to save on the cost of popcorn ceiling removal?
A primary concern for many homeowners is that removal will be a big expense. On average, popcorn ceiling removal comes with a price tag that ranges from $1 to $2 per square foot, with the average homeowner spending around $1,570. Having the finish textured and painted afterwards could certainly add to that amount. Some ways to reduce expenditures include removing furniture before professionals arrive, testing it for asbestos first to determine whether removal can be done safely without assistance, and handling the post-removal projects such as painting without professional help.
Get an Accurate Quote From a Local Pro
Thank you for submitting your feedback.