On This Page:
There's a reason tile is such a popular material for updating or renovating a bathroom. It comes with a variety of benefits which range from ease of cleaning to water resistance that ensures your walls, floors, and tub surround will last longer.
Of course, you can only take advantage of the many benefits of bathroom tile if it is installed correctly. Over time, tiles may break or the grouting may begin to erode. Whether you are looking to install new tiling or simply replace your existing material, this bathroom tile installation guide will help you improve both the function and style of your space.

Types of Bathroom Tile Projects
A major benefit of this material is its versatility. In fact, tile can enhance your bathroom in a variety of ways.
Floor Tiling
The most natural spot to add tiles to your bathroom is on the floor. Installing a new tile floor adds a style element as well as functionality. You can choose to go with a simple color or add patterns that enhance the design. But be sure to use tiles that are slip-resistent to avoid accidents. This article shows how you can complete this project in a single weekend.
Shower Tiling
Another common area to apply tiles is in your shower, which will improve the style and ensures that your actual walls remain safe from water. Adding tile to your shower allows you to carry the patterns and style of your floor to the wall. Here, some of the major advantage of the material – its resistance to water and ease of cleaning – come into play.
Tiling a Wall
Of course, tile is not limited to your floor or shower wall. This option takes the concept to a grander scale, allowing you to get creative. For example, you can add a backsplash to your vanity, or create a feature wall using a color and style that matches your taste.
Bathtub Tiling
What better way to integrate a bathtub into the room than by installing tiling around it? Surrounding your bathtub with tiles is similar to the shower option we suggested above. Protect your walls from water damage while simultaneously adding a style element that other tub surround options could not provide.
Types of Bathroom Tile
After determining which tiling project you want to undertake, you need to pick the materials best suited to your needs. Your options range widely, but here are the most common types of bathroom tiles and their best applications: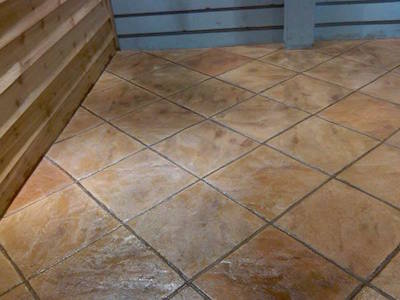 Ceramic
This is the most common type of bathroom tile because of its low cost and high degree of versatility. Ceramic tiles work well for shower and tub surrounds because of their high degree of water resistance, and their ease of cleaning.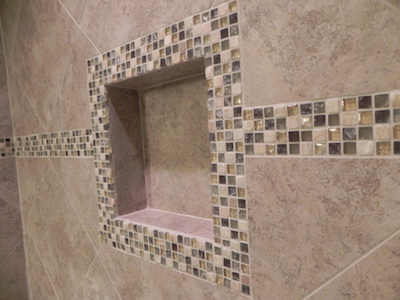 Glass
Glass tiles can be used to create a beautiful, single-colored shower area or mosaic feature wall, but should be limited to low-traffic areas. Avoid placing them anywhere they could be easily scratched or damage.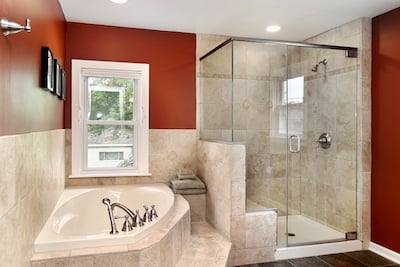 Natural Stone
It looks beautiful, but may not be as resistant to water as your other options. If you can't resist the look, restrict it to areas away from your shower or tub.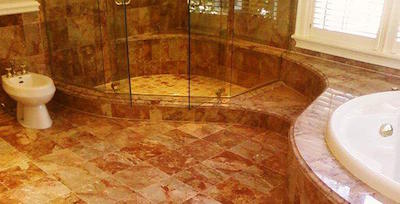 Granite
This material may be too heavy for some walls, but it's perfect as a flooring choice. It can also work to tie your bathroom floors to your vanity's countertops.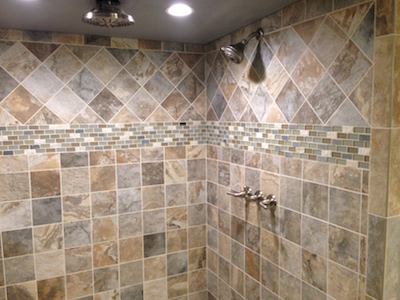 Marble
A classic choice for bathroom floors and walls, marble will resist all water while adding a beautiful design element. But its high cost is a sticking point that will make its choice dependent on your budget.
Ultimately, your choice of tile will come down to both individual preferences and your budget. Consulting with an installation expert or your local home improvement store can help you make a more informed decision.
DIY Steps
Taking on the project of upgrading your bathroom yourself can save you money, and – if you have some experience in the process – can be done in as little as a weekend. You do, however, need to keep in mind the time it takes for the tile and grouting to dry before you can use the bathroom. Here are some things to keep in mind:
The Materials You'll Need
A tape measure
Tile spacers
A notched trowel
Grout, grout release agent, and a grout float
A level
A sponge
Tile underlayment
Grout
Tile and grout sealer
Your new tiles
Rubber mallet
6 Steps to Tiling Your Bathroom
Prepare the surface. If you plan on tiling over existing tiles, make sure the surface is even before you start.
Take measurements and plan the exact layout.
Cut your tiles to fit your measurements and the size of the project (floor, shower, or tub surround) exactly.
Apply the thinset to the area to be tiled, no more than 3-4 square feet at a time.
Lay your tiles, using spacers to keep them evenly apart. Tap your tiles into place gently using a rubber mallet. If you've applied too much thinset, scrape it out using a screwdriver. Allow to set for 24 hours.
Apply the grout, and allow it to dry for at least 30 minutes. Clean any excess grout off the tiles using a damp sponge, but be sure not to wet the grout itself. Then, apply the grout sealer.
Professional Tile Installation
If you follow the steps above, you can install new tiles in your bathroom within a couple of days. But if you don't feel comfortable with that process, you may want to work with professionals instead. In that case, here's what you have to keep in mind:
The Cost to Install
The price of working with a professional contractor naturally varies based on both the material you plan on using and the size of the project. Bathroom floor tile, for example, can cost anywhere between $0.89 per square foot (ceramic) to $5.99 for the same size (polished marble).
Cost of labor also varies. Tiling the floor of a 130 square foot bathroom, for example, will cost between $1,000 and $2,000 depending on the contractor you choose. Generally speaking, estimating between $12 and $20 per square foot for a floor installation and $7 to $17 for a wall installation gets you in the right range.
How it Affects Your Bathroom
Any tile installation, but especially one that professionals handle, also means that you will not be able to use your bathroom for the duration of the project. The thinset needs to cure, as does the grouting, and even after it seems dry, you should not expose it to water for another 24 hours. Before working with a professional, be sure you have a plan in place that allows you to live in your home without needing the bathroom during the process.
Other Considerations
Finally, when embarking on a tile installation, here are some considerations you should keep in mind:
Potential Drywall Repair
If you replace existing tile, you may find issues with the underlying drywall that may need to be addressed. Taking care of the problem as you discover it helps make the new surface last, and prevents further damage down the road.
Moving Existing Accessories
Depending on where and how you tile, you may have to move furniture and accessories in your bathroom. Be sure to have a plan in place for where to move your tub, shower, vanity, etc. If you do need to move anything, you should also have a plan in place for how to address the plumbing including detaching and re-attaching water and sewage lines.
Grouting
Even the best installation will not be successful if you don't get the grout right. Familiarize yourself with best practices of grouting, which includes finding the right style to match the tiles, testing grout on a sample tile to ensure a good match, and spacing your tiles the right distance for your grout to set correctly. You need to be familiar enough with the process to prevent grout from dying on the surface of your tiles.
Account for Tile Repairs
You should always buy more tiles than you think you'll need. During the installation, some may crack or break, which will require instant replacement before the thinset cures. In that case, apply extra thinset to the back of the tile, and gently push it into place. Generally speaking, buying 15% more tile than you'll need is a good rule of thumb.
Conclusion
Installing new or replacing existing tile in your bathroom can significantly elevate the space while simultaneously improving its function. Of course, you either need to do it right or hire the right professionals in order to ensure that you can take advantage of its benefits.
1 Comments