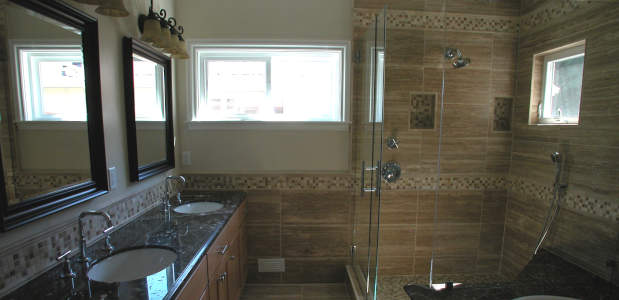 Nothing compares to tile for adding personality and practicality to a home. One of the most versatile of home decor materials, tile can dress up a bathroom, kitchen or nearly any room in your home. It can be used in countertops, flooring or simply as a decorative wall design. The best in bathroom design is nearly universal in its implementation of tile in at least one or two areas of the bathroom. Without a doubt, it is a key element in creating a dramatic look in your home. Relatively inexpensive to install, care and careful planning must still be used to ensure that your tile is a cost-effective asset for your home that boosts its resale value.
Bathroom Design and Tile Basics
Since price and quality of tile, grout, design, and installation can vary so much, homeowners often feel too confused to make a decision from estimates alone. Understanding the basics can help consumers decide how much expert help they need with the selection, design, and labor to get the best return for the time and money spent.
Many homeowners are unaware of the wide array of patterns, designs, and appearances that bathroom tile is capable of. While a simple one- or two-color design is generally easy enough to plan yourself, the options available with combining different materials can get complicated pretty quickly and might require some professional assistance. For example, if you want stone tile floors and glazed tile for your shower, the possibilities multiply and creating a cohesive appearance becomes more difficult. When you add in different installation techniques, different colored grout, or custom painted or pressed tiles, it is easy to see how complicated the project can become.
Design Ideas
While no particular tile design is going to work in every setting, these ideas are sure to get the ball rolling for your project:
Use tile as a trim and/or backsplash with other materials such as plastic laminate, Corian, granite, or marble.
Set tiles on a diagonal.
Use 12-inch glazed "pavers" (usually used on floors) on countertops.
Set tile on window seats and ledges to create waterproof areas to set plants.
Choose a color for the edge trim and backsplash of your bathroom sink to contrast with the countertop, then reverse the scheme elsewhere in the room, such as in the shower.
Create a focal point by setting a mural of tiles on one wall, and surround it by finger tiles of a contrasting color.
Choose two complementary colors that work with a third neutral background color. Create stripes and patterns running through the vanities, tubs, and showers in bathrooms.
Check out other tile options like bathroom tiles made of glass or natural stone. There are even hand-painted tiles that can be used as a focal point on a single wall, or used as trim all around the room.
Ready to start your
Tile Installation

?Find Pros
Hiring a Bathroom Designer
Bathroom designers are invaluable resources when it comes to identifying potential problems with existing plumbing, door swings, and lighting design, but these professionals also know the incredible value of superior bathroom tile. Whether it's creating a design for your bathroom floor, shower, walls, or backsplash, whether it's finding the right manufacturer to deliver affordable and durable tiling materials, or whether it's consulting with tile setters to create the highest quality installation possible, you shouldn't underestimate the role these designers can play for your project.
Hiring the Right Tile Installer
When comparing bids, make sure to have a look at samples of each tile setter's work. There's a lot of variation, and not every tile contractor you look at will be able to do the same quality work. Bathroom tile is an extremely durable material and, when set by a seasoned hand, can literally last a lifetime. Most homeowners would agree that it's worth a little extra to get an installation that will not only go the distance but will look good for its duration, too.
Consumers are often puzzled by the wide range of estimates they can receive from contractors bidding on the same job. Because tile setters charge according to how long they think it will take to do the job, these price variations reflect different methods for installing the tile as well as the amount of the time they take to set the tile. Be sure the installation method and the type of tile are included in the written bids, in order to compare estimates accurately, and later in the written contract to be sure you are getting your money's worth.
No Comments Yet