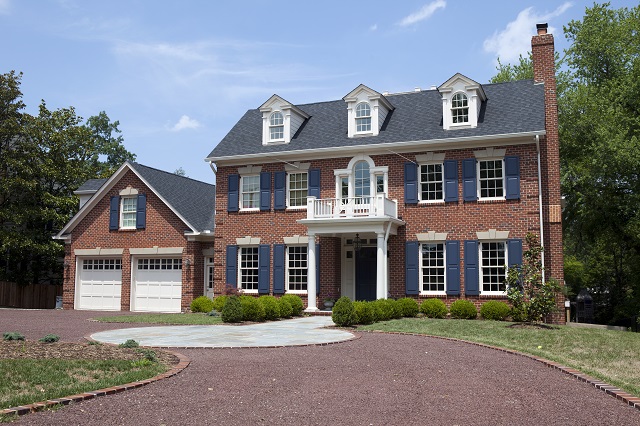 The best roof color depends on your home's exterior and roof material. Although you can easily change your home's exterior paint, a roof is a little more permanent and costly. Choosing the right color the first time will save you from an expensive replacement.
| House Material | Best Roof Color |
| --- | --- |
| Brick House | Black, Dark Gray |
| Concrete House | Brown, Red or Gray |
| Vinyl Siding | Depends on Exterior Color |
| Wood | Brown, Black or Gray |
| Colorful Exterior Siding | Depends on Siding and Trim Color |
Before we get into which color roof looks best with your siding material, let's talk about your home's front elevation–the outline of your home from the street. Does your roof slant down toward your front yard? Do you see a lot of your roof from the street? If so, consider a roof color that's similar to your siding so that it doesn't look like it's bearing down on your house. Avoid a very dark roof if your roof takes up a lot of surface area within its front elevation.
On This Page:
Best Color Roof by Material Type
Best Roof Color for a Red Brick House
Red brick houses look best with gray or sand color roofs. Make sure you know the undertone of the brick. If you have an orange-red brick, choose a warm-tone roofing material. If you have a brown or cooler-tone brick, you can opt for a bluish-gray shingle; if you go this route, consider matching the shingles to the color of your shutters. Multi-colored brick houses also go well with a roof shingle that has one of the brick colors.
Best Metal Roof Color for a Red Brick House
A metal roof is versatile and modern, but when paired with a red brick house, it's best to go with darker shades.
If you want to install or repair a new metal roof, compare metal roofing contractors near you and get a few quotes.
Best Asphalt Shingle Roofing Color
The best asphalt shingle roof color depends on the color of your home's exterior. For instance, a red brick house looks great with brown shingles. Just keep in mind that the shingles should pair well with your house trims and siding. Luckily, asphalt shingles are very versatile. Here are popular colors for this material:
If you're considering replacing your current roof for asphalt shingles, the first step is consulting with professional roofing services near you.
Best Color Roof by House Color
When you replace your roof, choosing the color based on your house color is a practical idea.
Best Roof Colors for a White House
White is the most common color for houses because it's a versatile color that matches most roofs.
Best Roof Colors for a Yellow House
Yellow houses need a roof color that contrasts them well. However, note that a cobalt blue roof might make your sunflower yellow home stand out in a way you didn't plan for. Choose subtler shades for both colors if you're set on this color combination.
Best Roof Colors for a Blue House
The best color roof for blue houses are dark shades that complement this cool shade.
Black
Slate Gray
Dark Gray
Best Roof Colors for a Gray House
The best roof color for a gray house are darker shades that complement this neutral shade. For gray on gray colorways, choose a slightly lighter shade for your house paint and a darker shade on your roof. This makes your siding stand out from your roof in a classy, monochromatic style.
Best Roof Colors for a Beige or Cream House
Light color houses like beige and cream do best with contrasting dark roofs. If you're installing new asphalt shingles, consider multi-colored blends for an added element of texture.
Brown
Black/Gray
Blue/Gray
FAQ:
What color house looks best for a terracotta roof?
Off-white colors pair well with Earthy terracotta roofs. Soft browns and dusty tones like taupe, beige, and putty also make terracotta roofs pop.
What is a good house color for a brown roof?
Brown roofs like wood or composite shake shingles contrast well with light-colored homes. Check out our wood and composite roof contractor guide to help you find a trustworthy company near you.
How much does it cost to install a roof?
On average, a roof installation costs anywhere between $5,350 to $10,690 depending on the material and home size. To find out how much your roof project will cost, check out our roofing installation cost guide.
Should I replace my roof before selling my home?
A new roof increases a home value by nearly $12,000. Investing in a new roof requires a sizable upfront cost, but it will benefit you in the end. For more information on the benefits of a brand-new roof, take a peek at our new roof value guide. If you want to compare the $12,000 increased resale value with a roof installation cost, feel free to use our roofing cost comparison guide.
Need to find a roofer?
No Comments Yet