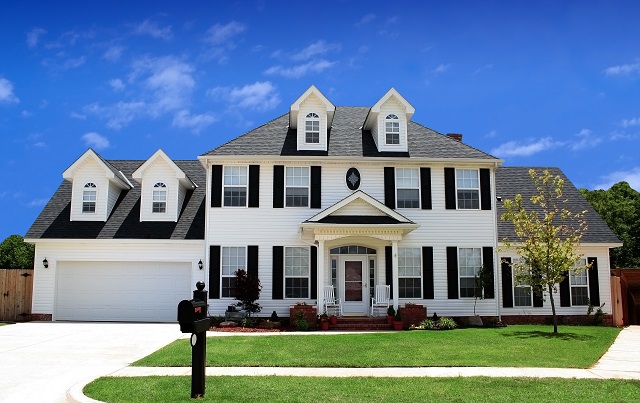 Choosing the best color shutters to match your home décor and personal taste is an exciting decision. With so many options, it is wise to review professional designer recommendations while keeping your own preferences in mind. Make an intuitive decision that enhances the color of your house to boost your home's curb appeal.
On This Page
How to Choose Shutter Colors
Shutters are an easy and inexpensive way to create a finished look to your home. Whether you prefer a striking look or a harmonious balance of colors, homeowners installing shutters on your home shows your personality. These tasteful home accents should complement your garden and match your neighborhood's style.
Designer Recommendations
When choosing the best color for your shutters, designers recommend picking shades to match your home's siding, doors and trim.
If you want to give your home a coordinated feel, designers suggest choosing a shutter hue that is analogous to the main color of your home. For example, if your house paint is a muted brown, you can select a dark red for your shutters.
To make a statement, complementary shades deliver a bright boost of energy. If your home has an olive-green siding, for example, you can add some drama with plum-colored shutters.
If your home doesn't have them already, adding shutters can create a new look that makes your home exterior look more finished. Shutters cost between almost $300 and $925, while plantation shutter prices range between about $1,300 and $4,000. Project costs vary depending on your area.
Popular Shutter Color Comparison
Painting shutter color ideas are a more intuitive way to make this important choice for your home. You can use color theory and color psychology to create the effect you want. The table below outlines the most popular shutter colors and their impact on the look of your house.
Color
Qualities
Effect
Black

Traditional
Works well on any home

White

Makes windows appear larger
Boosts bolds and neutrals

Gray

Creates updated feel
Makes a subdued statement

Brown
Green

Tranquil
Works well with yellows and neutrals

Enhances nature
Adds a rustic effect

Blue

Creates a coastal vibe
Welcomes guests

Red

Makes a statement
Adds warmth
Best Color Shutters for Red Brick House
Red brick homes are classic and timeless. Enhance its traditional elegance with dark shutters, such as black or navy.
The best color shutters for a brick house also come in natural tones like dark green, copper or beige. These elegant shades bring out the richness of the brick.
Best Color Shutters for Tan House
When your home is tan, look for shutter colors that match the natural tones of the house. Greens and browns are reliably good options for sand tones. White shutters are also a beautiful way to add brightness and highlight the simplicity of your home.
Best Color Shutters for Cream House
Bring out the creamy tones of your house with white shutters that create a sense of openness while making your home seem larger. Brown shutters look great on a cream house because they add a bit of depth and contrast.
If you're looking for a bolder accent color for your cream house, greens and blues are great choices. Especially if you integrate them throughout the rest of your home, these colors create a sense of calm.
Best Color Shutters for Colorful House
When your home is already colorful, white shutters add an airy touch that goes best with lighter-colored houses. Another easy way to match your lively home is by choosing shutter colors that are a few shades darker or lighter than the main hue of your house. The best color shutters for a yellow house, for example, would be a mustard tone or a pastel.
FAQs
Should shutters and doors be the same color?
There are no set rules about matching shutters to the color of the front door. It depends on your style and design goals. To draw attention to your front door, choose neutral shutter colors and paint the door a brighter color. For a sense of harmony, paint your shutters and doors the same color or similar tones.
What is the return on investment of shutter upgrades?
According to the National Association of Realtors, you can expect a more than 70% return on investment from exterior projects such as shutter and siding upgrades.
Do shutters make a house look smaller?
Not usually, but it also depends on the face of your house. White shutters make your home seem larger, especially when matched to a white window trim. Dark shutters make the rest of your home pop without making it seem smaller.
How do I choose a shutter color?
Use this guide to help you find the perfect color. Here's a quick explanation: Dark exteriors look great when complemented with lighter shutters, while light home exteriors look best with shutters that are a few shades darker.
Still not sure what color to choose? Talk to an exterior painter near you. They can use their expertise to give you a few options.
Need to find a shutter repair service?

No Comments Yet