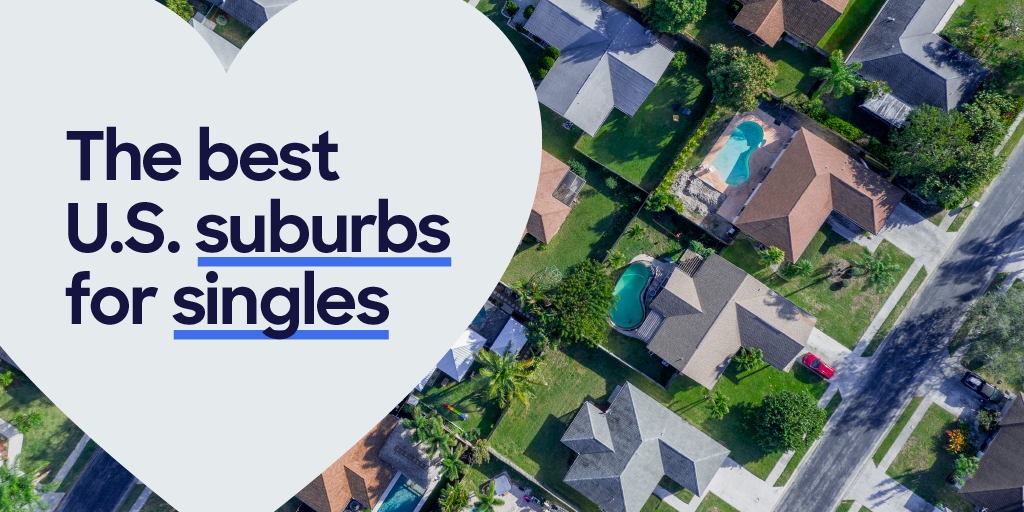 With some dating shows like "90 Day Fiancé" featuring cast members moving to new countries to find love, we wanted to find out the best places for singles to live when it comes to dating in the U.S. Certain suburbs and cities are home to more fish in the pond, which increases the chances for all sorts of meet-cutes and storylines straight out of a rom-com.
With that in mind, we wanted to find out the best suburbs for singles across the country by weighing factors like single-bedroom rentals, the average cost of rent, the number of cocktail bars, and other single-approved criteria. Long gone are the days of simply waiting around for love. Instead, good things come to those who pack up and start anew!
The Best & Worst U.S. Suburbs for Singles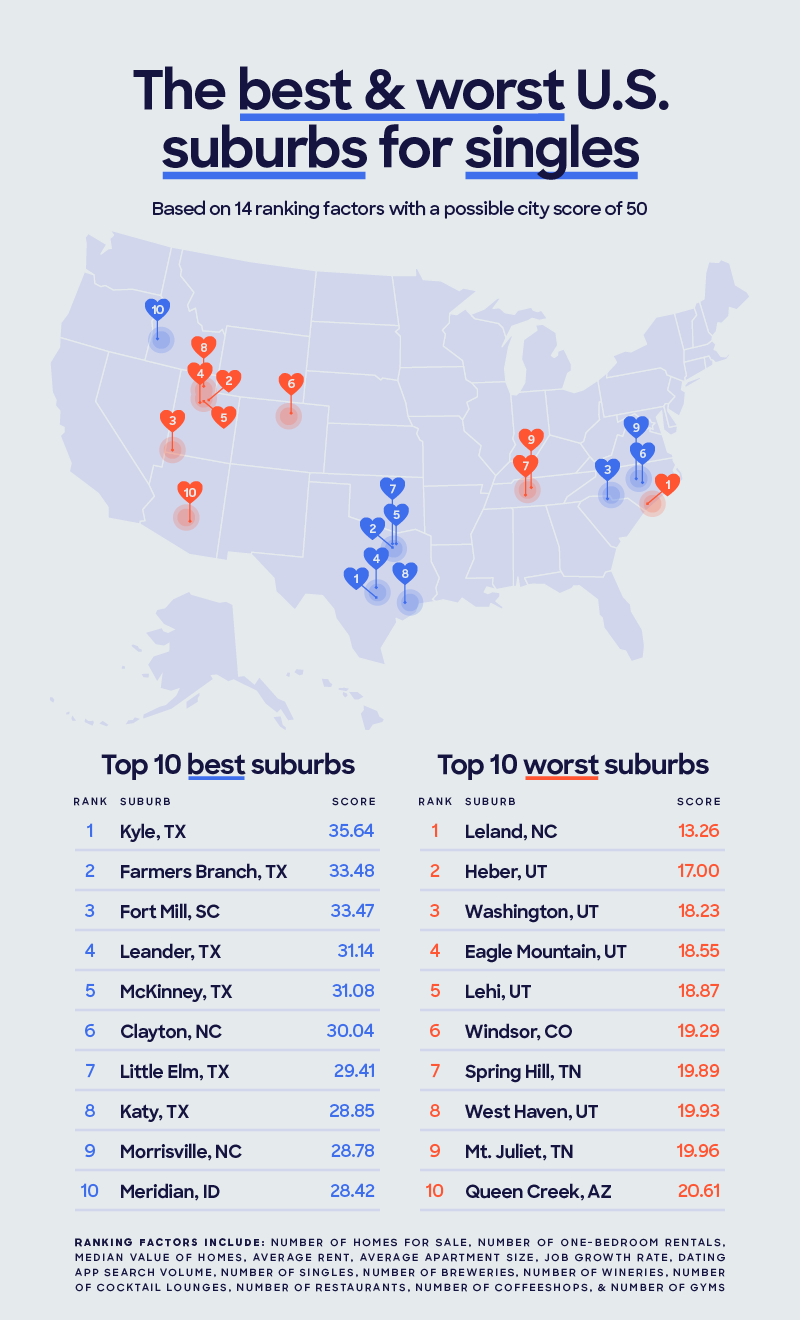 Summer is the perfect time to explore your options and dip your toe into the metaphorical dating pool, but with so many places to choose from, it begs the question: where are the best suburbs for singles to live? If you want to increase your chances of getting hitched and settling down, without the hustle and bustle of living in a big urban environment, check out our list.
Six cities in Texas topped the charts with Kyle, TX, receiving the highest city score of 35.64 out of 50. This city is home to 446.40 coffee shops per 100k residents, which is the perfect spot for a casual morning date. Kyle's Daily Grind, located in—you guessed it—Kyle, TX, features smooth cold brews, matcha, and CBD-infused lemonade with whatever syrup your heart desires.
On the other hand, Leland, NC, is one of the worst places for true love with a city score of 13.26 out of 50. This city is home to 20.90 cocktail lounges per 100k people, which means you might run into an old flame if you're dating around. If you want to find love in this state, don't fear, as Clayton, NC, received a city score of more than double at 30.04 out of 50. Plan a date at Deep River Brewing Company which sponsors taproom events for yogis, runners, and music bingo players.
Meridian, ID, is further down on our list as one of the best cities for singles with a city score of 28.42 out of 50. Meridian is home to over 33.51 gyms per 100k residents, which may mean both dumbbells and wedding bells could be in your future. Meridian's Mecca Gym hosts strongman meets and other powerlifting competitions, which makes it one of the best cities for singles looking for their lifetime spotters.
Single in the U.S. Suburbs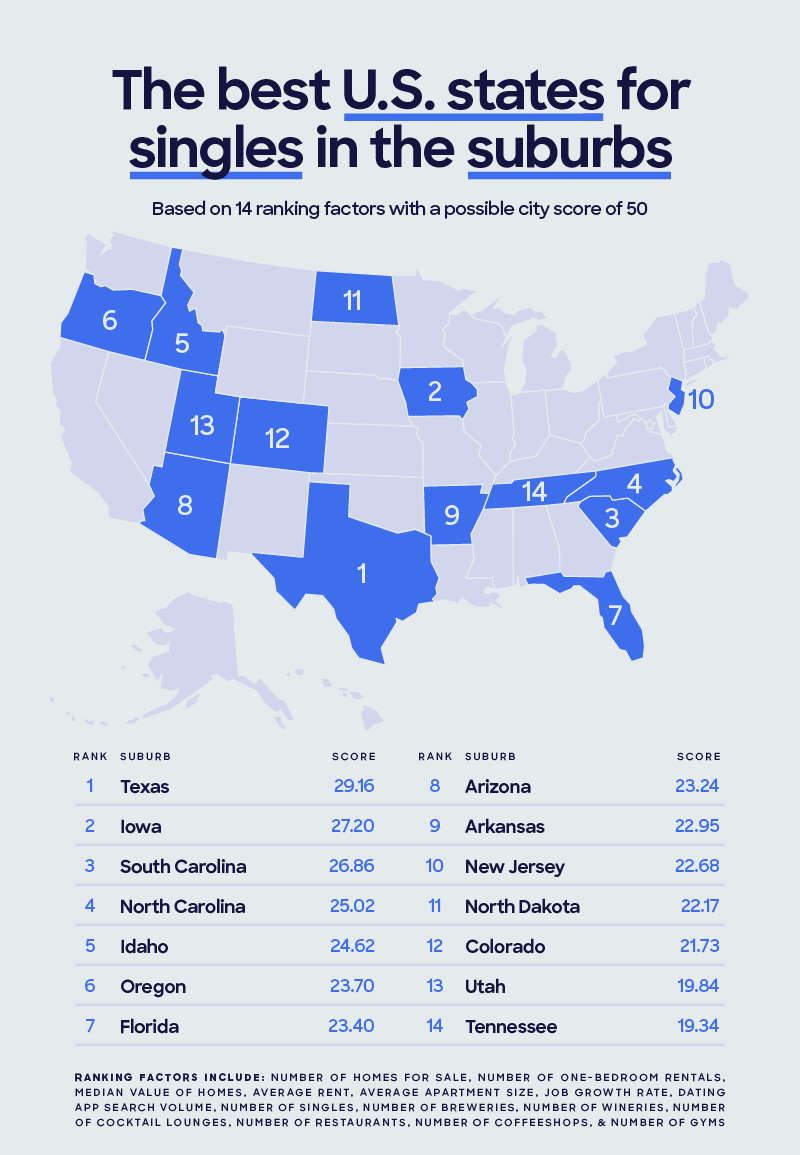 Next, we found the top states with the most promising suburbs for singles. Texas tops the charts with an average score of 29.16 out of 50. It's home to some of the best places for singles to live with cities like Farmers Branch, Leander, Little Elm, and Katy.
Little Elm, TX, boasts 44,618.70 singles per 100k people, which opens the floodgates to dating different types of people. If you're looking for Southern charm, Little Elm is one of the best cities for singles.
Iowa ranks second with an average score of 27.20 out of 50. Consider cities like Waukee, IA, which has a median home value of $248,400. South Carolina (26.86) and North Carolina (25.02) trail close behind.
Idaho (24.62) ranks number five on our list and may be one of the best states for young singles just starting out, as places like Eagle, ID, have an average job growth rate of 3.4% in the last year. Go dancing at Corner Hustle Neighborhood Bar in Eagle, ID, which has live music every weekend. Just make sure to pop a mint before you kiss anyone after eating their delicious garlic parmesan fries.
Jumping further down the list, Oregon ranks sixth and is home to Happy Valley, one of the best suburbs for singles. Average rent prices will run you around $1,667—which is even cheaper when you split it with that special someone.
The Top Three U.S. Suburbs for Singles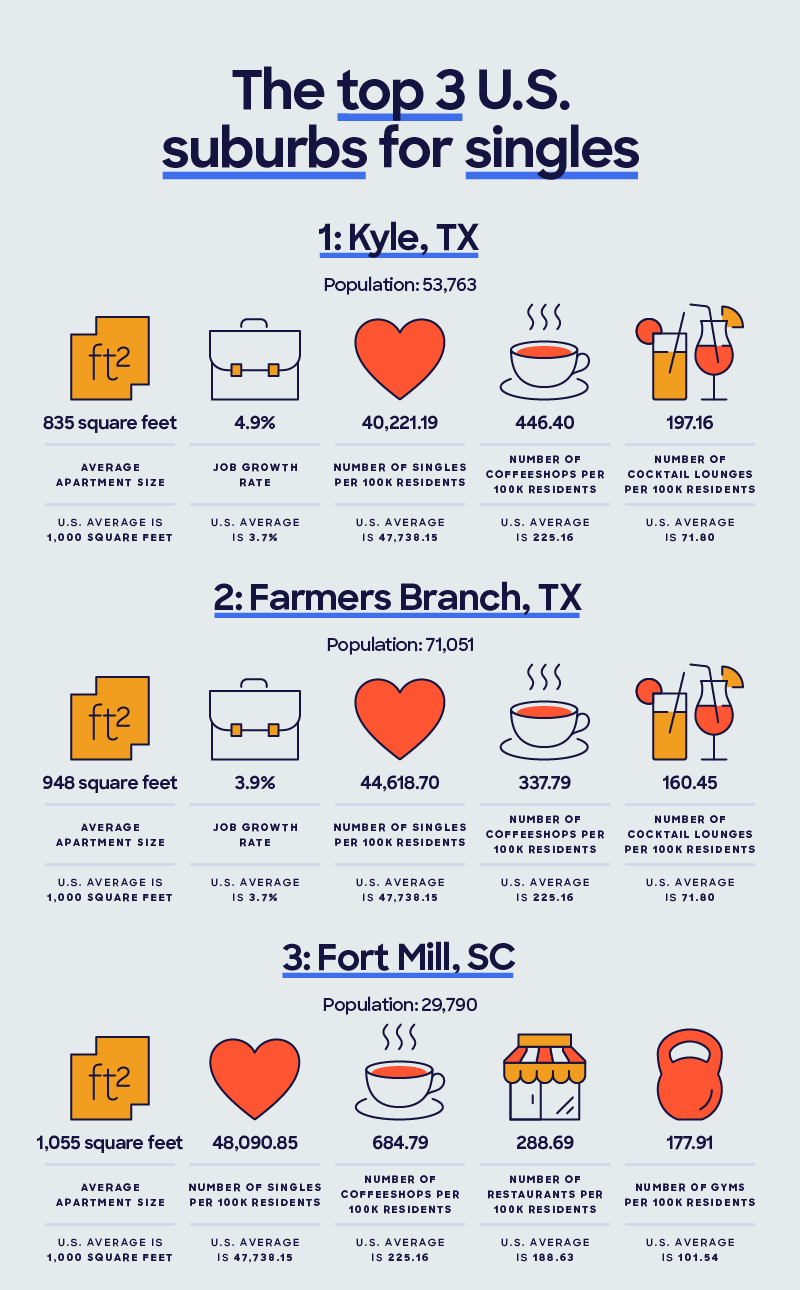 Everything is bigger in Texas—including the dating scene! Kyle, TX, takes home the cake as one of the best cities for singles to move to with 40,221.19 singles per 100k people. The average apartment size is roughly 835 sq. ft., which is just the right amount of space for two people.
Need a place to move? Tour The Brick and Mortar District Apartments in Kyle, TX, that feature luxury amenities like a resort-like pool, firepits, and paths for dogs of all sizes.
Farmers Branch, TX, came out on top as one of the best cities for singles. Want to catch someone's eye somewhere besides the bar? No problem. This city boasts 337.79 coffee shops per 100k residents. iHeart Kolache is the perfect spot for a breakfast date and serves fresh brewed coffee and kolaches, which are round pastries filled with cream cheese.
You never have to worry about your date waiting for a table in Fort Mill, SC, which is home to 288.69 restaurants per 100k people. Plan a night out at The Improper Pig, which features Southern staples like hush puppies, mac and cheese topped with pulled pork, and cobbler for dessert.
Closing Thoughts
There you have it—the best places for young singles to live all over the country! So, once you've decided where to plant your roots, next comes the fun part: deciding which house or apartment you'll call home. Just because you're single doesn't mean you can't buy your own property. In fact, it means you have all the control to dictate which paintings will go where and what renovations to tackle first.
And even single people don't have to take on home improvement projects alone. Visit HomeAdvisor to find reputable professionals near you. Before you know it, both your dream home and dream partner will be a reality!
Methodology
To find the best places for singles to live, we analyzed 50 cities and compiled 14 ranking factors from sources like the U.S. Census Bureau, World Population Review, Zillow, RocketHomes, RentCafe, U.S. Bureau of Labor Statistics, Zumper, Yelp, and Google Trends. We broke down these factors into three categories: Living Arrangements, Dating and Worklife, and Going Out. Next, we assigned each factor a weighted score for criteria like dating app search volume, the number of coffee shops, and the number of singles. We added up these factor scores for a total possible city score out of 50.
Ranking Factors
Living Arrangements (Weight 2.75)
Number of Homes for Sale

Weight: 0.25
Source: Zillow

Number of One Bedroom Rentals

Weight: 0.75
Source: Zillow

Median Value of Homes

Weight: 0.50
Source: U.S. Census Bureau

Average Rent

Weight: 0.75
Source: Rentcafe

Average Apartment Size

Weight: 0.50
Source: Rentcafe
Dating & Worklife (Weight 2.75)
Job Growth Rate

Weight: 0.75
Source: U.S. Bureau of Labor Statistics

Dating App Search Volume

Weight: 0.75
Source: Google Trends

Number of Singles

Weight: 1.25
Source: U.S. Census Bureau
Going Out (Weight 4.5)
Number of Breweries

Weight: 0.75
Source: Yelp

Number of Wineries

Weight: 0.75
Source: Yelp

Number of Cocktail Lounges

Weight: 0.75
Source: Yelp

Number of Restaurants

Weight: 0.75
Source: Yelp

Number of Coffeeshops

Weight: 0.75
Source: Yelp

Number of Gyms

Weight: 0.75
Source: Yelp
No Comments Yet