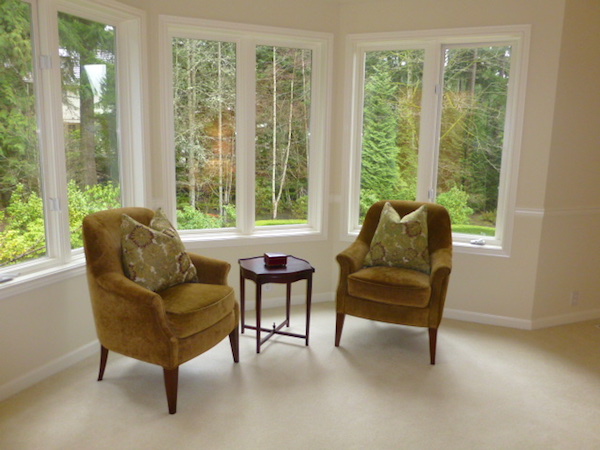 New carpeting makes any home look and feel more comfortable, but too many people quickly overlook the one item that makes it feel this way: carpet pads. Not only does carpet padding provide cushiness to your floors, they provide acoustical muffling and can hide any unevenness in your floors. But beyond comfort, the main goal of any cushion is to help protect your carpeting: they prevent any unnecessary shredding, wearing, or matting of the fibers over time. Seems like a no-brainer, right? However, like any other home improvement product on the market, the covers which lay invisibly underneath your carpeting come with countless options depending on their location and usage. Here are some elements to consider:
Density
The most important component to buying any carpet pad is making sure you get the right thickness. Oddly enough, in high-traffic areas (such as hallways, stairways, etc.), you need to buy a thinner cushion, about 1/4 inch. Since these areas have to sustain a lot of compression and abuse, the cushion should also be dense, otherwise your carpeting may start to unravel. In low traffic areas (such as bedrooms, living rooms, etc.), you want a nicer feel on your feet, so you can splurge on thicker carpet padding (but rarely will you go over 1/2 inch). Remember, if you buy a cushion too thick, it'll ripple and flatten faster.
Material
Sometimes choosing the right material is more important than thickness. Carpet pads are made out of several different kinds of materials, each coming with their own pros and cons. Here are some of the popular options:
Rubber: This cushion comes in a long sheet and is easy to install. Plus, it is insect proof and holds moisture well (especially if it comes in a "waffle-shaped" pattern). However, it loses strength with age and is sensitive to heat. Also, it's best for low-traffic areas because it compresses easily over time.
Felt Fiber: Made from a combination of synthetic and natural fibers, this material must be thick to be affective, so it's also best for low-traffic areas of the home. Sometimes it can cause some allergic reactions (if it consists of mostly natural fibers).
Prime Urethane: This isn't as resilient as other cushions because it compresses easily over time and it can be a bit pricy at times ($5 a square yard). But it has a higher R-value, is easy to install, and stands up to moisture and heat.
Rebond: The most common kind of carpet pad, rebond fuses several different particles of foam into one piece. It comes with many of the benefits of other cushions, but the best part is its median price: not too cheap, not too expensive.
Insulation
The material you choose will often determine the insulating R-value of your floors. You never want moisture or penetrable coolness but also remember that the denser the pad, the lower the R-value. Of course, thicker pads provide comfort, but they are less resilient. So you have a choice to make, and it may be best to consult the manufacturer to see what works best for your floors. Also, ask about installing underlayment fiberboards along with the cushion to heighten your R-value.
Other Tips
1) Always buy new carpeting and cushions together: never combine old and new items or you may not reap all the benefits.
2) The only way to know which carpet padding is best for you is to test them out yourself: Go to the store and touch them, walk on them, see if they are the ones you want.
3) Always consult the manufacturer or other professionals to know which cushion will work best for your particular carpeting and its location in the home.
4) Don't skimp: if you're going to spend all that money on plush floor coverings, make sure you invest in their protection and underlying comfort.
5) Have it installed correctly: Carpeting requires trained installation for the proper stretching, stapling, and smoothness. Therefore, the same should be done for your cushions as well.
No Comments Yet