Get the Best Price Deck or Fence Wood
Cedar vs. Pine
Cedar and pine are two types of wood with multiple species native to the United States. Compared to something like maple, both rate as softwoods.
Cedar:
naturally resists rotting
ideal for decks and fences
costs more than treated pine
Pine:
typically used indoors
needs treatment for outdoor applications
Cedar vs. Pressure-Treated Wood
Cedar naturally keeps out moisture, helping to minimize decay. By comparison, pine or fir demands a special treatment to have the same benefits. Pressure-treated wood, or PT wood, describes an infusion of chemicals into the lumber, which:
prevents the growth of bacteria or fungi
repels insects
slows the spread of fire, in some cases
There are many types of chemicals used in the process. ACQ-treated lumber is one of the most common.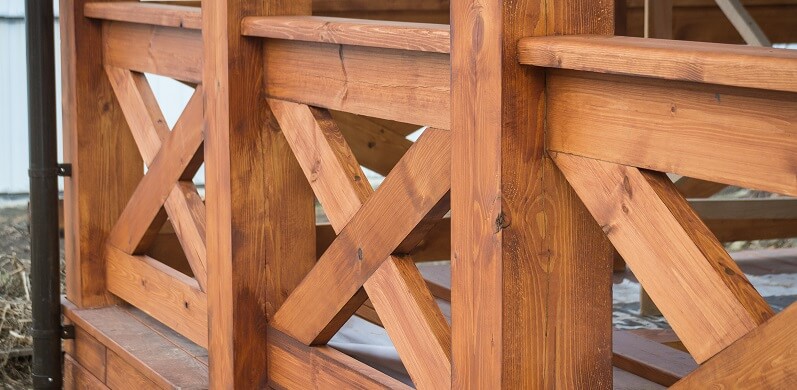 Cedar vs. Pine Fences
As a general rule, cedar will remain in good condition and require less maintenance than pine if installed above the ground. Pressure-treated pine is less likely to decay if planted in soil, so the posts often last longer.
Cedar vs. Pressure-Treated Fence Posts
For fence posts, pressure-treated wood usually holds up better than cedar. You can place this product into concrete for greater durability. Homeowners who want an attractive, long-lasting structure often choose cedar boards with PT posts for this project.
Compare costs of wood for fences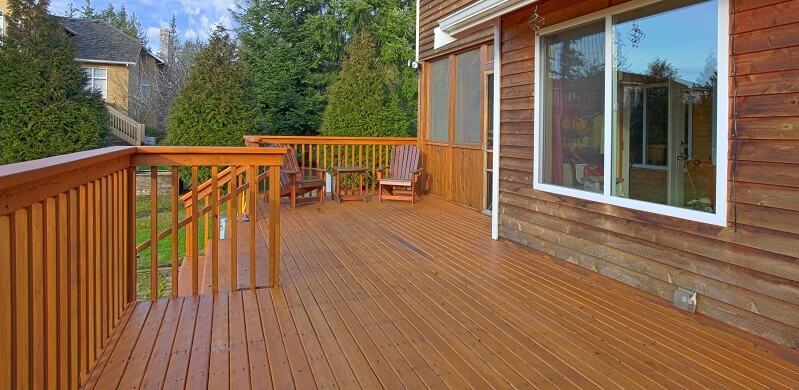 Cedar vs. Pressure-Treated Decks
Since cedar needs to remain dry, it's better for higher installations like second floor decks. PT lumber costs less and handles wet grass or soil better. Your choice depends on:
budget
proximity to the ground
color preferences
climate
Compare costs of wood for decks
Pressure-Treated Pine vs. Cedar for Outdoor Structures
| | | |
| --- | --- | --- |
| Installation Price Per Square Foot | $9-$12 | $9-$12 |
| Appearance | Red to white | Yellow to white |
| Strength | Weaker | Stronger |
| Weight | Lighter | Heavier |
| DIY | Easier but less accessible | Harder but more accessible |
| Climate | Dry | Humid |
| Maintenance | More | Less |
| Lifespan | 15-20 years | 10-15 years |
| ROI | High | High |
Cedar vs. Pressure-Treated Pine Cost
On average, cedar at $17 to $22 per square foot runs about 20% to 30% more than pressure-treated pine and $10 to $12 per square foot. Price factors also depend on:
total square footage
additional materials (other than boards)
added features like stairs or railings
Installation Price
The installation price for a wood deck runs $9 to $12 per square foot, compared to $5 to $15 per square foot for a fence. The labor costs for cedar vs. pressure-treated planks are about the same. The price to build a deck ranges from $4,100 to $10,500. Fence installation costs $1,700 to $4,000.
Appearance
The appearance of the wood depends on the species.
Western red cedar features lovely reddish hues with white accents.
Pine ranges from a warm yellow to a pale cream color.
Cedar-Tone vs. Treated Lumber
Cedar-tone is a color infusion process available for pressure-treated wood. It makes the planks look like cedar and does not fade like a stain. Homeowners often choose it because PT products do not easily take stain.
Cedar vs. Pine Strength
The strength of the wood relates to the weight it can support and its overall durability. Limits include:
Cedar: 220 pounds of force per square inch
PT Pine: 290-470 pounds of force per square inch
PT products tend to be more durable because they are scratch-resistant. Either should be appropriate for most residential uses.
Compare wood types for your new deck
Weight of Cedar vs. Pine
Cedar generally weighs less than pine. However, there are additional factors to consider, including:
Moisture Content: Cedar is naturally drier
Pressure Treatment: Green, recently-manufactured PT products may weigh up to 50% more than natural planks.
DIY-able
For DIY, you may find that pressure-treated wood is easier to find nearby but harder to work with. Each chemical has different retention standards for installation a few feet up, on the land or underground. You'll need to know which one to buy. Some hardware reacts with the treatments. You must purchase ones that work with the lumber.
By comparison, cedar may be more difficult to find in stores but less complicated to choose. It allows a wider variety of fasteners and needs to be installed at least several inches above-ground.
Climate
Since pressure treatment increases moisture content, the relative humidity of the region can affect the structure's longevity. Cedar thrives in drier climates. Installation in a humid region could cause the boards to expand. PT wood needs to dry thoroughly before placement in a dry area, otherwise it can shrink or crack.
Maintenance
Cedar requires more maintenance than pressure-treated pine. Its natural color fades in 1 to 2 years. This means you may need to stain it regularly. PT wood is easier to clean.
Resealing a deck costs $600 to $1,250, which you should plan to do for either material every couple of years.
Length of Life
Cedar decks last 15 to 20 years, compared to 10 to 15 years for pressure-treated wood. This depends on several factors, including:
quality of the PT process
whether the cedar came from the heart or sapwood of the tree
regional climate
the structure's location related to the ground
ROI or Resale
Cedar and pressure-treated pine decks feature a return on investment of about 75%. Since PT wood costs less for the whole project, the dollar increase in resale value will be somewhat lower.
Get the Best Price Deck or Fence Wood
FAQs
What's Better – Cedar Mailbox Posts vs. Pressure-Treated?
Since cedar doesn't work well underground, homeowners may prefer pressure-treated posts. PT wood can be installed in cement, adding extra protection against damage from cars or vandalism.
Is white cedar better for fences and decks versus treated wood?
White cedar tends to cost the most for fences and decks. Homeowners often see it as a high-end material. However, it is weaker than pressure-treated wood, and not as rot-resistant as red species.
Is knotty pine stronger compared to cedar?
Natural pine is stronger than cedar. Pressure-treated products tend to have even greater resilience.
Get a Wood Fence Installed
No Comments Yet