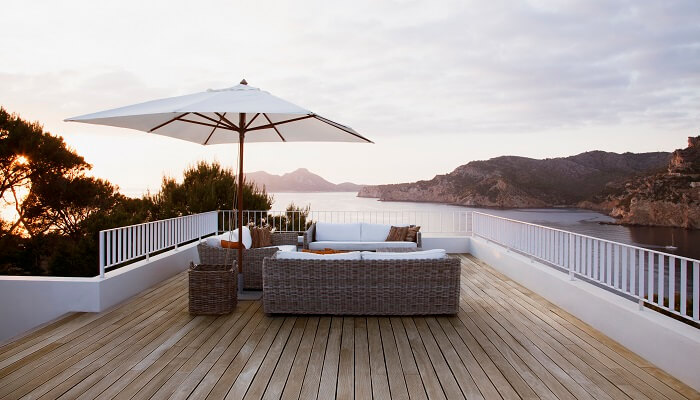 Reviewed by Bob Tschudi, Home Building and Remodeling Expert.
Deck Materials Comparison
There's something liberating about spending time outside on a deck. Whether you make it a private retreat shaded by vegetation or an energetic entertainment area complete with a built-in BBQ, this outdoor living space is often the most enjoyable area of a home. And when you resell your house, you can expect to recover about 75% of your investment
Before you start building, you want to make sure that the material you choose matches the exterior of your home and fits your lifestyle. This guide on some of the most popular decking materials will help you decide.
On This Page:
6 Best Wood Decking Material
| | | |
| --- | --- | --- |
| Material | Cost Per Square Foot | Advantages |
| Ipe | $20-$25+ | Looks great, strong |
| Redwood | $4-$6 | Excellent color, affordable |
| Cedar | $17-$22 | Classic look |
| Bamboo | $4-$6 | Durable, sustainable |
| Mahogany | $8-$30 | Natural color, resilience |
| Pressure-Treated Pine | $2-$3 | Widely available |
Wood decking is the most common choice for homes. Durable and strong, it offers a classic look that complements virtually any style of home. The smooth planks stay cool and feel good on bare feet, making them a natural choice for building your outdoor oasis. Softwoods are fairly easy for a novice do-it-yourselfer to work with. Hardwoods generally require a stronger skill set.
Wood decks need regular care every few years, including:
Without proper maintenance, it will absorb stains—especially red wine or BBQ sauce—and will be more prone to cracking, rotting and warping.
1. Ipe Hardwood Decking Materials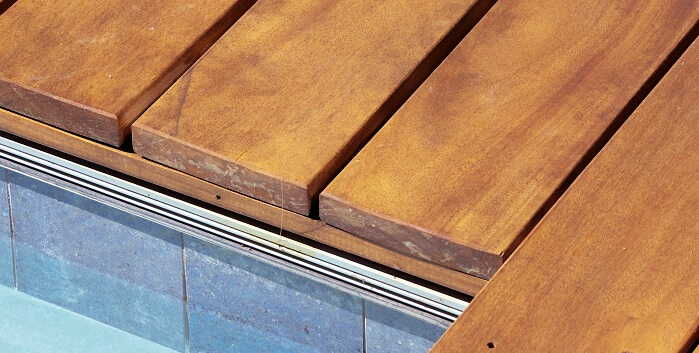 Hardwood from Brazil
$20-$25 per square foot
One of the most expensive materials
Can last 30-75 years with expert installation and proper care
Resistant to scratching
Features a stunning, dark color
2. Redwood Decking

$4-$6 per square foot
One of the most-affordable options
Widely available in the Western U.S.
Best-known for the red-to-white color range
Features a look unique to any other species
Can be prone to scratching and fading
3. Cedar

$17-$22 per square foot
Similar to redwood but can be harder to find
Lifespan about 20 years
Western Red Cedar, the most common species, starts out red and fades quickly to gray
Takes re-staining well
Consult With Deck Installers Near You
4. Bamboo Decking Materials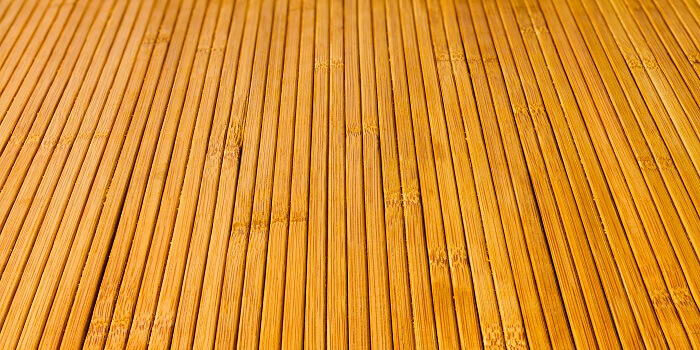 $4-$6 per square foot
Not wood, but a series of compressed stalks
Works well inside or outside
Replicates within 3-5 years, making it a more-sustainable option
Fairly new material for outside, so durability isn't clear
Rapid development in the industry means new and better bamboo products each year
5. Mahogany

$8-$30 per square foot
Like Ipe, it is an exotic hardwood that can be harder to get
The rich red and orange hues have been a feature of American homes for centuries
6. Pressure-Treated Pine

$10-$12 per square foot
You can sometimes find it cheaper
Usually lasts 10-15 years
Most popular of all types for price and common appearance
Consult With Deck Installers Near You
Alternative Decking Material Options
| | | |
| --- | --- | --- |
| Material | Price Per Square Foot | Benefits |
| Composite/Plastic | $4-$13 | Predictable, long-lasting |
| Aluminum | $6-$15 | Durable, low-maintenance |
| Fiberglass | Call contractor for pricing | Weather-resistant |
| Cement/Concrete | $1-$6 | Affordable, durable |
| Stone | $3-$15 | Stylish, strong |
| Rubber | $10-$16 | Slip-resistant |
Composite, Plastic & PVC
| | | |
| --- | --- | --- |
| Type | Pros | Cons |
| Composite | Durable, looks like real wood | Can't refinish |
| Plastic | Multiple colors and styles | May expand and contract in heat |
| PVC/Vinyl | Highly sustainable | Could sag or crack over time |
Plastic or composite decking costs $4 to $13 per square foot and lasts 10 to 25 years. It is an environmentally-friendly choice for those who love the look of wood but aren't enamored with the upkeep.
Common types include:
Wood composite (sometimes called laminate)
Plastic composite, sometimes referred to as resin
Polypropylene (Poly)
Polyvinyl Chloride (PVC)
100% Recycled Plastic
Smooth and splinter-free, this lightweight material is strong enough to withstand the harshest elements of nature. Composite decking often fades with prolonged exposure to the sun, so this may not be the ideal choice for a west-or-south-facing location. Plastic is less likely to lose color.
Aluminum Decking
Aluminum Decking Pros and Cons

| | |
| --- | --- |
| Pros | Cons |
| Attractive | May dent or scratch |
| Easy to clean | Reflects heat |
| Long-lasting | Saltwater corrodes it |
Anodized aluminum decking costs $6 to $15 per square foot. It offers a modern look that pairs well with contemporary style homes and can last 30 to 50 years. It is also a viable choice for destination locations near natural streams or manmade water features. The textured finish boasts added traction. It stays cool, making it barefoot-friendly even in sweltering temperatures. However, it is not appropriate for coastal homes because the saltwater will corrode it.
Like synthetic decking materials, aluminum is virtually maintenance-free. It will not rust or rot and resists mold and mildew. All it requires is a quick sweep to keep it free of dirt and debris or an occasional hose down to remove bird droppings or sap.
Fiberglass Deck Materials
Fiberglass deck materials are some of the most weather-resistant. Like the fiberglass component in asphalt roofing, it does not absorb water. The flexible surface allows snow or ice to run off. Since it does not corrode, it is ideal for roof decks or coastal regions. To find out pricing for your project, consult a local pro.
Cement Board or Concrete Deck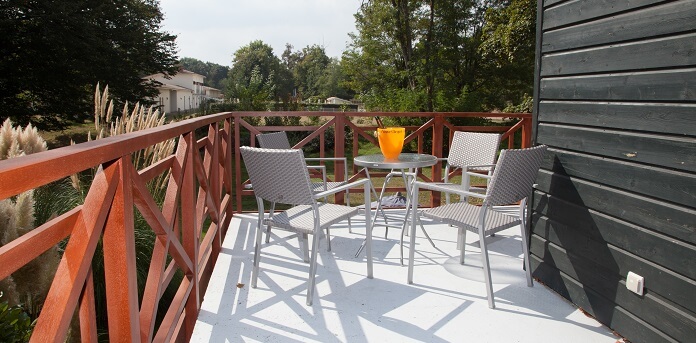 At an attractive price of $1 to $6 per square foot, concrete isn't just for patios anymore. Although this material can be much heavier than other deck options, the right support makes it possible. Homeowners love cement's ability to withstand the worst weather conditions. Precast boards and color options ensure a strong surface that looks as trendy as wood without the work.
Stone Deck
For a cost range of $3 to $15 per square foot, you can give your deck a patio look. Stone pavers are appropriate for any surface with a quality substructure. These bricks can be made from a variety of materials, including:
natural stone, like granite or travertine
concrete
porcelain
The pavers may crack under very cold weather. They often require a non-slip coating to prevent falls in wet conditions.
Rubber
Rubber decking costs $10 to $16 per square foot. The price of poured-in-place rubber surfacing runs $1,800 to $3,500 for about 140 square feet. Like concrete, you can get it in precast forms or poured to create a solid surface that is safer than any other type. Since it is synthetic, it's less likely to rot. The flexible material maintains a moderate weather-resistance, although it can degrade over time.
Consult With Deck Installers Near You
FAQs
What's the best decking material for full sun?
The best decking material for full sun is plastic or aluminum. These types stay cooler in heat and are less likely to fade.
What's the best all-weather decking material?
The best all-weather decking material is fiberglass or concrete. Aluminum may also be a good choice if you don't live too close to the coast, since salt can corrode this metal.
What's the best non-combustible option?
The best decking material for fire-resistance is aluminum. Other products, such as wood composite, contain retardants to prevent fire spreading. However, they may melt at a lower temperature.
What's the cheapest decking material?
The cheapest decking material is usually pressure-treated pine, which can cost as little as $2 to $3 per square foot. There are solid wood and composite options that run $4 to $5 per square foot. Keep in mind that you get what you pay for. Rock-bottom prices may indicate a low-quality product.
What's the best type of deck material for a patio, porch or balcony?
The best material for a patio, porch or balcony is composite or pressure-treated wood. These types are the most popular for their balance of affordability and durability. The biggest difference between decks vs. patios is that a deck or balcony stands above, while patios and porches may sit directly on the ground.
What should I choose if I want a lightweight deck?
Deck materials that weigh the least include:
In some cases, lower weight may mean that the product will provide less support.
Can I build a deck out of steel or galvanized metal?
Steel or galvanized metal decks typically aren't used outside of industrial applications. However, substructures made of these materials are common for their strength and durability.
What's the best non-slip floor plank for a rooftop or pool deck?
Rubber is soft, flexible and minimizes slipping. It is ideal for pool decks and other areas where falls are common.
What's the most eco-friendly decking?
The eco-friendliest decking materials are aluminum or 100% recycled PVC. They're made primarily of old material. They are easy to recycle when you are ready to replace them.
Which deck planks come in tongue-and-groove?
You can find deck planks with a tongue-and-groove in:
wood
wood composite
plastic
Unlike indoor flooring, this style does not mean that you can install a floating floor. Grooved planks still need screws or hidden fasteners.
What's the best railing material?
The best railing material depends on your deck boards and the design. Wood is the most popular, but wood and aluminum also make a good combination.
What other deck building materials do I need?
posts
balusters or cable railing
concrete base for the posts
substructure, like the beams and joists
hardware (nails or screws, joist hangers, carriage bolts, lag screws)
What's the best non-wood material for my region?
| | | |
| --- | --- | --- |
| State | Best Materials | Not Recommended |
| Florida | Wood composite or PVC | Aluminum |
| Colorado | Wood composite | Plastic |
| Arizona | Wood composite | 100% PVC |
| Washington | Wood composite or Plastic | Aluminum |
| New Jersey | Wood composite | Aluminum |
Consult With Deck Installers Near You
Decking Material Reviews
The right material for you depends on style, price, region and your plans for the project. Talk to a deck builder near you to help you choose your type.
Which decking material do you like best for your home? Share your experience.
2 Comments