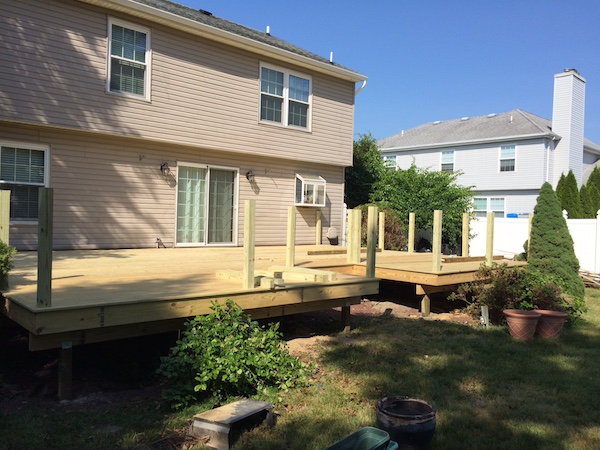 Of course you can. The real question is should you build a deck yourself? Obviously, this depends on your carpentry skills and the type of deck you want to build. If you want to build a simple deck from a pre-designed deck plan and you have basic carpentry skills, it's a plausible DIY project. Don't take the building lightly, though, or get overconfident. Your local hardware store will be a great place to gather supplies and gather any information you need about your specific deck building project. Don't go to a Home Store, however, and announce to the nearest associate you want to build a deck.
Free-Standing Decks
Free-standing decks are probably the easiest kind of deck to build. Deck building of this sort has one huge advantage. It doesn't require the removal of siding and properly attaching the deck to your home. This can be an unwarranted challenge for someone who has only basic carpentry skills. Even with a small, free-standing deck you'll need to check zoning laws to make sure your deck building is legit and not breaking any ordinances. This can affect everything from deck dimensions to the kind of wood you use. Free-standing decks also have the disadvantage of needing structural support on each side of the deck. A deck affixed to the side of your home can use your home for support on that side. This means your free-standing deck will require extra support posts.
Materials and Tools
Most DIYers have a decent repertoire of tools at their disposal, but you should make sure you have the right tools and materials specifically for deck building. Make sure the wood has been pressure-treated. Most wood decking reacts to regular nails, causing warping. Buy deck screws that are designed to keep your deck held tightly together. Your deck building project is also likely to include the use of post caps and bases, caulking compound and caulking gun, joist hangers, seismic ties, concrete, stone and/or cinder blocks, shovel, carpenter's square and level, drill, wrench, hammer, along with other supplies and tools. It's hard to make a comprehensive list without a specific deck plan, but you'll want to make sure you figure out exactly what you need before you get started.
Need to find a pro for your deck project?
Find Pros
What a Deck-Building Contractor Can Do for You
Here's where we get into the distinction between whether you can build your own deck and whether you should build your own deck. Most decks are a major home improvement project that you'll want to last for a long time. Building a basically sound deck is great, but only superior craftsmanship is going to enable that deck to stay in usable condition 10, 20, even 30 years after the installation. The straighter the angles, the tighter the screws, the deeper the posts—it all affects the longevity of your deck.
At the very least, unless you know you're capable of building a quality deck, you should talk to a contractor and get written estimates. Let the contractor know that you're considering doing the project yourself and/or working within a strict budget. He or she will likely have cost-saving measures you wouldn't have thought of. Remember when calculating the true cost of a major home improvement project that you should take into account the time you'll save by hiring a contractor and the added value to your home of a project that's under warranty.
---
No Comments Yet
You can be the first to comment!