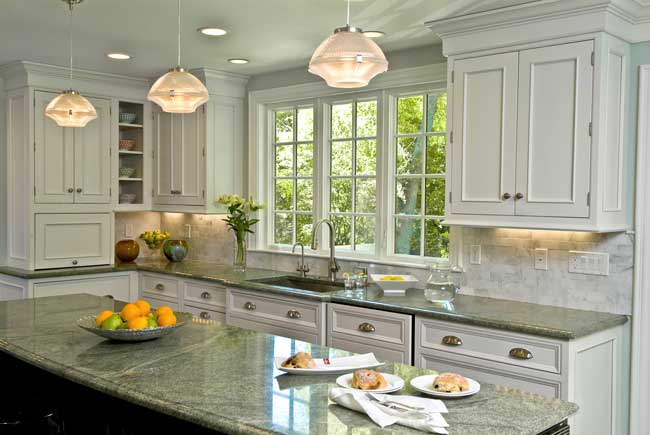 A-frame:
An A-shaped framework used to transport countertop slabs on edge in a truck.
Accents:
A contrast, outline, or highlight added for detail and emphasis.
American Colonial:
Traditional design elements inspired by the American Colonial period and influenced by English Georgian style.
Antiquity Glass:
Blurred, tempered glass with seeded impressions.
Apron Front Sink (farmhouse sink):
A sink with a large apron in front that sits on a short cabinet.
Backsplash:
A material which offers a water guard between the countertop and the wall.
Beam:
A horizontal member supported near the ends, which spans an open space. For example, concrete countertops are beams because although there may be plywood beneath, it's too weak to provide enough support alone.
Bugholes:
Small cavities in concrete which are created by trapped air.
Build-up:
Strips of material that are sometimes attached to the under-side of countertops to raise it flush with the cabinet tops.
Bullnosing:
The process of adding a finished edge to an unfinished natural or man-made tile. It also protects the edge from chipping and cracking.
Butcher Block:
See "Wood countertop."
C-clamps:
Similar to the vise grip, C-clamps hold objects in place while sawing or joining. The clamp pads protect the surface and allow for gripping tapered pieces.
Cabinet Rasp:
A file that has individually shaped teeth used to rough out shapes in wood or metal. They are classified by their shape?flat or half-round.
Cabinet Scraper:
A flat, rectangular piece of steel rounded into a hook that is used to remove shavings and bring the finish to a high gloss without damaging the wood below.
Cabinetmaker's Screwdriver:
A tool which has an wood handle and a blade designed for wood screws. Part of the blade is flattened to handle torque.
Caesarstone:
A man-made stone that is many times harder than natural stone, making is scratch and stain resistant.
Cambria:
See "Solid Surface."
Cantilever:
A beam projecting beyond its supports. For instance, the area where a countertop overhangs a cabinet by a few inches.
Carpenter's Glue:
An adhesive used to bond one wooden element to another. Often stands up to heat and moisture; works best with porous materials.
Carpenter's Square:
An L-shaped ruler used to mark straight-edged corners for framing cabinets or wooden countertops. It also can be used as an arithmetic guide for more complicated layouts.
Casting Table:
A table made for casting concrete slabs.
Ceramic Tile:
A type of countertop made from inexpensive, yet durable, ceramic sections.
Chop Saw:
A lightweight circular saw mounted on a spring-loaded, pivoting arm often used to make exact, square cuts.
Circular Saw:
Tool used to quickly cut straight edges for cabinets or wood countertops.
Compound Miter Saw:
Chops saws that can make bevel and miter cuts.
Concrete Countertops:
A handcrafted countertop surface pre-cast in molds and built to the customer's specifications. It can also be cast in place top of the base kitchen cabinets.
Cooktop:
An assembly of stove burners that fits into countertop.
Crosscut Saw:
Traditional hand-saw used to cut across the grain (the width of the material).
Drain Board:
Depressions in a countertop which allows water to run into the sink.
Drop-in Sink:
A sink which contains a rim that fits over the countertop.
Edge Return:
A thick countertop edge that gives the appearance of a thicker slab.
Engineered Stone:
A manmade stone composed of quartz particles and has a nonporous surface resistant to scratches. Unlike natural stone, it's easy to maintain though just as expensive.
Formica Stone:
A natural, durable non-porous quartz surface that requires little maintenance.
Framed Construction:
A cabinet box that resembles a flat, empty picture frame attached to the front to which doors are attached.
Frameless Construction:
A cabinetry style in which doors are attached directly to the sides of the cabinet box with hidden hinges.
Gloss:
A way to describe a finish which has a deep shine and smooth texture.
Granite:
An expensive, elegant, durable countertop material made from igneous rock, which requires a lot of maintenance and constant sealing. Often there are many small specks throughout the stone creating a salt and pepper look.
Grinder:
A tool used for adjusting cuts, cutting angles, and cleaning up sink-holes.
Grout (slurry) :
A cement paste used to fill bugholes in countertops.
Inset Doors/Drawers:
Doors and drawer fronts recessed to fit level with a cabinet frame when closed.
Integral Sink:
A sink made out of the same material as the countertop to form a continuous surface.
Knockout:
A rubber material placed in a form where there will be a hole in the countertop.
Kwik-korner Jig:
A special tool able to make 45 degree cuts straight and easily for inside corners of stone countertops.
Laminate:
A thin material adhered to particle board substrates. Often referred to as brand names
such as 'Formica' or 'Arborite'.
Marble Countertops:
A rare and expensive stone surface that requires a lot of maintenance, yet is a luxurious inlay for islands and countertops.
Matte:
A smooth finish with very little shine.
Melamine:
Particle board coated with a plastic material which is used in concrete countertops because of its smoothness.
Mitre:
A seam in a countertop, usually in a corner, where the counter changes direction.
Non-porous:
A material that won't stain. It isn't affected by chemicals, acids, and temperatures; therefore it is always clean, safe, and resistant to bacteria buildup.
Nosing:
The edge treatment of a countertop. See "Bullnosing."
Overlay Doors/Drawers:
Doors and drawer fronts that partially or fully overlap the face frame when closed.
Penetrating Sealer:
A sealer which enters into the concrete surface to increase water resistance.
Post-form:
A method for making laminate countertops where the laminate is formed around a pre-determined substrate.
Pulls:
A term used to describe any knob or handle attached to finished cabinets or drawers. Pulls come in a large variety of sizes and decorative styles and colors to match personal tastes.
Putty Stick:
A tool used for repairing and touching up gouges/holes in metal, wood, plastics, ceramics, stone and concrete.
Pyrolave:
Countertop material made from enameled lava rock.
Quartz:
A rock countertop material which, unlike granite, never has to be sealed or polished.
RTA or Ready to Assemble:
Cabinets that arrive ready to make in a kit; an economical option for do-it-yourselfers.
Sealer:
Solvent used to protect and enhance the appearance of a countertop surface.
Seamstone kit:
A store-bought kit that allows one to sand and polish seaming material without scratching the granite surface.
Shim:
A thin piece of wood used during installation to insure that countertops are level.
Soapstone:
A naturally dark gray, yet smooth countertop surface made of talc-quarried, metaphoric stone. It is non-porous and easily maintained.
Soffit:
The area between the top of the wall cabinets and the ceiling.
Solid Surface or Cambria:
A solid, natural stone surface made which offers a non-porous surface that can also integrate kitchen sinks. Often referred to as Corain, a Dupont product, cambria is a natural stone quartz surface that is non-absorbent, therefore greatly reducing the potential for bacterial growth.
Stainless Steel Countertops:
A countertop made from a stainless metal, which creates a contemporary and industrial look. These countertops are heat resistant, durable, and easy to clean but are expensive.
Stock:
Factory-made cabinets in standard sizes and shapes, but choices are kept to a minimum: a few common sizes, one or two types of woods, etc.
Template:
A physical form used to stand in for the space into which a countertop will fit.
Trim Tile or Field Tiles:
Field tiles are placed in the main or center area of a project, and the tiles placed along the edge become the trim tiles.
Undermount Sink:
A sink mounted beneath the countertop.
Urethane:
A type of staining sealer providing resistance to temperature, weather, and scratches.
Veneer:
A thin piece of wood attached to particleboard to create the illusion of wood surfaces.
Vessel Sink:
A sink which sits on top of the countertop.
Wax:
Applied to some countertops as a temporary protectant.
Welded Wire Mesh:
A woven mesh of wire used as secondary reinforcement in concrete slabs to control shrinkage cracking.
Wet Polishing:
A method used to polish concrete countertops to eliminate grinding dust.
White Cement:
A portland cement which turns into a white paste when dry.
Wood Countertops or Butcher Block:
Countertops that come in a variety of hardwoods, such as maple or oak, and are easily cleaned, resealed, yet can be damage over time.
No Comments Yet