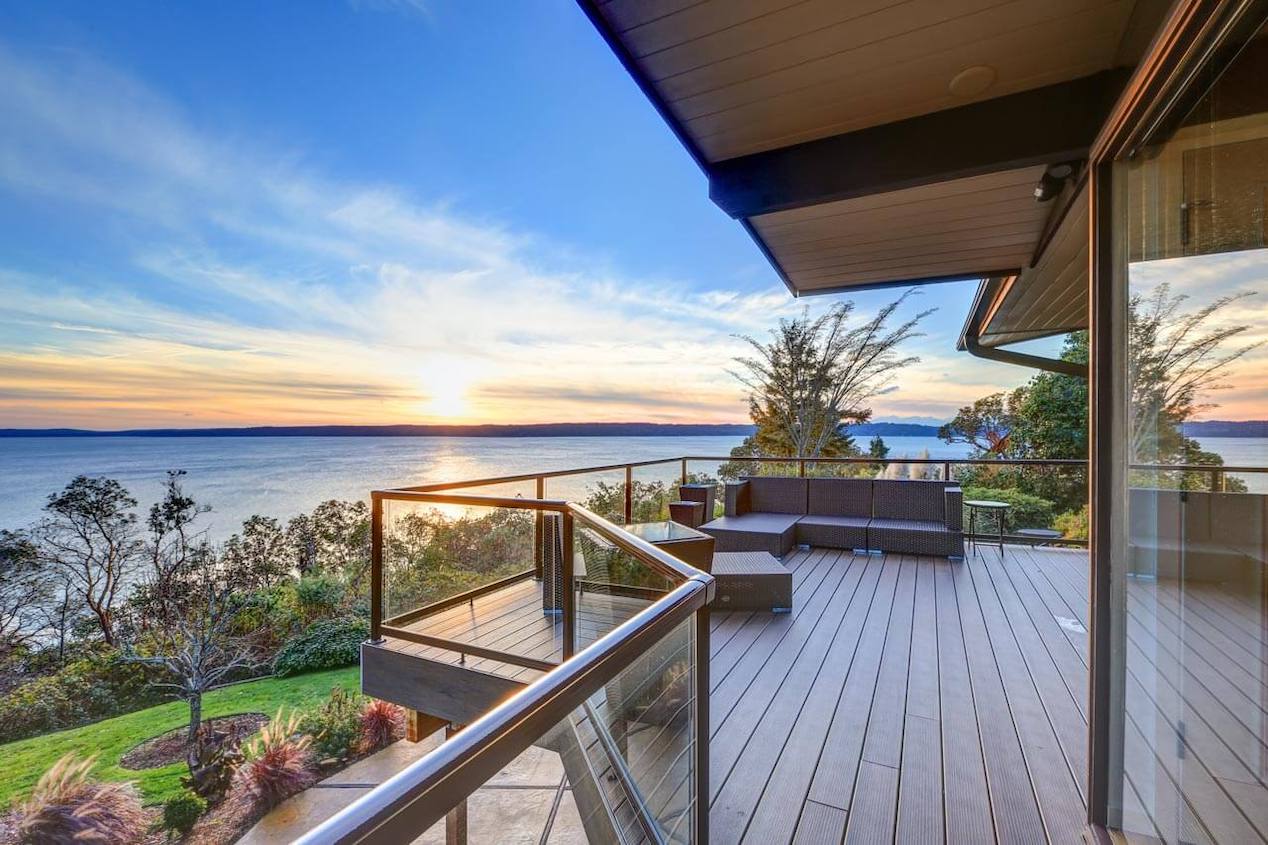 Photo: Iriana Shiyan / Adobe Stock
Decks and patios both help you make the most of your outdoor space for entertaining, cooking and relaxing. One of the key differences is that patios are laid directly on the ground while decks are raised structures with a support frame underneath. Both are great choices for creating an enjoyable outdoor living space. Let's take a look at some of the key differences between decks and patios so you can choose the one that best suits your home and lifestyle.
On This Page
Deck
Patio

Best Resale Value
Good for Kids
Better views
Good for uneven ground, pools

Most affordable
Easiest to Install
Most Durable
Least Maintenance
What's the Difference Between a Deck and a Patio?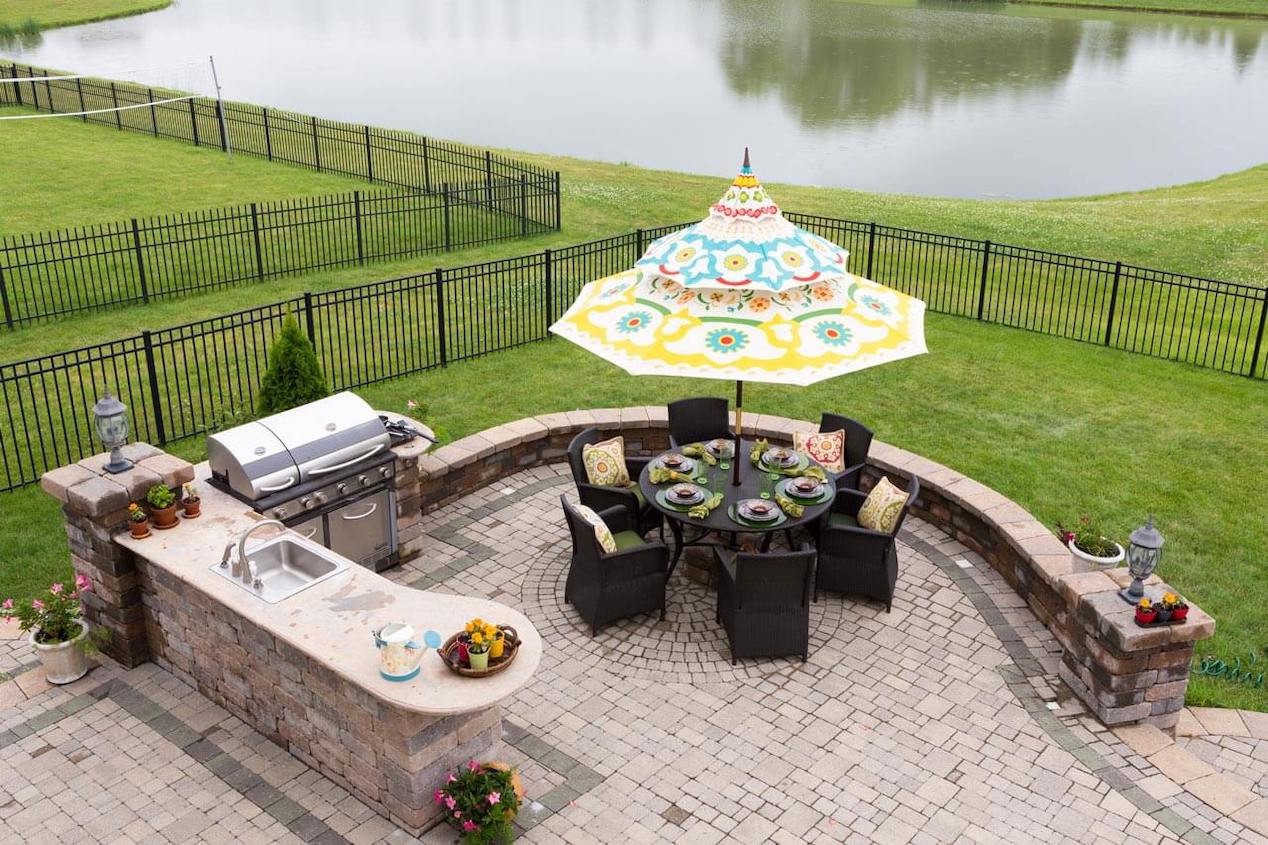 Photo: Ozgur Coskun / Adobe Stock
While both decks and patios enhance your outdoor space, there are some key differences. For example, decks are usually made from wood, wood-look vinyl, or composite, while patios are usually concrete, stone, or cement.
Deck
Decks are raised structures that usually attach to your home or, if you're installing decking around a pool, the deck attaches to the pool for a seamless transition. Because they're raised above ground level, even if just by a few inches, it's possible to construct decks on uneven and rocky terrain. Wooden decks need staining or sealing every year or two to keep them in good condition.
There are many options when it comes to choosing the best decking material, but the mostcommon options are:
Cedar
Bamboo
Mahogany
Redwood
Ipe
Pressure-treated pine
Patio
Patios lay directly on the ground, so the area has to be leveled prior to construction.They're usually built from stone slabs, stamped concrete, or cement pavers, so they are durable and long-lasting. Patios require little maintenance other than general cleaning, but, depending on the material, they can heave or crack in extreme cold.
Start Your Deck Project Today
Deck vs. Patio: Which Is Better?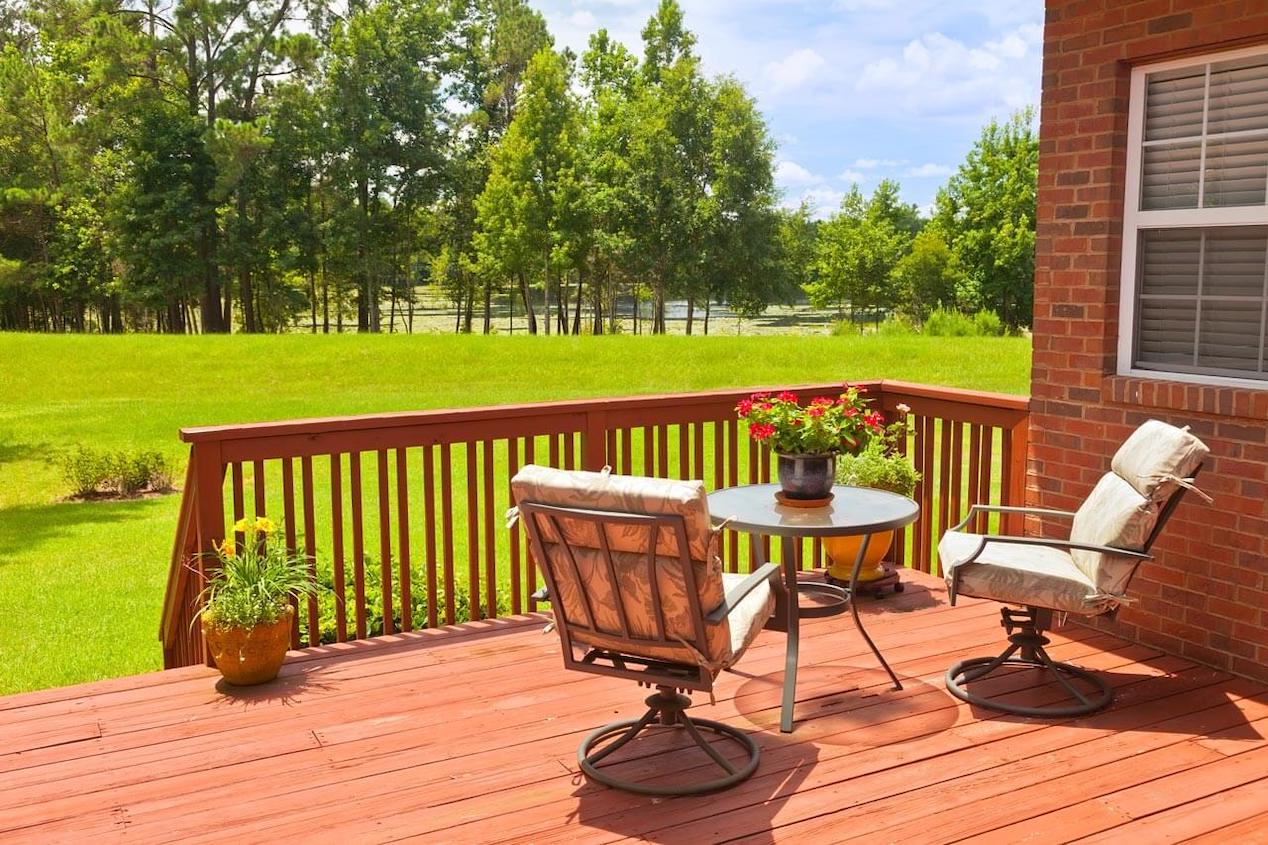 Photo: Ruth P. Peterkin / Adobe Stock
Cost
Most affordable: Patio
Building a deck costs between $4,080 and $11,300, with an average total cost of $7,700. This works out as $30 to $60 per square foot. Building a patio costs between $1,880 and $5,380, or an average project price of $3,620. This equates to $8 to $20 per square foot. Costs for deck and patio installation depend on your location, the type of terrain, the size of the project, and the material you choose. The deck builder or local patio contractor you choose can provide accurate quotes and advise you on size and most suitable materials for your design.
Appearance
Best Looking: Tie
Whether you prefer the look of a patio or a deck is personal choice and also dependent on the aesthetic of your outdoor space. Patios are simple and unobtrusive, and stone ones have a classic beauty. Wood patios, on the other hand, are more distinctive because of their raised structure.
Decks tend to have a very uniform appearance while patios, if constructed of natural stone slabs, are more unique, as each slab has differences in color, pattern, and surface texture. Because wood requires much more maintenance than stone or concrete, if it doesn't get the necessary treatment, it quickly loses its attractiveness and starts to look unkempt and old.
Installation
Easiest to Install: Patio
Assuming you are working on reasonably level ground, or an area that's been suitably graded, patios are the easiest to install, because you don't need to construct a frame or substructure. Plus, unlike decks, patios don't need to attach to your home or other building.
If, however, your yard is particularly uneven or you're building a pool surround, a deck is the best option, as it's raised and has a support structure beneath.
Durability
Most durable: Patio
Patios, particularly those made from stone, are by far the most durable. They can last over 100 years, although during that time, the slabs may need to be lifted and the ground underneath regraded to level it out again. Wood, composite, and vinyl patios, on the other hand, only generally last 10 to 15 years, even with regular maintenance. Wood is susceptible to water and insect damage and is more prone to wear than stone.
Maintenance
Easiest to Maintain: Patio
Patios require minimal maintenance, other than the occasional hose down or pressure washing. Although they do need inspection to check for cracks, which can lead to water penetrating to the subsurface and eroding it. Wood patios require regular cleaning. Plus, they need staining and sealing every year or two. Professional deck staining costs $540 to $1,050. If any planks show signs of rot, excessive insect activity, or too much wear, they'll need replacing asap.
You'll also need to factor in the cost of refinishing a deck, which ranges between $600 and $1,360, or $3 to $6.80 per square foot. Deck refinishing can rejuvenate a tired, worn, damaged deck and significantly increase its lifespan.
Cleaning
Easiest to Clean: Patio
Patios are easy to clean because they can withstand pressure washing and they don't stain easily. Wood is more prone to stains and is more likely to have mold, mildew, and algae which requires specialist products to remove. Wood also needs more frequent cleaning to keep it in good condition.
Resale Value
Best Resale Value: Deck
Both decks and patios add value to your home, but decks have a better return on investment, or ROI. With patios, you recoup up to 50% of your investment when you sell your home, but with a deck, you'll get back up to 70% of its value. Therefore, if you're improving your home with a view to sell it, a patio is the best choice.
Deck vs. Patio: Which Is Best for Your Home?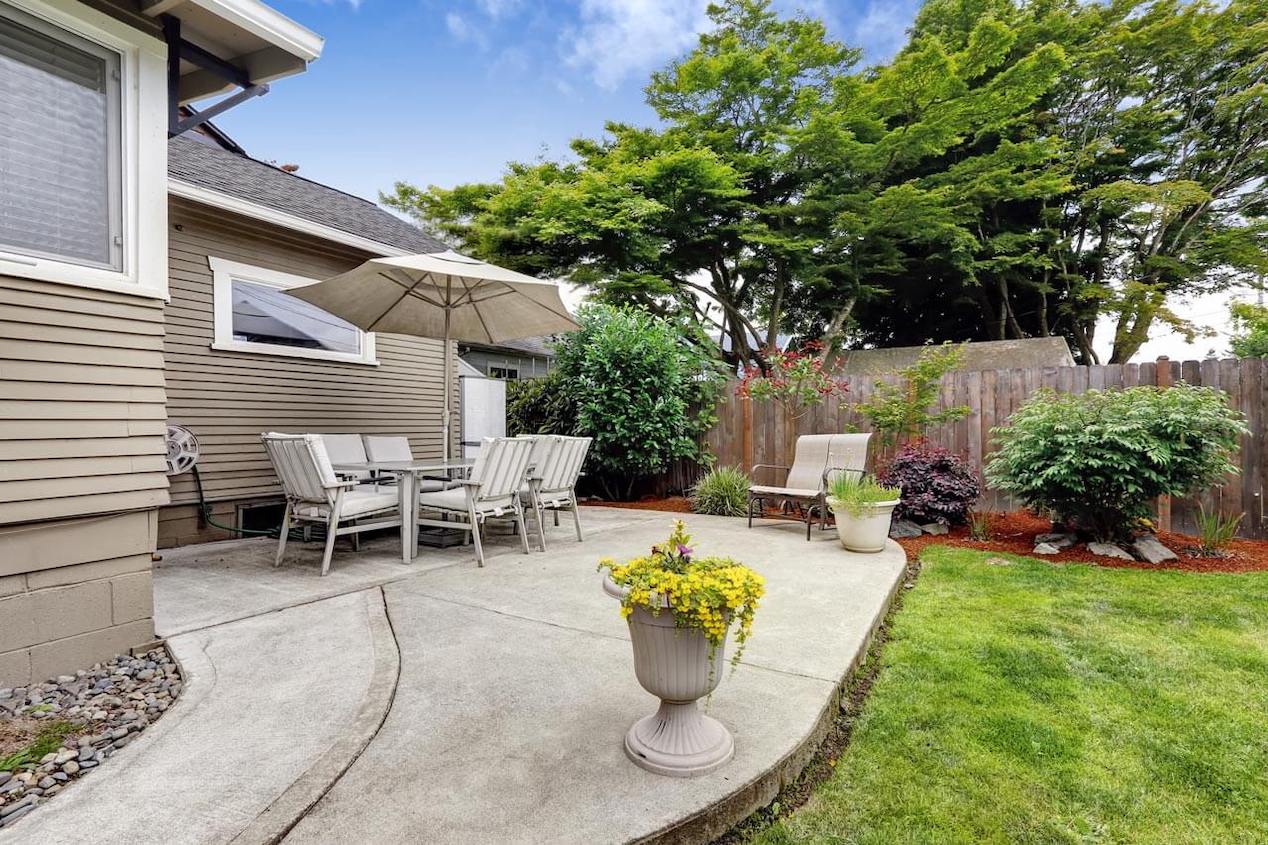 Photo: Iriana Shiyan / Adobe Stock
Homes With Kids
For homes with kids, a deck is the best option. The railing around the outside keeps little ones safely ensconced on the deck area insight of the supervising adults. Plus, the wood surface, while still hard, is softer than stone, so is less likely to cause cuts, grazes, or bruises when kids inevitably fall down on it.
Yards With Firepits
If you're creating an outdoor area with a firepit as the central feature, a patio is the smartest option, as, if you choose the right stone, it's impervious to the heat from the firepit. If you've got your heart set on a deck, you'll need a fire table or a natural gas firepit that won't easily set fire to your deck.
Best for Privacy
Patios are best for privacy because they're at ground level. Decks are raised, so generally offer less privacy, as you're sitting higher up than when sitting on a patio. On the other hand, while decks afford less privacy, they offer a better view of the yard and the surrounding area because of their elevated position.
Find a Deck Installation Pro Near You
No Comments Yet