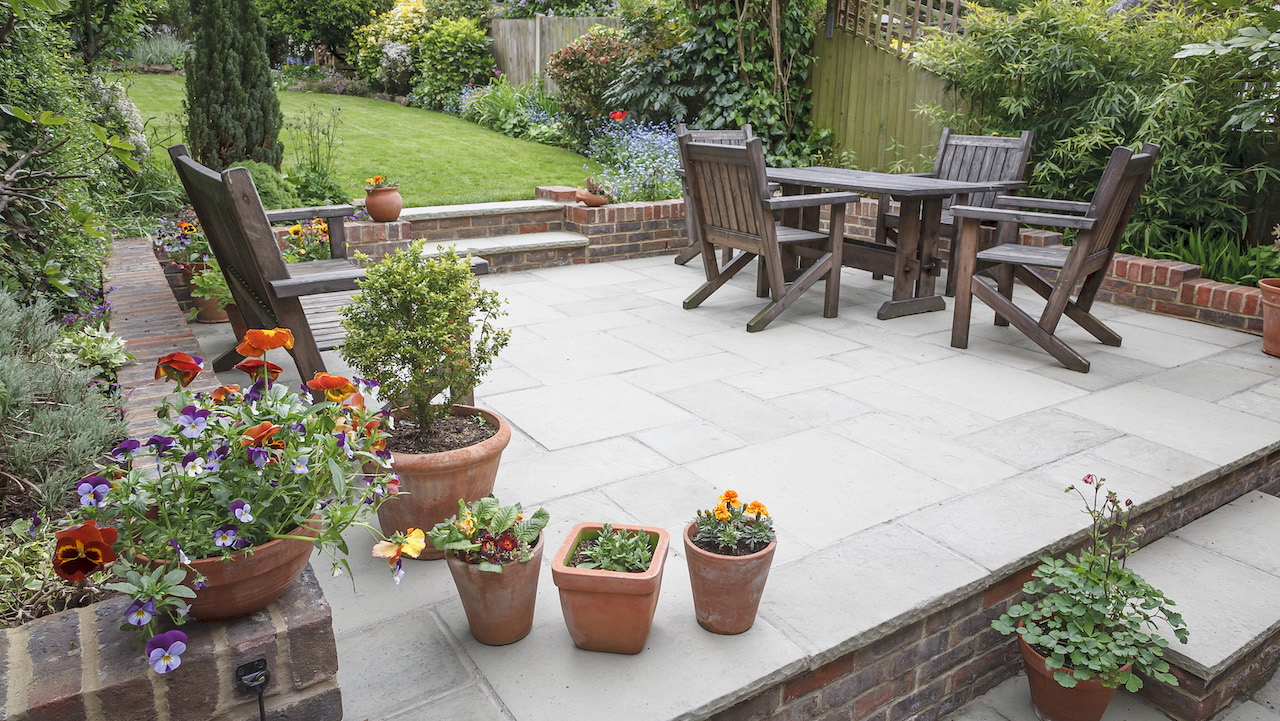 Left/Bottom: chuckcollier/iStock / Getty Images Plus via Getty Images
Right/Top: PaulMaguire/iStock / Getty Images Plus via Getty Images
One of the more complicated aspects of redesigning your backyard or outdoor space is choosing between installing a deck or a patio. It's a major decision with many factors involved, including the current state of your yard or land, the costs and ROI associated with each option, your DIY skills, and how the deck or patio will be used.
Deck vs. Patio: Which Is the Right Outdoor Space for You?
When you consider whether to choose a deck vs. a patio, there are several considerations.
A deck is an open outdoor platform that rises above ground and is connected to a house. Commonly made of wood, a deck doesn't have a roof overhead. A patio may or may not have a full or partial roof and is defined as a paved area of the ground. Unlike a deck that's always connected to the home, a patio may or may not be connected to your house.
Decks are typically built with wood, including cedar, bamboo, mahogany, redwood, Ipe hardwood, or pressure-treated pine. Other materials such as aluminum, stone, cement, rubber, fiberglass, or composite materials that appear similar to wood are also popular decking choices. Choosing the right material for your deck can depend on a range of factors such as your climate, budget, personal style, and the deck's location on your property.
For instance, will the deck be under full sun, or are there shady trees overhead to protect it? This is a key question to ask when determining what decking material is right for your needs. A local patio contractor, a deck builder near you, or even taking a quick jaunt around the neighborhood to see what is popular locally can also help you decide what material is best for your deck or patio.
Patios are paved with stone, concrete, or cement, making them more permanent, or at least more complicated to move or replace in most situations.
Like decks, deciding what type of material is best for your needs and property requires you to look at where the patio will be located, if there is a roof (or if you are planning to build one) overhead to protect it from the sun, the grade or level of the land where it will be placed, and any other weather issues along with your own personal aesthetic and style of your property.
Ask a Pro About Your Deck or Patio Options
Types of Decks and Patios
The choice between installing a deck or a patio in your outdoor space can be more complex than just choosing one or the other–you must also decide what type of deck or patio best suits your property and your needs.
Floating Decks
A floating deck sits several feet above the ground and likely requires stairs and a railing to access. Floating decks can be somewhat mobile and do not necessarily need to be attached to a home or other building, making them more flexible and easier to place. However, a floating deck doesn't necessarily protect the ground underneath and can be hazardous if occupants have difficulty with stairs or similar obstacles.
Ground-Level Decks
These types of decks are only a short distance above the ground and may only have joists underneath for support. They are nearly always connected directly to a house or other building. Ground-level decks can be ideal for many situations because they protect the ground underneath and generally don't require stairs or rails, so they are simpler for households with older adults or a person with a disability.
Raised Patios
Raised patios sit directly on the ground like standard patios, but the ground itself is graded to meet the pavers. This makes raised patios a good option for properties where the ground isn't level because it can be shored up with pavers or similar structures for support, creating a flat surface for outdoor entertaining and activities.
Key Differences Between Decks and Patios
One of the primary differences between decks and patios is the material they are made from, as well as their height off the ground and need to be attached to a building or other structure.
Decks are generally crafted from wood, composite materials made to look like wood, aluminum, rubber, or plastic, while patios are made from concrete or stamped concrete, brick pavers, stone or flagstone, gravel, or wood.
Wooden decks or patios may need to be re-stained or refinished periodically, and other materials may need sealing, refinishing, or other work depending on your climate and any damage from weather or other catastrophes. Re-staining a deck tends to cost around $700 on average and refinishing a deck is around $975, with additional costs if repairs or replacement panels, boards, pavers, or similar materials are required.
Decking Costs vs. Paving Costs
The cost of building a deck vs. a patio can vary significantly based on your choices.
Decks cost around $7,000, or $35 per square foot with installation, depending on the type of material chosen, the size of the deck, the ground and other conditions where it is being constructed. Materials alone range from $3 to $25 per square foot.
Patios are typically less expensive than decks. Depending on the materials selected and the size of the patio involved, building a patio costs about $3,200 or $10 to $20 per square foot installed. You'll pay $1.50 to $30 per square foot for the materials alone.
Be aware that if you are planning on building a roof over your deck or patio, that can add a significant amount to the overall deck or patio project cost. A covered roof can cost from $3,000 to $10,000, and a complete screened-in enclosure can start at $8,000 and go up to $25,000 or more.
Find the Best Deck or Patio Pro in Your Area
Pros and Cons of Decks
Pros: You could build your own deck if you are a little bit handy and have the right tools, but a DIY job does require time and patience to get right.
Cons: You need to have or borrow the right tools. If your deck requires any complicated grading or level of the ground or anything similar, you may want to hire a professional deck contractor or builder to ensure the deck is stable and safe for you, your family, and your guests.
Pros and Cons of Patios
Pros: Patio installation can be more affordable and easy, especially if you choose an inexpensive material like concrete or gravel.
Cons: The materials used for patios are often heavy, and it can be taxing to DIY. What's more, if you have to level or grade the ground underneath, you may need special equipment. Adding a full or partial roof can also increase the costs of building a patio, but could also improve its ROI.
What's the ROI of a Deck vs. a Patio?
While adding a beautiful outdoor living space will most likely improve your enjoyment of your home as well as its property value, there is a difference in the return on investment of decks versus patios.
Decks–while more expensive to construct–have a return on investment (ROI) of around 60 to 80%. On the other hand, patios cost less to install but tend to have an ROI of under 50%. In areas with warm climates suitable for outdoor living, the ROI from adding a deck or patio might be even higher.
FAQs: Design Considerations for Your Deck or Patio
There are several factors to take into consideration when designing your outdoor space, but the primary question you should answer before making any decisions might be the simplest: How do you plan to use your deck or patio?
And then you can build from there. For instance, do you need a roof that covers it partially or completely, do you need to account for stairs or railings or leveling the ground underneath for stability and safety purposes? Are you thinking of adding a grill or outdoor kitchen area? Will the patio or deck be connected to the house or another structure or be free-standing? These questions will lead you to build the perfect outdoor space.
Start Your Deck or Patio Project Now
No Comments Yet