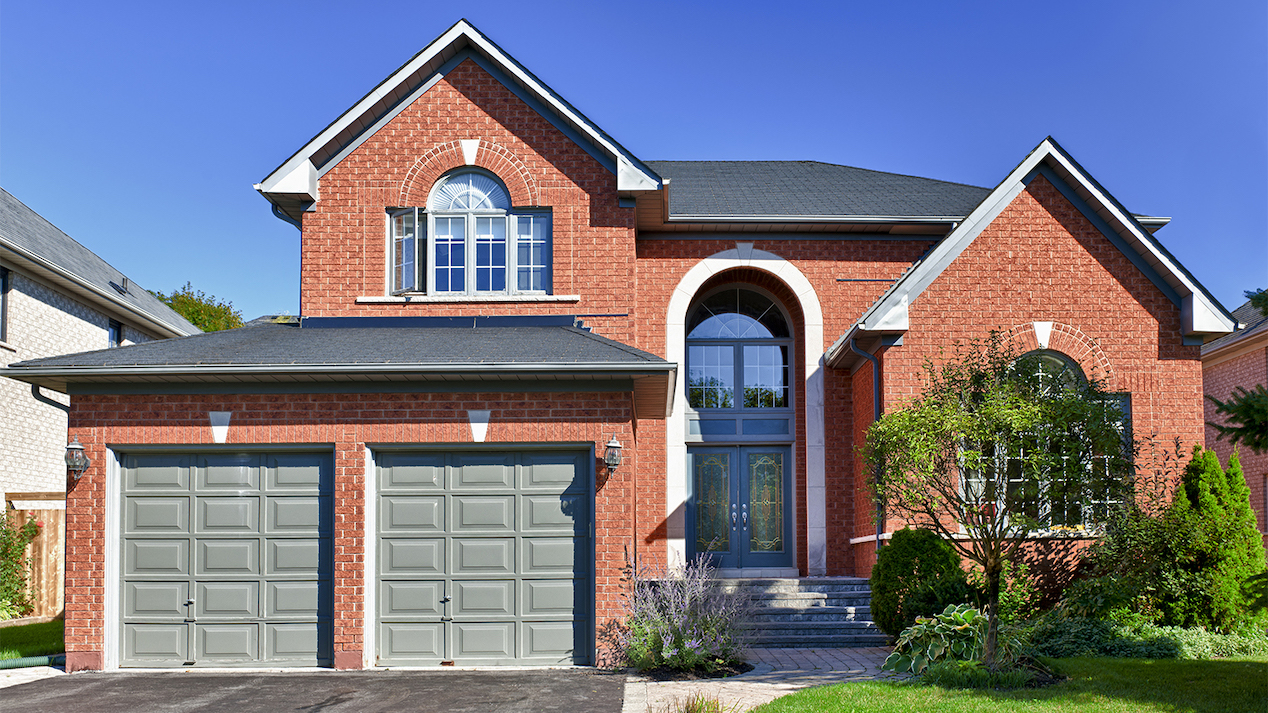 Photo: Elenathewise / Adobe Stock
Both attached and detached garages have pros and cons, and you should consider each of them before making a decision. While attached garages are cheaper, detached garages provide more expansion opportunities. Whether you go for an attached or detached garage will depend on your living situation and several other factors.
On This Page:
What's the Difference Between an Attached and Detached Garage?

Photo: pics721 / Adobe Stock
The main difference between an attached and detached garage is that one is directly attached to your home, while one is a freestanding structure.
Attached
An attached garage shares a wall with your home, providing direct access to the house.
Detached
A detached garage is freestanding and thus requires some amount of walking to reach.
Find a Garage Building Pro Near You
Attached vs. Detached Garage: Which Is Better?

Photo: Iriana Shiyan / Adobe Stock
When deciding whether to build an attached or detached garage, it's crucial to consider the following factors.
Cost
The cost to build a detached garage on average is $40 to $70 per square foot, which is usually around 10% to 15% more than the cost to build an attached garage.
Garage costs will likely increase when electricity and plumbing are involved since you'll need to wire the lines out into the new structure.
In either project, you can expect roughly half the cost to cover tools and materials and the other half for labor.
Installation/DIY
An attached garage is less expensive to install than a detached garage. Professional garage contractors can save money by using existing home walls to build the structure. This cuts down on both tools and labor costs. Plus, for an attached garage, running electricity is cheaper since you'll expand your home's existing electricity system rather than adding one.
When installing an attached or detached garage, it's best to hire a local professional garage builder. This is particularly important for attached garages; you may need certain permits, and there may be specific size restrictions to be aware of before getting started.
Do some preliminary research, ask for references, and make sure the person you hire has proper licenses and insurance. When hiring a contractor, ask for multiple quotes to make the best decision for your situation.
Expansion
Sometimes homeowners need more space, particularly if you're expecting new family members or long-term guests. Detached garages can expand, while expanding an attached garage is very difficult.
Security
In terms of safety and home security, an attached garage may be a hazard if the attached door isn't properly secure or functional. Another issue is that having an attached garage poses more house fire hazard risks since the garage attaches directly to your home.
Convenience
One of the biggest advantages of an attached garage is that it's convenient and accessible. This might be particularly appealing if you frequently carry large loads from your house to store in the garage. Plus, it's more convenient and attractive if you live in an especially rainy or snowy area.
The attached garage is great for homeowners who have an additional freezer or fridge and want easy access. Or, some people decide to use the attached garage as a workspace, which is convenient since you won't have to go far if you need a snack or bathroom break.
Electricity
Adding utilities, such as heat and air conditioning, will be simpler in an attached garage since you'll just extend the utilities to the garage.
Additionally, running electricity in an attached garage will cost less than in a detached garage. With an attached garage, you have the convenience of running ventilation and HVAC as an extension from the home. On the flipside, ventilation and HVAC will need to run through separate sources for detached garages.
Thus, you can expect utilities to cost more for a detached garage. The electrical work involved in building a detached garage will also result in more work than building an attached garage.
Lot Size and Style
The shape of the space in which you're planning to build a garage may affect your decision when choosing between attached and detached garages. A detached garage is a great idea if you have a narrow lot extending back into an alley.
If you don't have a lot and plan to build a detached garage directly in your yard, consider the yard space you may lose. If you have kids or pets, this may be a precious space that they will miss.
Which Is Best for Your Home?
Whether you decide to get an attached or detached garage depends on several factors, including price range, style and your home's age.
Sometimes homeowners find that historical-looking houses don't aesthetically fit the style of attached garages. It's also important to consider your home's condition and age—sometimes, old neighborhoods have various alleyways or access points that make a detached garage a better choice.
Start Your Detached Garage Project
No Comments Yet