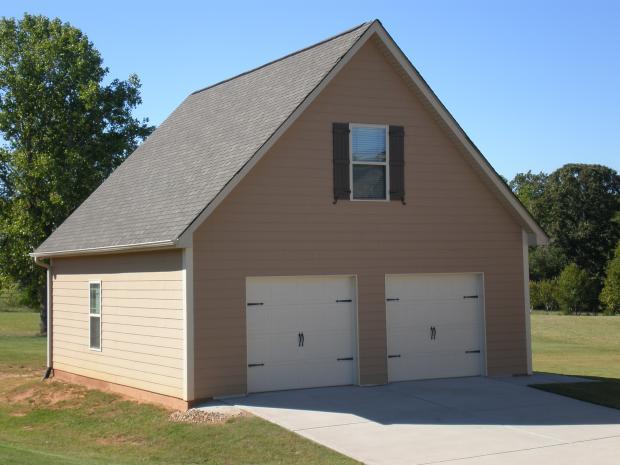 It's a building dilemma that any homeowner thinking about adding a new garage has to consider. There are benefits and drawbacks to both designs, so the real question you need to ask yourself is which design is going to be best for your particular needs.
Take a look at reasons for and against these two common designs to help you decide which garage style is the one you've been looking for.
Lot Size, Shape
Believe it or not, the shape of the lot you're planning to build on may help make your decision an easy one. A narrow lot that stretches far back towards an alley is a natural fit for a detached garage. On the other hand, detached garages can swallow up a big chunk of your existing yard. Building an attached garage instead might be the difference between filling up your lot with a detached model, and still having a yard for your kids and pets to enjoy.
For some ideas to help you consider, walk your lot and look at your property from every angle: the street, the alley, backyard, driveway, deck, back windows, etc. Try to visualize the size of garage you are thinking about. Will it confine your view if it's detached? Will it change the architecture if it's attached? Take a tape measure and mark off the space you are considering. What will this do for the shape of your yard?
What Is Your Detached Garage For?
Beyond the practical considerations of your property, also be honest about what your intentions are for building this garage. If your main goal is to avoid having to trump through rain and snow to get to your vehicle on inclement mornings, then an attached garage with direct access to your home is definitely the way to go. If you're looking to set up that wood or auto shop you've always wanted, then a detached version can offer more space, privacy, and limits noise for other people in the house than a garage that's directly attached.
Ultimately, attached models can present safety hazards if you store a lot fuel, paints, oils or other materials that put off harmful fumes. Storing them in a detached model means you won't have to worry about those chemicals leaking into your home.
What Will Fit Your Home Best?
Another thing to consider when deciding between a detached or an attached model is the style, age, and condition of your current home (and those in your neighborhood). Attached models are relatively new in the world of home building.
If you've got an older or historical home, an attached garage is going to look forced and out of place. The awkward look may draw hairy eyeballs from your neighbors as well if you live in an area where older homes are the norm. In such cases it's almost always wiser to opt for a detached model instead. If you live in an older neighborhood, alleys and other access points also makes a detached garage a good choice.
Thoughts on Garage Building
Finally, think about how substantial of a building project you're ready for. An attached garage is really just a large home addition. You'll be adding quite a bit to your structure, but your contractor will also be able to utilize pre-existing walls in the construction process and maybe save you a little money.
A detached garage is more akin to building a small house from scratch, including digging out and pouring a foundation, and then building your new garage from the ground up. It's a little bigger project, though you will have a little more leeway as far as designing everything exactly how you want it.
Before you begin with either project, consider these tips.
Remember to insulate this space. Even if you aren't planning on use this as living space, it is much easier and cheaper to insulate while you build than to figure out later that you need some A/C or a heater in there. If you aren't certain that this will be livable space, then opt for the least expensive insulation option.
Build storage into your plan. Storage can be in the form of cabinets or shelving or overhead storage. You plans right now might be to have this be a studio or an office, but you will start storing things in here because it will be empty. Plan ahead for organizing the stuff that will appear once your garage is built.
Don't forget security. Both attached and detached present their own issues, but presumably, you are building this garage to put things of value in it, whether it's cars, computers, bikes, or family, make sure everything is protected. Be sure to ask your insurance if you can get a rebate if you equip this new space with a quality security system, as it is common that insurance agencies do this.
No Comments Yet