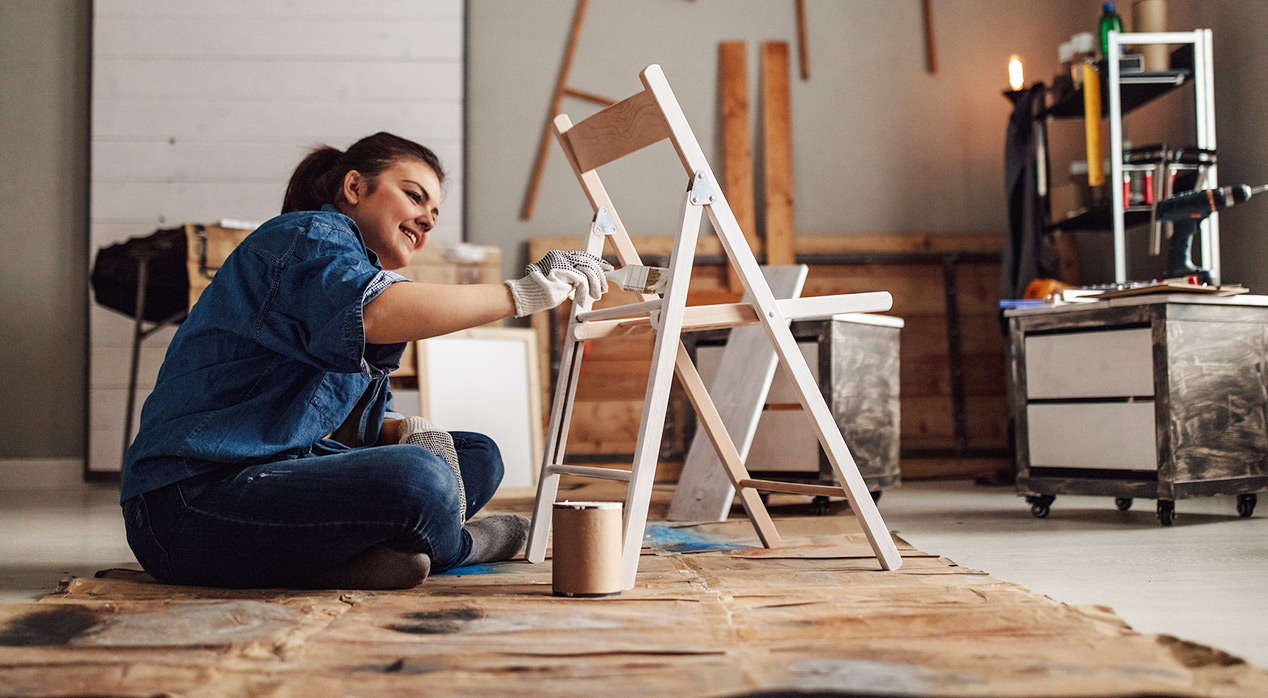 Photo: PhotoAttractive / Getty Images
The best flooring for a garage ultimately depends on how you plan to use it. The garage is a versatile room you can convert to fit your lifestyle. Every part of this space offers opportunities for customization, and that includes the floor.
For example, you can coat your floor with epoxy, sealant or paint, or cover it with materials like tile or rubber. Each option comes with its own advantages, and a local floor installation pro can help you weigh your options. However you plan to use your garage, check out these popular garage floor ideas for inspiration.
On This Page:
Garage Floor Coating Choices
A durable coating creates a smooth and easy-to-clean surface, perfect for a high-traffic space. Coatings made of epoxy resin, solvent-based sealants or durable paint can reduce the cost of replacing your flooring by lengthening its life.
A floor coating might be worth considering if you often park your car in the garage. The smooth surface is relatively easy to clean in the event of a spill or leak. Read on for the full benefits of each floor coating choice.
1. Use an Epoxy Garage Floor Coating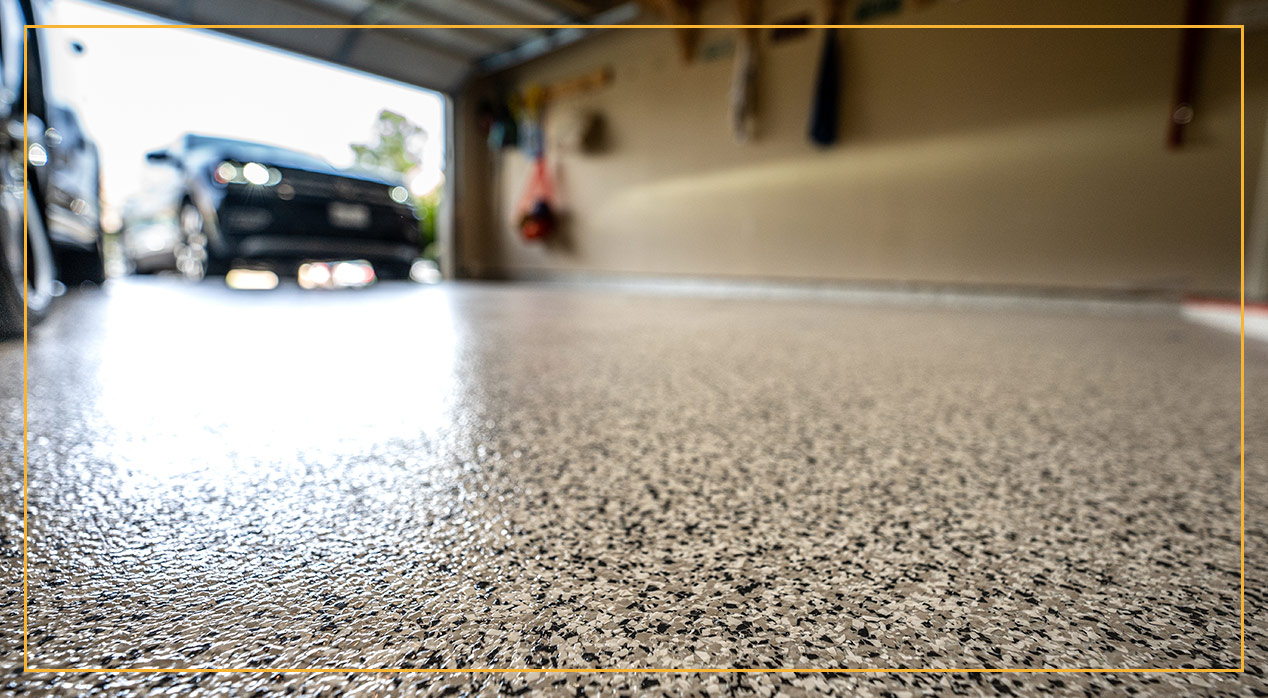 Photo: Bobcat Beasley / Shutterstock
Epoxy is paint made with a carbon-based bonding agent that's durable and long-lasting. This paint acts as a resin that provides a thick coat of protection. As a flooring option, it withstands much of the wear-and-tear that a garage might encounter.
Different quality resins will affect the cost to coat concrete with epoxy. A high-quality epoxy resin will resist damage better than lower-quality epoxy, and will likely last longer. A garage floor coating expert can help you decide which choice to make for your lifestyle.
Benefits: Floor epoxy is durable and oil-resistant.
Best for the car enthusiast's garage.
2. Cover Your Floor With a Concrete Sealant
A sealant adds a sleek topcoat of protection to your concrete floor. Sealants can be water-based or made with solvents (hardening agents). Water-based sealants are less durable than those with solvents but can be a better choice if your garage lacks ventilation. They give off fewer chemical smells and can help improve air quality.
Benefits: Concrete sealant has a simple one-step application.
Best for garages with concrete floors in good condition.
3. Add a Pop of Color With Garage Floor Paint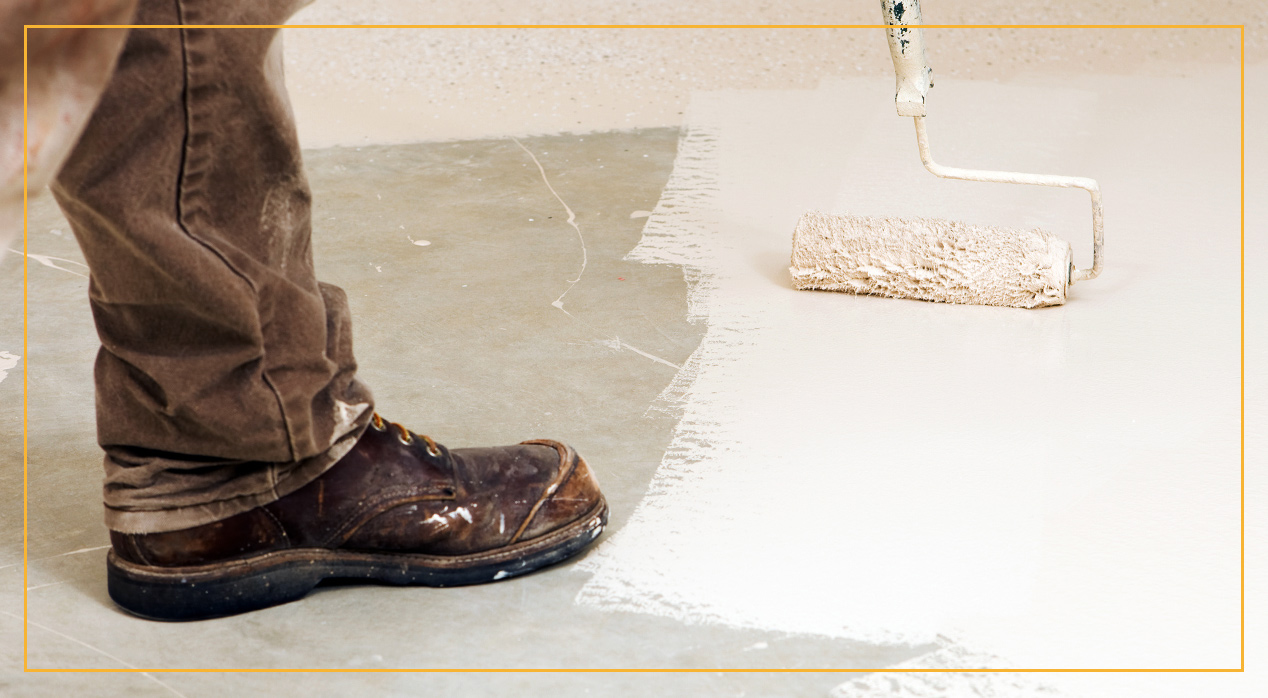 Photo: BanksPhotos / Getty Images
Paint is more readily available than epoxy. It lacks the bonding agent that makes epoxy strong, so you'll need to repaint your floor every two to three years to keep it in good condition.
A pop of color can distinguish your garage and make it stand out in the neighborhood. If you work in your garage often, a stress-reducing calming color like a deep blue or green will soothe your mind and help you focus. Or, if you use your garage as a place to show off your tools and toys, a commanding color like red, yellow or black can set the stage.
Benefits: Floor paint color options allow you to create a custom look.
Best for low-traffic garages housing lighter vehicles.
4. Apply Concrete Floor Stain for a Quick Fix
If your concrete floor is in good condition, the fastest way to change its look is to stain it. If your concrete floor has cracks or oil spots, it's best to consult with a concrete contractor near you who can help you repair the floor before staining it.
Floor stain creates an active bond that fuses with your concrete floor. This way, the finish is less likely to chip, which could require a costly floor repair. This choice is not only cost-effective but also looks beautiful with layered colors.
Benefits: Concrete stain is a quick fix you can DIY with little effort.
Best for garages with concrete floors in good condition.
Garage Floor Covering Ideas
For the most customizable options, choose a floor covering. Coverings can be rubber, vinyl, tile or even carpet. The cost of flooring for your garage will depend on the thickness of the material you use and the square footage of your garage.
Rubber, vinyl, porcelain and carpet are available in a variety of colors so you can mix and match to create custom patterns and unique looks. If you spend lots of time hanging out in your garage, a floor covering is a low-maintenance option that's attractive and easy to clean.
5. Try Something Different With a Rubber Floor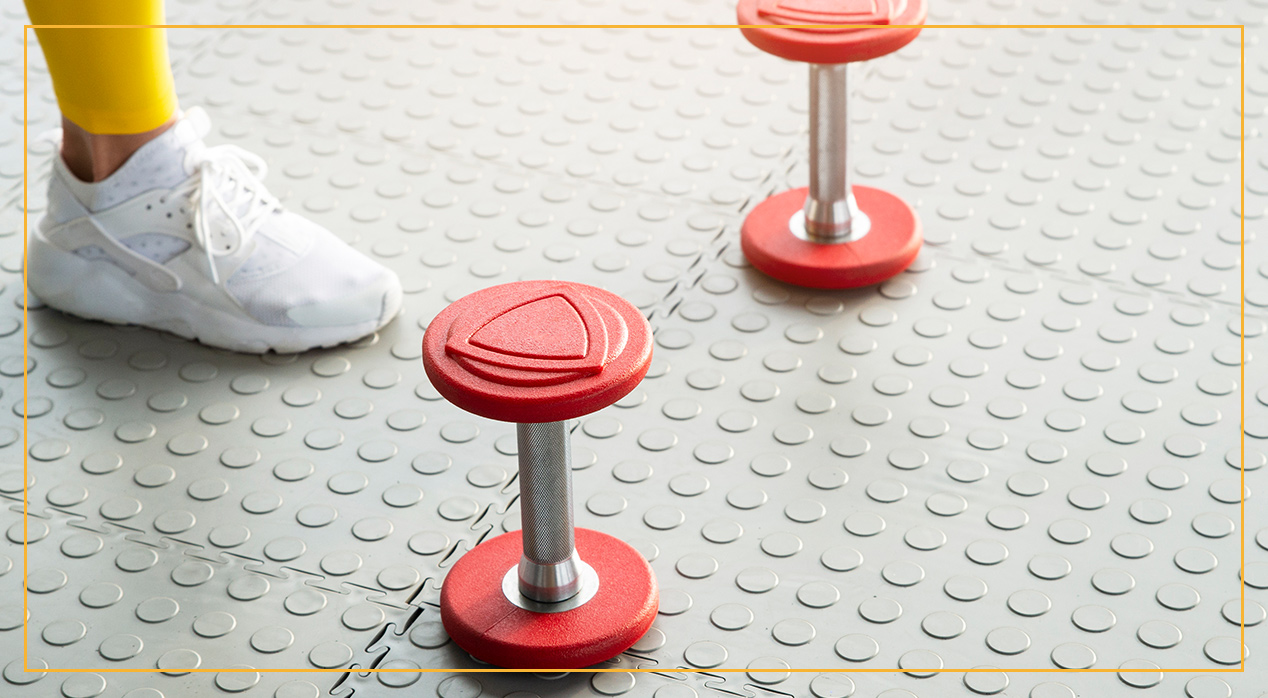 Photo: Mariakray / Getty Images
Rubber is a natural choice for a garage that houses vehicles. This flooring material absorbs some sounds and can lower noise levels if you use power tools often or work out in the garage. It's shock-absorbing as well, so accidental drops will be less likely to damage it.
The cost of rubber flooring is lower for rubber tiles than for poured-in-place rubber. Rubber tiles are a less-permanent flooring option that you can remove and deep clean, while poured-in-place rubber creates a smoother surface and a more polished look. Both are durable flooring options for high-traffic spaces.
Benefits: Rubber floors are durable and shock-absorbing.
Best for garages with high levels of traffic and activity.
6. Pick Heavy-Duty Synthetic Flooring
Synthetic polypropylene tile floors are made to withstand lots of pressure for long periods of time, which means they're an excellent choice for garage flooring. This material is a heavy-duty plastic that doesn't absorb moisture or oils, so it will be easier to clean in the event of a spill.
These synthetic tiles also stand up to outdoor use, in case you're looking for a flooring option that can help cover part of your driveway. Heat won't absorb into these tiles, so they'll be cooler to walk on with bare feet than concrete.
Benefits: Synthetic floors are impact-resistant and long-lasting.
Best for garages with high levels of traffic and activity.
7. Opt for Wallet-Friendly Vinyl Garage Flooring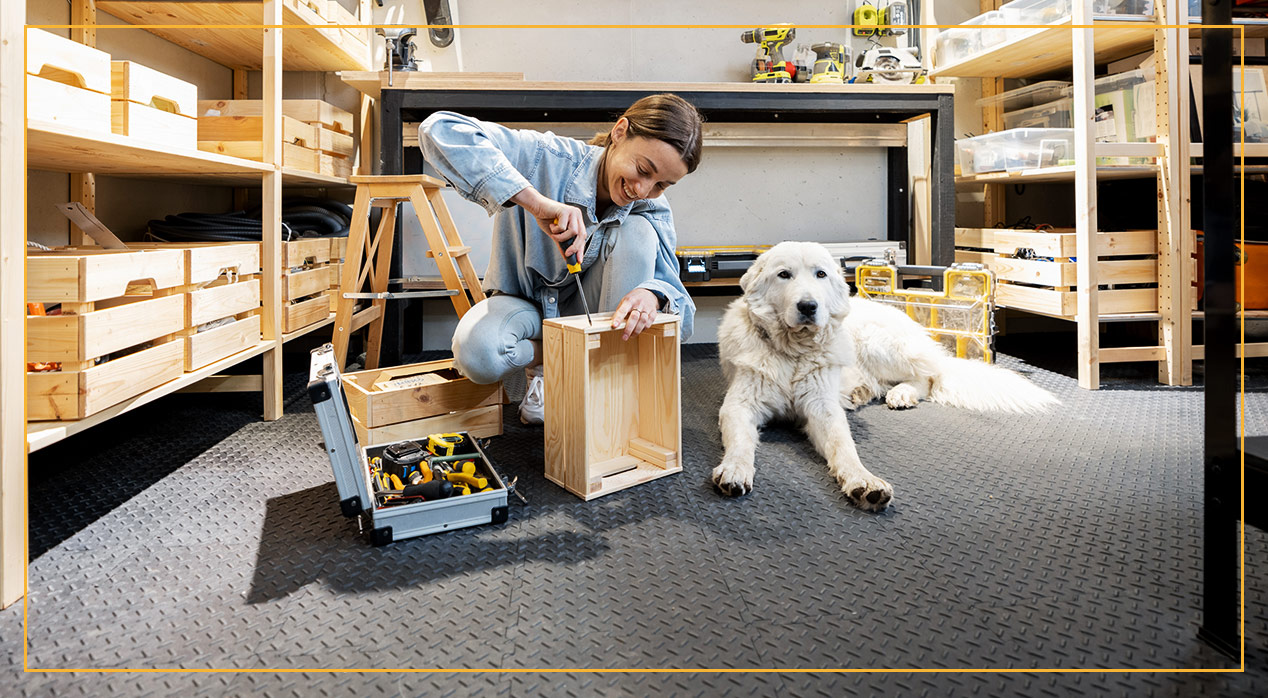 Photo: Rosshelen / Shutterstock
Vinyl coverings are the easiest to install and among the most versatile flooring options. Even better, the cost of installing vinyl can be lower than other floor coverings. Some vinyl tiles interlock, while others have an adhesive backing to keep them in place.
You may want to choose a heavy-duty vinyl that can withstand lots of pressure since thinner varieties will damage more easily. If your garage is a high-activity space, consider a more durable floor covering like porcelain tile.
Benefits: Vinyl flooring is low cost and has a wide style selection.
Best for garages with low to medium levels of traffic.
8. Show Off With a Porcelain Tile Garage Floor
Natural stone tiles elevate the look and feel of your garage, turning it into your own showroom. Porcelain isn't porous like concrete, so it resists moisture and dust and cleans easily. A porcelain tile installation expert can advise you on preparing and leveling your garage floor before laying down tile.
This stone is naturally strong and withstands a tremendous amount of pressure. Tiles are a great choice if you like to work on your car in the garage rather than in the driveway. Their good looks make them an enviable option if your garage doubles as a spot you like to hang out in.
Benefits: Porcelain is durable, stain-resistant and has a high-end look.
Best for a double-duty garage and living space with high levels of traffic.
9. Choose Garage Carpet for a Unique Look
Unless your garage is a living space, save the soft feel of a plush carpet for your home's interior. However, there are garage-specific grades of carpet with rubber backings that create a moisture seal to prevent mold buildup. A local carpet installation pro can usually finish this job in less than a day.
These carpets are made with oil-resistant, synthetic fibers that a professional cleaning service can powerwash. Carpets can easily trap shavings from wood or metal, and a smoother surface like rubber or concrete will be easier to clean if you work with these materials at all in the garage.
Benefits: Carpeting provides insulation and reduces noise.
Best for low-traffic garages free from wood- and metalworking.
Ask an Expert Before Considering These Materials for Your Garage Floor
Plush carpet isn't the only choice to steer clear of for your garage floor. Some flooring choices seem garage-friendly at first but likely won't hold up long term.
Weight rating, moisture resistance and durability are a few of the factors to consider when choosing a material to cover or coat your garage floor. If you have concerns about your current garage flooring material, it is recommended to schedule an inspection for mold or moisture damage before you repair or replace it.
Ceramic tiles: Porcelain is dense and resists cracks and other damage, but ceramic tile isn't highly resistant to pressure. These tiles can easily crack under the weight of a vehicle.
Wood: Wood floors in your garage will damage easily if your space isn't climate controlled. Wood also splinters under heavy pressure and absorbs moisture from leaks and spills.
Thin vinyl flooring: Some vinyl is thick and durable, but vinyl that's thin and meant for foot traffic isn't the best option in the garage. Damage from leaks, drops or heavy objects can easily occur.
What Is the Best Flooring for a Garage?
If you like to work with wood and metal, an impact-resistant material that's easy to clean might suit your needs best. If you park your vehicles in the garage, choose a flooring option that supports lots of weight, like concrete or porcelain.
If you like to hang out with friends and neighbors in the garage, choose a softer option that's comfortable and easy to clean, such as rubber or polypropylene. You shouldn't overlook the garage floor when personalizing or remodeling your home.
When making selections, remember that the best flooring material depends on your lifestyle and what you use the garage for most often. If you're unsure about making the best choice for your particular needs, you can always start by getting a cost estimate on a new floor. With HomeAdvisor as a link between you and the installation experts you hire, you can feel reassured about having a verified, reputable team of pros.
No Comments Yet