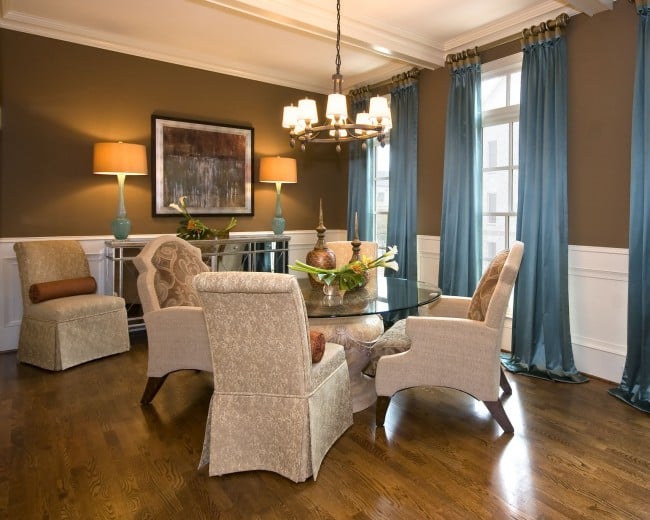 The dining room often contains the most elegant pieces of furniture in the house. Since they are in a place that is considered formal, dining room chairs and tables are typically made to very high standards, with a price tag to match.
Hardwood Dining Room Chairs and Tables
No matter the particular species, a new hardwood dining room chair is going to be moderately expensive. Because you'll need at least four of them, the price is certainly a major consideration when shopping around. Tables are just as expensive, but most only need one of them. The combination of table and chairs makes up the most basic dining room set. Most people will purchase at least these items together for both cohesion and the slightly lower price you get when buying a set, as well.
The upside to hardwood furniture is that, if well maintained, the value tends to increase with age. A dining room chair or table that has been passed down for a few generations, and has been taken care of, is very likely to gain value. Some species of wood (like black walnut) that used to be readily available are now quite expensive due to their rarity. In other cases, it is the craftsmanship, not the wood's availability, that drives up the price.
Second Hand Dining Room Chairs and Tables
Buying new furniture often seems to cost more than we imagine it will. Due to hardwood's durability and desirability, many savvy homeowners are looking to less conventional places to find quality furniture at a good price. Any piece is worth only what you're willing to pay for it. To some, it is worth the extra money to buy furniture new so that it is in pristine condition. For others, finding items that are slightly damaged at a cheaper price is a better option. Pieces that are a little banged up, but still sturdy and functional, are often a wise investment.
It is possible to find contractors who specialize in fixing and refurbishing such pieces if you want a professional touch. If you have some experience, you may enjoy doing the work yourself or with a friend's help. Either way, it is very possible to end up with some great furniture (that carries a little history) for the same price, or even less, than the cost of buying new and less interesting pieces.
Dining Room Buffets
Unfortunately, dining room buffets are becoming less common. Since so much eating is done in different areas of the home (and frequently family members eat at different times), the once near necessity of dining room buffets are not needed in many modern homes.
Dining room buffets are large pieces of furniture that contain a lot of wood. New and old ones alike can be very expensive and are generally very beautiful. When going through flea markets and thrift stores, keep your eyes peeled for this wonderful piece of furniture. Talk about an item worth salvaging!

Ready to start your
dining room furniture

?Find Pros
No Comments Yet