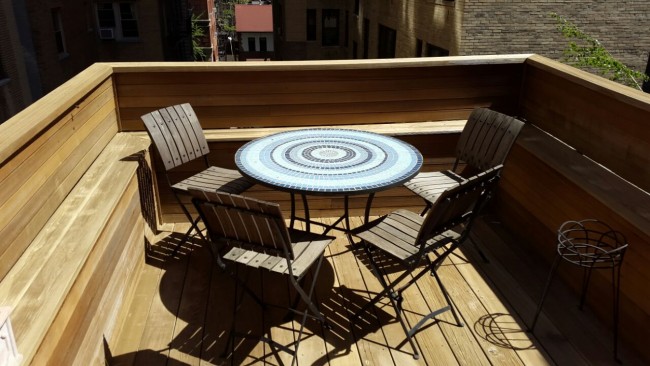 Mosaic tables are a labor of love. Constructing one is a time-consuming business, but an artistic and fun one, as well. Here's the basics for building a mosaic table, as well as some other uses of mosaic tile that you may not have already though of.
Mosaic Tile Basics
Before you start building a mosaic table, it's important to realize how many options there are out there to choose from when it comes to mosaic tile. Your choices include ceramic tiles, glass tiles, metal tiles, porcelain tiles, cork tiles, and even mixed material tiles. What does that mean for mosaic tables? Simply that the sky is limit when you're designing one of these fun and innovative table top additions.
Building a Mosaic Table: Design
Once you've chosen a tile that suits your fancy, the next thing you need to consider is your overall design. The fun of building with mosaic tile is that your design options are endless. Alternating stainless steel and copper tiles creates a modern, clean look, while working with porcelain and ceramic tile creates a traditional, pastoral look to your table. If you have the means to invest in custom made mosaic tiles, you can even create intricate pictures and designs to grace your table top.
Why Go Mosaic?
It depends on the material you settle on, to some extent, but most mosaic tiles make for durable, sturdy table tops. Because the majority are composed of glass, metal, or ceramic, you don't have to worry about scratching or staining, and you can place hot pots, pans, and baking dishes on the surface without worrying about causing any burns or damage.
Building Mosaic Tables 101
When building mosaic tables, your primary concern is going to be support. You are going to need a lot of it. Use a six leg frame design, with a particle board surface on top of the legs. Place your legs six inches in from the sides, with cross members at least 16 inches apart. The structure underneath the table should resemble a ladder with legs on it. 1 x 6″ hardwood would work fine for the frame. And you can purchase ready-made legs from a lumber company if you want a more refined, spindled look. Remember, though, that support is king here. Particleboard alone will warp in a day under the weight of the tiles if not supported correctly.
Ready to start your
custom furniture

?Find Pros
Once your table is built to specs, it's time to lay the tile. There are several ways to do this. If you want a totally custom design, you'll apply a layer of thinset adhesive, and then set your tiles individually into the thinset before grouting. You can also purchase pre-manufactured groupings of tile, attached to paper strips or fiberglass mesh, that make installation a lot easier and faster. The paper or mesh holds the tiles together in pre-set squares, so all you'll need to do is set each section into the thinset and then pull off the adhesive paper to get your tile in place. You won't get the custom design, or originality, of doing it tile by tile, but it might be the difference between finishing your table in a day as opposed to a few weeks or months.
Mosaic Tiles Are Great for Other Areas as Well
If you're set on building mosaic tables, nobody's going to stop you. But don't forget the wide range of uses mosaic tiles provide in other applications as well. Backsplashes, countertops, wall murals, and pool murals are just a few of the areas where mosaic tiles can turn heads. Talk to a supplier of mosaic tiles about your full range of options when it comes to choosing the right materials and design for your particular project.
No Comments Yet