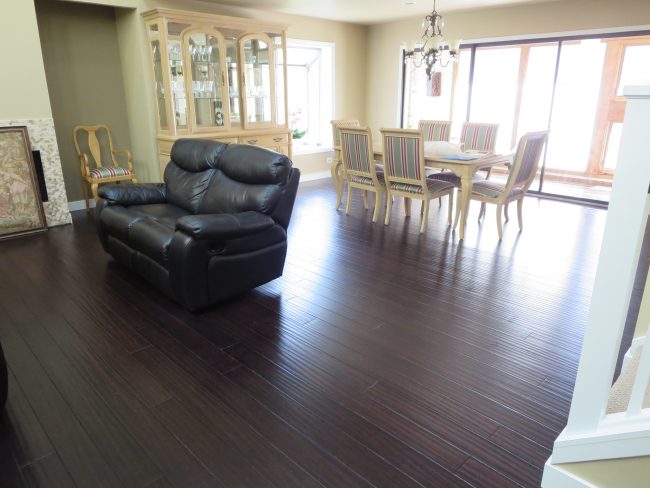 As with any major home improvement decision, it's helpful to compare flooring prices before making the big leap. When it comes to flooring cost, there's several things to keep in mind. First of all, regional prices for materials and flooring installation may vary. While the following price estimates make for a good starting point, it's important to talk to suppliers and installers in your area to get a more concrete idea of what your final floor cost is going to be. Also, don't forget that when you purchase flooring, you're making a substantial investment in your home that you're going to have to live with for years to come. Budget concerns might influence your decision, but beware of letting them be your only guide.
Hardwood floors are going to cost $5 to $15 dollars per square foot for material depending on the quality of the boards and the width. As for installation, expect $2 to $8 per square foot, depending on whether your boards are pre-treated or need to be finished on site.
Laminate flooring is very cost effective with a floor cost of $1 to $6 a square foot for materials. It's also easy to install, sporting installation costs of $1 to $5 per square foot, including laying down the sub-floor padding.
Linoleum floors run around $2 to $3 per square foot for materials, and another $5 to $7 for installation. Expect to pay a little more for more complicated colors and design schemes.
Vinyl Sheet runs $1 to $5 per square foot for materials and a cheap $1 to $2 per square foot for installation.
Vinyl tiles are the cheapest flooring option on the market. Your floor cost will run in the neighborhood of $1 to $4 dollars for materials and $1 to $2 per square foot for installation.
Stone tiles run $7 to $20 per square foot for the materials and $6 to $8 dollars per square foot, at least, for installation. Many tilers charge more for installing stone because lugging around the tiles is a more labor intensive than working with ceramic or vinyl counterparts.
Ceramic tiles run anywhere from $5 to $15 per square foot for materials and $6 to $8 per square foot for installation.
You Get What You Pay For
On a final note, expect to get what you pay for. Flooring materials vary greatly in quality, durability and looks, and the less you shell out the more likely you are to get a product that is going to let you down in the years to come. Floor cost is one of those things, both with materials and installation service, where the more you pay out initially, the less often you'll be faced with costly repairs on down the line.

1 Comments