What Is Home Staging?
Staging a home involves getting specific rooms ready to sell. It makes the house appeal to buyers in your area.
This services goes beyond cleaning and minor improvements to the property. It creates a look that highlights the best aspects of your space. There are different types of home staging you can choose based on your budget and expectations.
Professional stagers understand buyer expectations and can help you use furnishings to make a room flow perfectly. This guide identifies why staging is important, the role these pros play and how you can find the right one.
On This Page:
Why Stage a Home?
Professional staging softens your home's décor into a space that can work for almost anyone. As a seller, you might know what you like but have no idea what other people prefer to see. Although it's not required, this service can give you a better chance for a good sale.
4 Benefits of Home Staging
Ensures the home meets average buyer expectations
Makes it easier for buyers to imagine living there
Often results in a higher sale price
Gets the property off the market faster
Is Staging Your Home Worth It?
The cost to stage a house runs $400 to $1,600. Many homeowners say that the investment was worth it. Half of sellers report that it increased buyers' offer prices compared to neighbors who didn't use these services. About 25% noticed that it significantly decreased the time the house spent on the market.
How Does Home Staging Work?
The home staging process starts weeks in advance of listing a property for sale. You can usually expect the following steps:
Request consultations from professionals to choose your stager.
Identify the most important areas, like the living room, kitchen and master bedroom.
Discuss and approve the plan.
Pay for services.
Vacate the property or empty specific rooms.
Be present as the pro adds rented furnishings and décor.
Maintain the layout until the sale is complete.
Let the pro enter to remove the furniture and decorations.
Staging a Home Vacant vs. Empty
Pros may suggest selling your home vacant, but it isn't same as an empty house. It means that there are no current residents living there. They often prefer to do business this way because the property is:
easier to show
more likely to remain in selling condition
less complicated for homeowners to manage
Home Staging on a Budget
Prices vary based on your choices. You can save money by:
What Is Soft Staging?
Soft staging involves getting the house ready to show without using furniture. It can save money on rented decorations. Pros use several tools to achieve a specific theme, including:
wall colors
paintings or framed pictures
window treatments
small décor items on countertops
rugs
The effect creates a feeling of home without a complicated or expensive layout.
What Is Virtual Staging?
Virtual staging allows sellers to showcase beautifully-decorated spaces using augmented reality. Pros take pictures of empty rooms and use software to add furniture. It often costs less than a standard service because it doesn't involve actual décor. Since most buyers browse online listings and photos before deciding to visit, this approach helps create quality images to entice them to look further.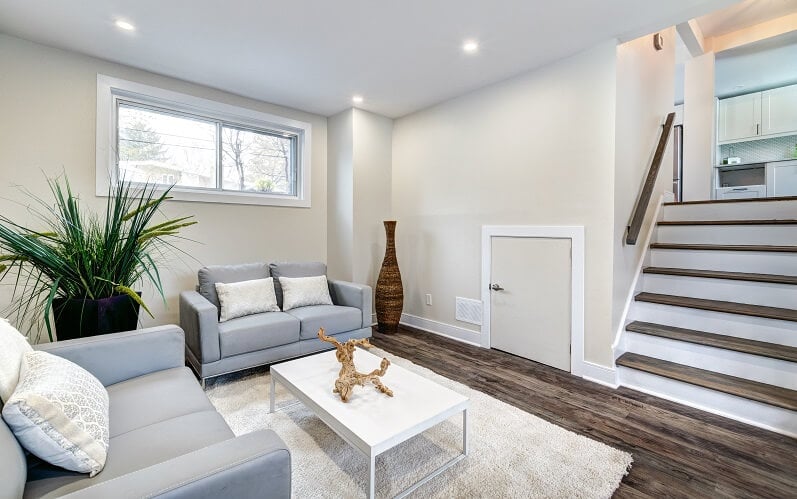 Who Are Professional Home Stagers?
Most professional home stagers work independently or in a small business. They may also work as an interior designer or decorator, depending on their training. Hiring an individual can offer you more personalized attention but might limit your access to specific types of décor. If you choose a company that maintains its own inventory, you may have more choices.
Real Estate Stagers
Many real estate agents personally offer to do this service. About one in six agents operate as professional stagers. Another 25% will perform it as part of their standard fees.
Pros
No need to find another pro
May cost less
Cons
No team collaboration between agent and stager
May take longer to get the home ready for listing
Tips on Hiring Staging Professionals
Finding the right staging pro for you is similar to hiring an interior decorator. The job does not require specific education or credentials. This means that you can expect wide variations in skill and experience. You'll want to:
Browse online to find pros near you
Read ratings and reviews
Choose at least three and request a consultation
Ask plenty of questions to get a feel for the pro's services before you decide
Questions to Ask Home Stagers
What is your experience and training?
How many homes have you done in my area?
May I see your portfolio of projects from the past year?
Which rooms would you recommend staging?
Where do you get furniture and décor?
Do you carry insurance for the items you put in my house?
How much do you charge for services?
FAQs
Does staging a house help it sell?
Most sellers say that staging helped their homes sell a little faster. This may depend on the average rate in your area.
What does a home stager do?
A stager reorganizes the layout and appearance of specific rooms in your home. The process often involves replacing your décor with rented furnishings, painting rooms and updating window treatments.
Who pays for staging?
Sellers typically pay for staging services before they list the home. In some cases, a real estate agent or firm will provide it as part of their fees.
What happens to staging furniture after the house sells?
The seller, agent or the company providing the staging may be responsible for removing the furniture. The purchase contract for the home usually specifies a period, ranging from 3 to 10 business days after closing the sale. The homeowner or stager has to clear the property of items not related to the sale by then.
Can I stage a house while living in it?
You can stage your home without moving out, but it often takes more work. For example, you may have to find a holding place for worn or damaged furniture. Most pros prefer to work with vacant properties.
What does staging an empty house mean vs. furnished?
Pros may choose to stage a home with furnishings or keep it empty of furniture. Since renting fewer items for each room usually costs less, this decision often depends on the seller's budget. It's called "soft staging" and aims to present the property in the best way.
When do I need to decide to stage or not to stage a house?
The best time to stage a home comes before you hire a real estate photographer. The process should be complete by the day your agent publishes the listing.
Should You Stage Your Home?
When considering hidden home moving costs, you might see professional home staging as a minor expense with a potentially high return. If you're ready to get started, you can find good home stagers near you.
No Comments Yet