Looking for Concrete Workers for Your Home Project?
The versatility of concrete has caused both contractors and homeowners to turn to it as a primary building material. Driveways, patios, floors, and other flatwork remain the most popular types of installations. Meanwhile, concrete staining and other decorative projects are becoming more popular.
As demand has grown, finding a reliable and available professional is a difficult task. Proper screening and guarantees are essential to avoid working with an inexperienced residential concrete contractor. It requires sorting through companies who don't have the necessary experience of specialty expertise to get the job done. This guide will help you find the right expert to get high-quality work for your home.
On This Page:
What Do Contractors Do?
Most professionals have more than one specialty within the general field of concrete work. Still, pouring a foundation is a different type of work compared to finishing a patio. That's why your first step should be to make sure that they specialize in your project task.
Concrete Finishers for Hire
As their name suggests, concrete finishers set the cement forms, ensure smooth pouring of the surface, and add any edges or decorations before and as it dries. Most pros focusing on residential work will offer finishing services as part of the package. It's essential for any job that has a visible surface such as driveways, patios, staining, and decorative work.
Hiring for Concrete Pumping
Pump operators are responsible for handling the equipment that gets mixed cement to its drying spot. In your home, most contractors you hire will be able to operate the equipment needed for this part of the job. Specialized pumpers typically work on commercial projects.
Concrete Cutters For Hire
Like pumping, concrete cutting is a specific part of the installation process. Operators use saws with diamond-impregnated blades that can easily cut through the material.
Hire a cutter if you need to remove existing cement. It might also be necessary to finish off smaller projects such as the edge of your driveway. Finally, experienced contractors might use saw cuts to create contraction joints that prevent the material from cracking as it shrinks over time.
Concrete Pourers & Installers
Most professionals who describe themselves as pourers or installers offer the entire package, from mixing and delivering the cement to finishing the surface. They might specialize in stamped concrete or focus on pouring a home's foundation.
Concrete Flatwork Contractors
Experts in this area specialize in the decorative finishes like non-slip or faux natural stone that you might expect on a patio or driveway. Concrete flatwork describes any surface that is flat, making it perfectly suited for this material. You will find pros who can add different finishes to the surface.
Return to Top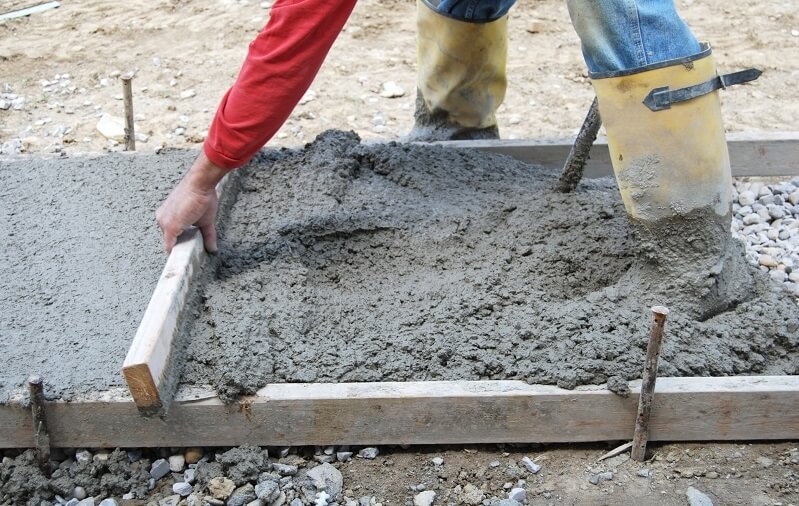 Finding Residential Concrete Contractors
The number and kinds of residential concrete contractors may surprise you. The vast majority of homeowners are unaware of the quality and versatility of this material. The right finishing can create a surface that imitates nearly any material available and often costs considerably less. This includes not just the texture of the area, but also the color and design.
Concrete Driveway Contractors
Installing a
concrete driveway costs
about
$3,900
or
$6 per square foot
. That includes work to cut and remove the existing material, deliver the concrete,
prepare and level the surface
, and pour the material. A
concrete driveway
stamped to look like stone can significantly increase your curb appeal. Look for
driveway installers in your area
that specialize in this type of work. Focus your search on experts who can perform all tasks from cutting existing cement to pouring the new surface.
Stamped Concrete Services
Stamping means adding a textured finish that makes it look like flagstone, limestone, brick, or even wood. It's especially popular for patios but can be included in other finishes as well. Concrete can be just as smooth as any stone tile and with essentially the same pattern. Decorative concrete is usually used for interior home improvements, including floors, countertops, and coffee tables. It is also common for outdoor installations such as kitchen fixtures and even driveways or patios. Expect to pay about
10% above the cost of the overall project
for a unique finish. Find a
concrete finisher near you
to get help. Most general cement contractors also offer stamping as part of their service.
Patio or Walkway Installers
Concrete patios
are increasingly popular, thanks to their durability and versatility. The
cost of a cement patio
ranges between
$1,500 and $3,800
depending on the size and finish you choose. That includes materials and all labor, which ranges from preparing the surface to delivery and finishing. Look for
patio installers near you
for this type of job. They will also be able to help you with a walkway project, which requires the same process as a patio.
Pool Installers & Refinishers
Installing a
concrete in-ground pool costs
between
$35,000 and $65,000
. That includes digging out the area and preparing the surface as well as pouring the gunite and coating it to become water-resistant. Expect to pay about
$6,500
for refinishing, which includes adding new plaster and patching any holes to keep the water in.
Small Job Concrete Contractors
Masters of this material will generally be able to take on smaller jobs, as well. That might include:
Resurfacing concrete flooring
Ring cones and other decorative elements
You will need a professional who specializes in that type of decorative or surface coating work. Smaller repair work may be done by a handyman who doesn't need specialized expertise.
Return to Top
Concrete Costs & Alternatives
Concrete installation can get expensive, especially when you consider the fact that the
price for delivering the concrete
ranges between
$1,500 and $6,200
. That, in addition to the
$1,000 to $9,000
installation cost and the technical skill required to finish this surface, means it's not the right answer for everyone's budget. Delivery costs are largely independent of the amount needed because equipment is the biggest factor. That means brick or stone might be more cost-effective for smaller jobs. For larger projects, delivery prices become a smaller part of the budget. If you've decided to use concrete for one job, it often pays to see where else you might be able to use the same material. Beyond walkways and patios, it's a viable alternative for driveways, landscaping or retaining walls, and even countertops or tables.
Return to Top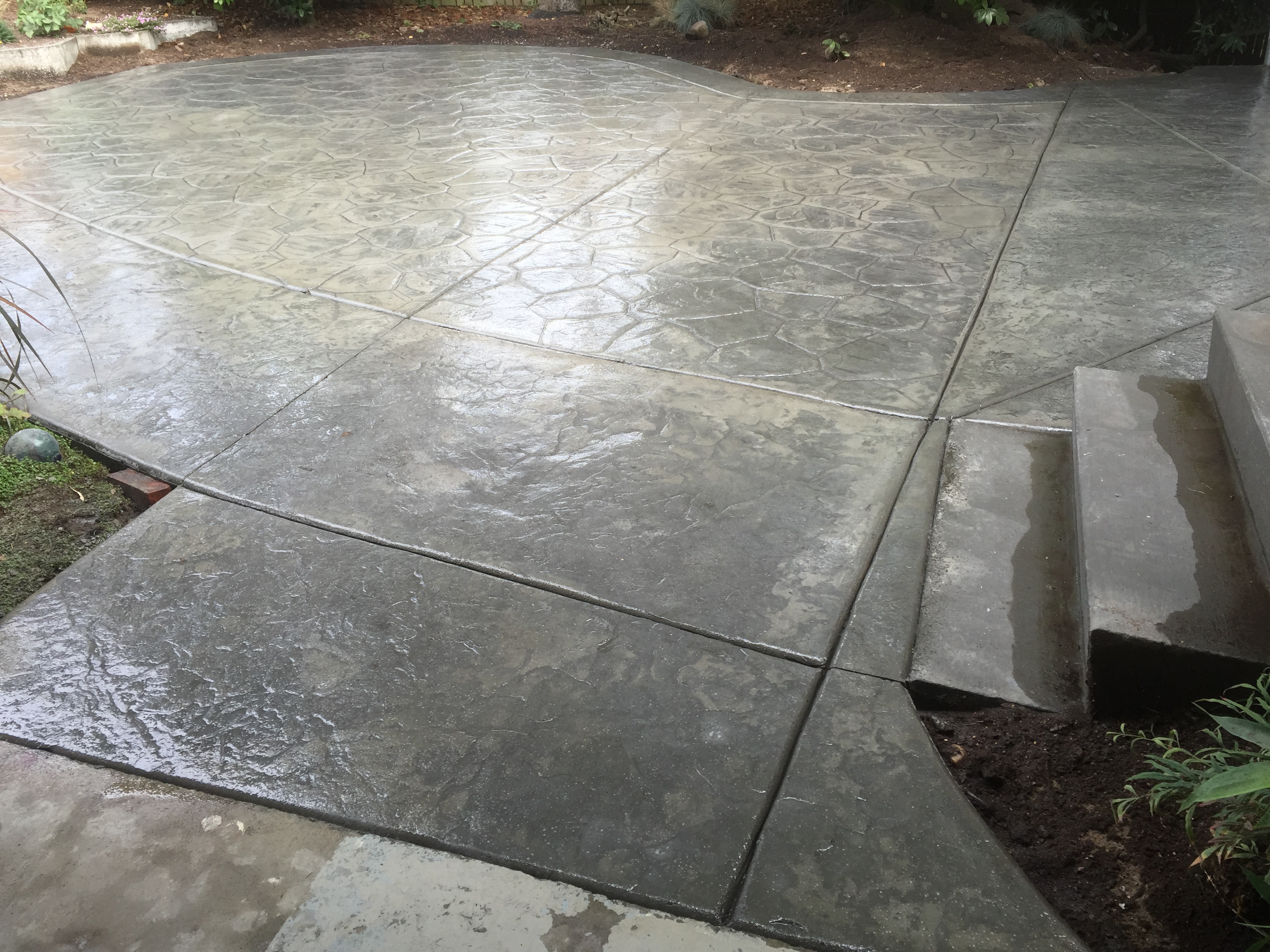 How to Hire Concrete Contractors
Talk to multiple contractors before you make your choice to compare quotes and get the best price.
Check references. Concrete professionals should be able to provide you with at least three references.
Read contracts and warranties closely.
Make sure estimates are comprehensive, and the cost of your project is fixed unless you decide to change the installation options.
Never pay the balance up front. Using a credit card can also help buffer you from paying for shoddy construction work.
Old School vs. New School Concrete Professionals
You'll find concrete contractors who have been working on patios, driveways, and walkways for decades. Some have grown to take on new types of projects, while others have stuck with what they've known. That doesn't necessarily make the expert better or worse. Look for someone who fits the specialty you're looking for. At the same time, keep in mind that a professional who doesn't learn about new techniques may be using less efficient methods and cost you more money. On the other hand, you may come across a contractor who rushes into new territory or projects without expertise in that area. They'll likely perform low-quality work and won't be able to meet tight deadlines. In your search for the right expert, make an effort to understand the experiences of the worker to ensure they can get the job done right. That starts with asking the right questions.
12 Questions to Ask When Hiring Cement Contractors
Are you licensed and insured?
What's your experience with a project like [patios/sidewalks/retaining walls/etc.]?
Do you perform all parts of the install yourself, or do you subcontract factors like delivery and finishing?
Do you have a portfolio of work that I can review?
Can you provide three references of recent clients with similar jobs as mine?
How long do you think my project will take?
Will you provide an estimate before the contract, and how binding is that estimate?
What expenses does and doesn't your quote include?
Do you guarantee your work in writing and do you offer any kind of warranty?
How will you ensure that the concrete won't crack over time?
Can you help with any permitting my job might require?
When can you get started?
Contracts for Concrete Work
Most concrete pros charge by the project but base that cost on the estimated time and materials needed for your project. A contract should break down the overall cost into these factors. It also tends to include:
Permanent contact information for all parties
A timeline of completion
An estimated schedule of payments
Ask for specifics to be included that can protect you from shoddy work. Specifics might include a written guarantee of work, liability in the event of property damage, and stipulations on clean-up after the job.
Return to Top
DIY Concrete Driveways
Homeowners looking to
install concrete
themselves need to be careful. You have to know how to safely operate the specialized equipment you're using, along with the technique required to pour and finish the surface. Shoddy work can have major implications. You save up to 80% of the cost of professional installation, but risk cracking concrete that becomes unattractive and even dangerous in your driveway or patio. You can also run into problems like
concrete dusting
, which happens if you don't get the right mixture of cement and water. That's why most homeowners prefer hiring contractors instead.
Renting or Hiring Concrete Equipment
If you take on the project yourself, you can rent most equipment needed at major home improvement chains. Some larger contracting firms also offer equipment rentals as a side business. Total project cost is dependent on the type, size, and brand.
Buying Your Own Concrete
You can save money by purchasing some of the materials yourself. The cost to buy your own concrete ranges from $70 to $100 per cubic yard.
Figure out how much exactly you need by multiplying the total length and width of the surface to be poured with the depth. One cubic yard is approximately 27 cubic feet.
length x width x depth = total cubic feet. Cubic feet / 27 = cubic yards.
For instance, a patch that measures 10 x 5 x 2 feet will require 100 cubic feet of concrete. Divided by 27, you will need approximately 3.7 cubic yards of material, which will cost you between $260 and $370.
When buying your own materials, you have to make sure you get enough because you should pour it all at once. A pro will bring ample concrete to the site to make sure that is the case.
Benefits of Hiring a Concrete Contractor
Rely on extensive expertise in the project you're looking to build.
Save time in getting the job done quickly.
Ensure quality work that lasts, preventing cracks and dusting.
Take advantage of finishes like stamped and decorative concrete.
Ready to get started? Find a
concrete contractor near you
.
4 Comments