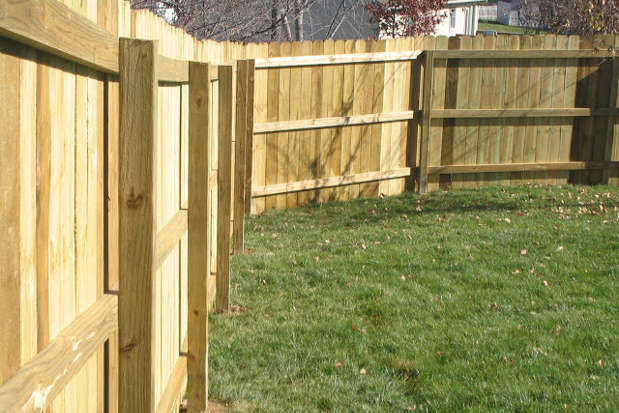 It's smart to hire a fence installer to save yourself the time and effort of driving posts into the ground. A fencing contractor will have the equipment and experience to make the job faster and easier than installing it yourself. Good fencing contractors are also knowledgeable about local ordinances. They'll know which material lasts the longest in your climate. They'll also know how far away from your property line the fence should be so that your neighbors don't make you move it later.
This guide walks you through the best way to find and decide on the right pro for your fence installation. We'll help you choose your style, compare contractors and reviews, get free consultations, and compare quotes for your job.
On This Page
Choose a Fence Style
Always start by determining what type of fence you want. Your neighborhood makes the best starting point. Go for a drive and look at what the neighbors have. Note a few things:
Material: Wood vs. vinyl or composite? Steel, aluminum or wrought iron?
Fence Design & Color: White picket fences, chain link, vinyl privacy or natural cedar? You want diversity among your neighborhood, but you also don't want to stick out. If all your neighbors have 6-foot-tall cedar privacy fences, consider something similar.
Height: Keep the height the same as your neighbors. Building codes generally have a max height.
Fencing Material Choices
Your local fence contractors know the benefits and drawbacks of each material for your area. Vinyl, aluminum, steel, and the wide variety of different wood species available can each make a perfect fence material in the right setting. For example, you don't want vinyl in 120-degree deserts, they'll melt. You'll want to balance regional differences, which your pro understands, with cost.
Finding Local Fence Installers and Landscape Companies
Before calling, always do some digging online into different companies in your area. You'll want to:
Check reviews
Inspect previous work
Check on licenses.
Do the research using our fence contractor directory. HomeAdvisor prescreens pros to make sure they're licensed and competent in their field. You might also consider hiring a local landscape company to subcontract the work if you have a larger outdoor remodel in mind.
Over-the-phone Questions for Fence Companies
Here is a list of questions for you to use when you call and ask a company out for a site visit. Some of these might come up during your research.
Are you licensed? If required by your state or city. Always go with a licensed pro.
How long have you been in business? Experience counts towards consistency and quality. If they've been successful for several years, it's a good sign they do quality work.
Do you have a portfolio of work I can look at? Most companies have one on their website or social media feeds.
Do you have insurance? Never use a pro without insurance.
Do you guarantee your work? They'll likely guarantee workmanship and materials separately.
Do you take care of the permits (and what is the process)?
How long does a typical job take? Use this to compare companies.
How do you arrange your fees? Some bill after the job is done, some require a deposit for materials. It's generally a good idea to wait until the job is complete to pay but this varies from region to region.
Do you provide a written contract or estimate? Always get one in writing. Never hire a pro with a "handshake deal".
If you like the answers you get to each of those, ask to schedule an inspection for a detailed quote. They may forward you to a sales representative or estimator.
Ready to start your
Fencing Project

?Find Pros
Get a Fence Installation Inspection
After you've done your research, it's time to set up home inspections. Always choose at least three companies to do a site visit.
What to Expect at A Home Fence Consultation
You can expect the estimator to go around your yard measuring distances. They'll ask you what type of fence you want and where you want it. They may ask you about connection points to neighbors' property lines. It's a good idea to talk with your neighbors ahead of any site visits, especially if you have a shared fence.
After they've measured, they'll ask you questions about the type and style you want. If you have any obstacles, like a tree or hedgerow, they may talk to you about costs to remove them or work around them.
Questions to Ask During a Home Consultation
Always get a home consultation. Never accept a quote over the phone. Without seeing your property, they have no way of knowing what obstacles they might encounter. A few questions to ask when they're inspecting your yard:
What style fence and material do you recommend? Also, ask for options. You may want a cheap initial install, such as wood or chain link, but these usually have long term maintenance costs. Opting for vinyl or composite might cost more upfront but have no long-term maintenance issues.
What will maintenance and upkeep cost? Your installer often does this work and may even offer maintenance packages.
How long will this job take? Get them to put it in writing if possible.
Do you see any obstacles to getting this done on time and in budget? They'll look for things like sheds, tree roots, landscaping, property lines and connection points with neighbors.
What's the cost? If they've done enough of these, they should give you a general range on the spot. Some even write up a quote during the consultation while others put it together after the inspection.
DIY or Hire a Fence Contractor?
A fence isn't a tough DIY job, but a quality fence that lasts and looks like a professional installed it is. Quality fence installation consider things like wind tendencies, snowfall, soil conditions, humidity, and frost depth. Experienced local fencing contractors do the job faster and more effectively than most homeowners ever could.
To find a fence installer near you, use our directory to compare, research and match a professional to your project. You'll want to compare reviews and companies that we've already prescreened for you.
Ready to start your
Fencing Project

?Find Pros
FAQs
How do you measure a fence for installation?
To measure for a fence installation, you'll want to measure the length of the fence in total. Then, divide that number by the spacing of the posts, rounded up. Also, divide that number by the width of the pickets you plan to use.
How much does it cost for labor to install a fence?
Fence installation labor costs $35 per hour on average. The total depends on the size of the project.
What is the cheapest fence to install?
The cheapest fences to install are chain link and treated pine.
Do you tip a fence installer?
You can tip your fence installer, but it's rarely done.
What happens if you install a fence without a permit?
If you install a fence without a permit, you'll likely pay a fine, and rebuild or fix it to make it meet local building code if it's not already.
1 Comments