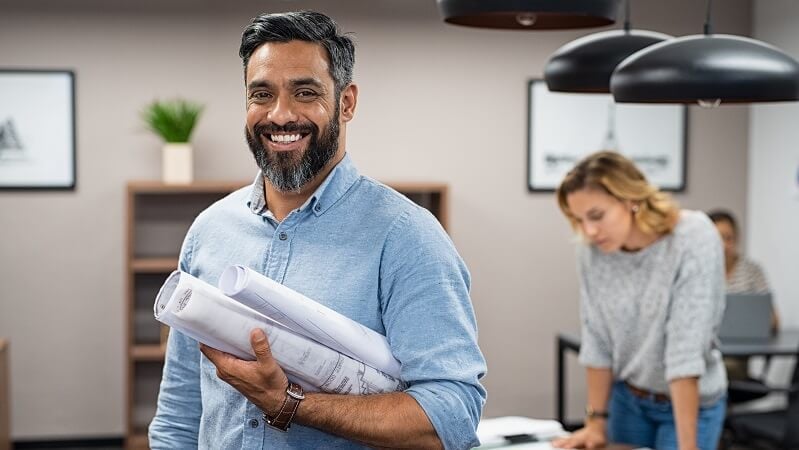 Every state and territory in the United States has strict and specific requirements for architects. At a minimum, they must possess a bachelor's degree in architecture and be licensed to practice in that state, as well as have a business license and liability insurance. When you learn how to hire an architect, the project usually starts with a consultation. Find the right professional for your home building or renovation project at HomeAdvisor.
On This Page:
Qualifications of an Architect
Hiring an architect means turning your dreams and ideas into designs that contractors can use to get started on your plans, whether you're building a new home or just making big changes to your current one. Architects can help you figure out if your plans are realistic and provide you with even better ideas than the ones you thought of in the first place.
Architects require more formal education than many other professionals. Most states require them to complete a program that has been approved by the National Architectural Accrediting Board. That may lead to a bachelor's or master's degree in architecture. In addition to their education, aspiring architects must complete an internship and, in some states, they'll also need a certain number of hours of hands-on experience.
Every single state and territory in the United States requires an architect to become licensed by passing the Architect Registration Examination, and some states have additional requirements for licensing and even more requirements for architecture firms. Check our State-by-State Contractor Licensing Guide to learn more.
Whether an architect works independently or joins a firm, he or she should also have liability insurance in case something goes wrong with a project. Knowing how to find an architect with the right qualifications may seem overwhelming at times. Instead of handling it on your own, turn to HomeAdvisor's network of professionals. Learn more about our extensive vetting process.
Services Architects Offer
Hiring an architect for home design, building, remodeling and renovation typically starts with a consultation. During this process, you'll meet with the professional to discuss your ideas and whether they can be completed realistically. You'll also find out how much it costs to hire the architect for this particular job.
Before the consultation, your architect may provide services like historical research on a home or property or master planning. They may also provide you with a rough sketch of your plans, as well as point out areas where you can save money or make improvements to your plans.
After the initial consultation, an architect's services may include:
Drawing the finalized design
Coordinating with engineers and designers to select materials
Soliciting bids from and negotiating with contractors on your behalf
Overseeing a construction project
Obtaining the proper building permits
Advising on fixtures and finishes
Making sure a project stays within budget and on time
Architects vs. Other Professionals
Hiring an architect for home renovations and other similar products can be costly. For this reason, it's important to ensure that an architect is the actual professional you need. People often confuse architects, designers, engineers, builders and other professionals involved with the process of building and remodeling homes. Keep in mind that some of their tasks may overlap or they may need to work side-by-side.
Type of Professional
Their Role in the Process
Architect

Creates the plans for the project
In some cases, oversees the entire project

Designer

Works with an architect to plan the interior of a space
Creates rooms that are fully functional within the architect's plans

Engineer

Focuses on structural elements of a home or building
Ensures safety and may also oversee a project

Interior Decorator

Styles a home or room once it's completed
Helps choose items like paint, fixtures, furniture and window treatments

General Contractor

Manages the subcontractors needed to complete a project
May also do the building with his or her own team

Builder

Handles the actual construction of the home or renovation project
Sets the foundation, walls, flooring and roof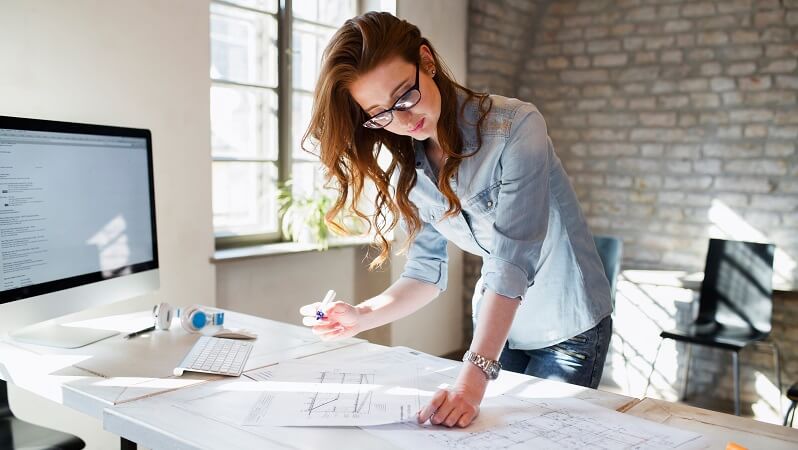 How to Use HomeAdvisor to Find an Architect
You may be wondering, how do I find an architect in my area? The best place to start is the HomeAdvisor website, where we have several tools to help match you and your project with the right professional to get it done quickly and efficiently.
Start with our Top-Rated Pros Near Me page. This requires you to enter your zip code and some other facts about your home building or renovation project, and within seconds of completing our questionnaire, you'll see a list of potential candidates for the job. Alternatively, you can browse our LiveDirectory of Pros, searching by city or project type.
If you have a specific project and price in mind, you may have more luck with the HomeAdvisor FixedPrice Services tool.
FAQs
Who needs an architect?
Anytime you plan to change the size or shape of a home, you should be hiring an architect for home design. For minor remodels that don't change the layout of the space, this pro may be helpful but not necessary.
How do I know if I should be hiring an architect or engineer?
Anytime you want to build an addition or change the exterior of your home, you may need an architect and cover the cost to hire a structural engineer, which runs about $500. Architects often bring in these pros to verify that a plan is sound.
Do residential remodeling architects do the same thing as interior designers?
Comparing residential remodeling architects to interior designers shows that they are similar but not identical. Both are responsible for creating a functional inside space. Architects also address concerns related to the structure, such as insulation or energy efficiency.
What happens after I pick an architect for my home project?
Once you sign a contract with an architect for your home project, the next steps depend on your needs. The pro may create a design and then hire contractors to carry it out. They may also bring in contractors to aid in the planning process.
No Comments Yet