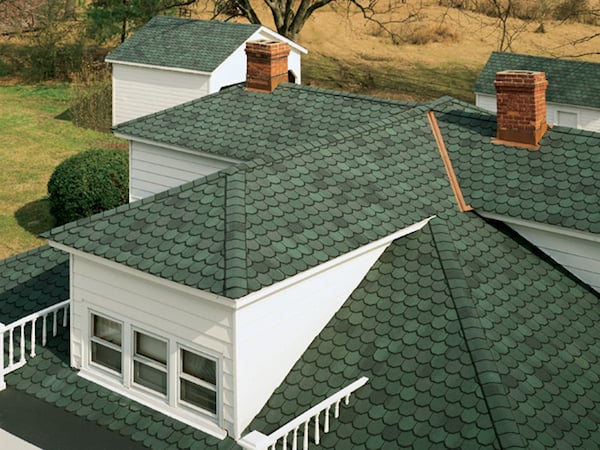 Roofs are the most important part of a home's weatherproofing, so it's vital that you choose materials that are up to the task. However, since different roof types are likely to perform better in different situations, buying materials is a matter of finding the right fit in both style and performance. A little research on different types of roofing materials is likely to pay off in a big way down the road as it can reduce maintenance needs as well as make replacement a less frequent occurrence.
Common Types of Roofing Materials
There are a number of roofing materials out there to choose from, but by far the most prominent in residential applications are asphalt, metal, and tile. Each material is a perfect fit for some properties, but a poor choice for others. Much of this depends on the environment you live in, your budget, and how long you plan on residing in the house.
Asphalt Shingle Roofing is by far the most common and economical, roof material in the country. Since it is often less than half the cost of other materials, asphalt is often chosen simply for its affordability. Its appearance might be less than stunning in many cases, but a good quality asphalt roof will hold up for several decades and do a sufficient job of protecting your property. Also, because it is the most common, it shouldn't be difficult to find an affordable contractor to repair, replace, or install shingles.
Metal Roofing comes in several different styles. Standard metal comes in large panels that attach to your roof decking and are ideal for areas where heavy snowfall is prevalent and where fire danger is high. Metal roofing tiles and shingles are also available, though they are typically more costly than panel-style metal. All metal roofing products are likely to last for a very long time (and often carry a warranty for 40 or more years); additionally, if you speak with your insurance company before you install, you may be able to get a reduction in your insurance premiums due to the added safety. Metal is more expensive than asphalt and its appearance doesn't appeal to everyone, but if you are in the market for a new roof, this material is well worth looking into.

Ready to start your

Roof Installation

?Find Pros

Tile Roofing Materials are high end installations that are as costly as they are attractive. Traditional tile (generally a burnt orange color) is a favorite of the southwest; its appearance is unique, but its performance may be an even bigger draw for many homeowners. Tile can last for more than 70 years in the right environment, but in areas where hurricanes, tornados, hailstorms, or heavy snow and ice accumulations are an issue, it may be more of a hassle than its hefty price tag would suggest. Additionally, because it is a very specialized material, it may be very difficult in some areas of the country to find an experienced installer or repair company. If you are thinking of installing tile roofing materials on a house that has a different roof type in place, you should be aware that this material is far heavier than other options and may require some structural adjustments be made in order to handle the extra weight.

Other Types of Roofing Materials

Cedar shingles will cost more than asphalt shingles, but they make up for it in looks. If you are diligent about treating them with water sealer every few years, they will last as long or longer than their asphalt counterparts. Concrete shingles have risen to premier roofing status in the past few years. They are virtually indestructible and come in a wide variety of colors, shapes, and styles. Concrete roofing isn't cheap, but it's probably the last roof you'll ever have to buy. Slate roofing is as high-end as it gets; much like traditional tile, slate roofs are extremely expensive, but in the right situation have been known to last over 100 years! Of available roof types, slate is one of the least common; however, if you can find an experienced installer and you've got plenty of money in your budget, this might be just the material you've been looking for.

Buying Roofing Materials

Once you've decided what material you're looking for, it's time to call the contractor. Better yet, call a bunch of them so you can compare estimates. While not always a stead-fast rule, it is often a good idea to disregard bids that are far higher or far lower than the norm. Also, go with your gut. Remember, this person is going to repair or replace one of the single most important aspects of your home. Making sure they're someone you're comfortable with and can trust can't be understated. Once you've found someone that fits that bill, let them guide you through. They're the experts, and while they will give you a number of choices, from materials on up to guarantees, it's always good to listen to their advice.

1 Comments