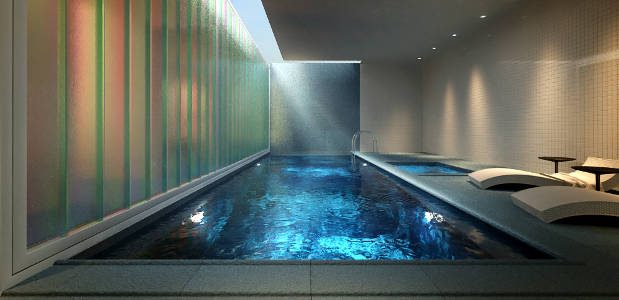 With health considerations being the talk of the nation, few exercise alternatives have gained as much attention as a lap pool. A lap pool is a small swimming pool that incorporates a constant resistant water flow to allow you to swim laps in place and stay in shape. Also known as an endless pool, these small, space efficient, exercise pools are perfect for the homeowner looking for an exercise alternative that is both health smart and an attractive addition to their home design.
Why a Lap Pool Is Better
Swimming has been proven to be one of the best cardiovascular workouts possible for the health conscience consumer. Jogging and other outdoor exercise activities cause a lot of strain on your joints and muscles and can often cause greater health problems over time as those joints and muscles wear out. Swimming, on the other hand, is the most low impact workout you can take on. The problem is that few people have the time to make a regular visit to the local pool for a daily workout. And even fewer have the space, or the means, to install a full size pool into their home.
The Perfect Home Training Addition
Endless pools are the perfect solution to the problems of lack of time to go to a pool and lack of space and means to install a full-size pool at home. They come in a surprising array of designs and can be installed anywhere in your home – inside or outside. And with an endless pool at the ready, it makes it so much easier to keep fit and healthy.
Lap Pool Design
One of the most exciting aspects of lap pools is the design possibilities. They can literally be installed almost anywhere in a home. Some homeowners prefer a larger outdoor exercise pool since they can incorporate a poolside area complete with a pool deck and social gathering area into the design. These incorporate all the beauty of a regular outdoor, inground pool without taking up unnecessary space.
Others choose to keep things more practical and install an indoor pool. A lap pool can be built into a relatively small room and can be scaled down to include just enough room for the exercise enthusiast to get their workout in. It can be outfitted with attractive tiling, vegetation, and even be transformed into a functional sunroom as well.
Need to find a pro for your Lap Pool Installation?
Find Pros
Talk to an Expert
Any time you're talking about pool design, it's best to talk to a professional. With the large scale of any pool installation, even a lap pool, an experienced contractor is your best resource. Furthermore, with small exercise pools and their particulars, such as the high-powered circulating pumps that make them possible, it's always better to hire this job out to someone who knows what they're doing.
---
No Comments Yet
You can be the first to comment!