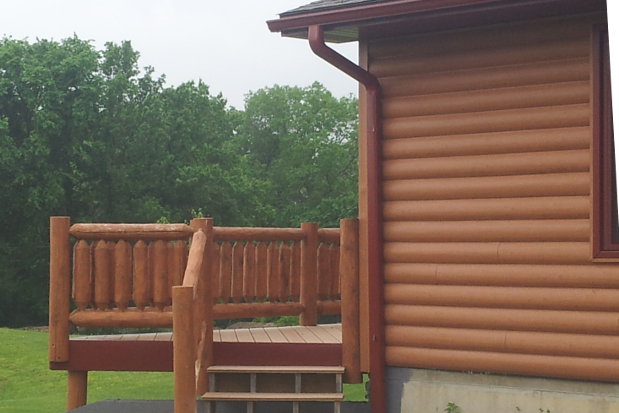 If you have ever dreamed of living in a log cabin but have never taken it seriously simply because of all the work it requires, you no longer have any excuse. Log siding uses half-logs that are nailed up just like regular wood siding, except they give off the appearance of a log cabin. These half-logs are identical to full logs and can be applied over any pre-existing structure with any pre-existing surface, giving a timeless look to most modern homes. This paneling is still made out of real timber and comes in all types of woods with all types of textures and grains (most commonly pine and cedar). Plus, it's lighter than full-logs, there will never be any residual log settling, and it can be installed in both the inside and outside of the house to fully complete its natural look.
Some Advantages
Besides simply looking authentic, there are a lot benefits that come with log siding. It also provides many saving opportunities, both fiscally and physically:
Cost:
Log cabin siding is certainly cheaper than using full-logs because it's mass-produced. But that doesn't mean that it's cheap. Depending upon the type of wood, prices tend to range from $1 to $4 per a foot. However, since this material is easier to install than the real thing, the labor costs are significantly less.
Value:
Not only does this attractive facade increase your property value, this paneling is also fully insulated. And due to this energy efficiency, log siding helps to lower your utility bills.
Keep It Real:
Since its purpose is to look completely natural, you'll never have spend extra energy and money to paint and then re-paint the exterior of your house.
Environmentally Friendly:
Believe it or not, log cabin siding is actually environmentally friendly. Since it doesn't use the whole log, more can be made from a single tree. This thrifty procedure helps in conservation by limiting any wood waste.
Ready to start your
Siding Installation

?Find Pros
Some Drawbacks
Of course there are some disadvantages that you need to consider before buying. Since this surface is still made out of wood, it comes with all the shortcomings of natural siding. It will need lots of maintenance and treating to avoid any insect infestation and burrowing. Plus, there is a chance for mold build-up which can eventually weaken the wood, so make sure to remove any rotten panels immediately to stop the problem in its tracks. The wood may also crack or splinter at times, so make sure to fix or replace these panels right away to avoid further damage from mold, leakage, or pests.
Vinyl Log Siding
A new product on the market, vinyl log siding is 100% man-made but still retains the look of natural wood. Therefore it comes with all the benefits of log siding but none of the pitfalls. There is obviously less maintenance (no more bugs, weathering, fading, splits), it is very environmentally efficient, and it costs a bit less than lumber. Plus, vinyl log siding can look like any type of grain, it can be easily painted, and since it's so durable it can even be power-washed occasionally. However, as with any modern innovation that intends to make life more convenient, vinyl log siding can also look a bit artificial as well, especially up close. Plus, you miss out on the pleasant natural textures and earthy aromas of real wood.
6 Comments