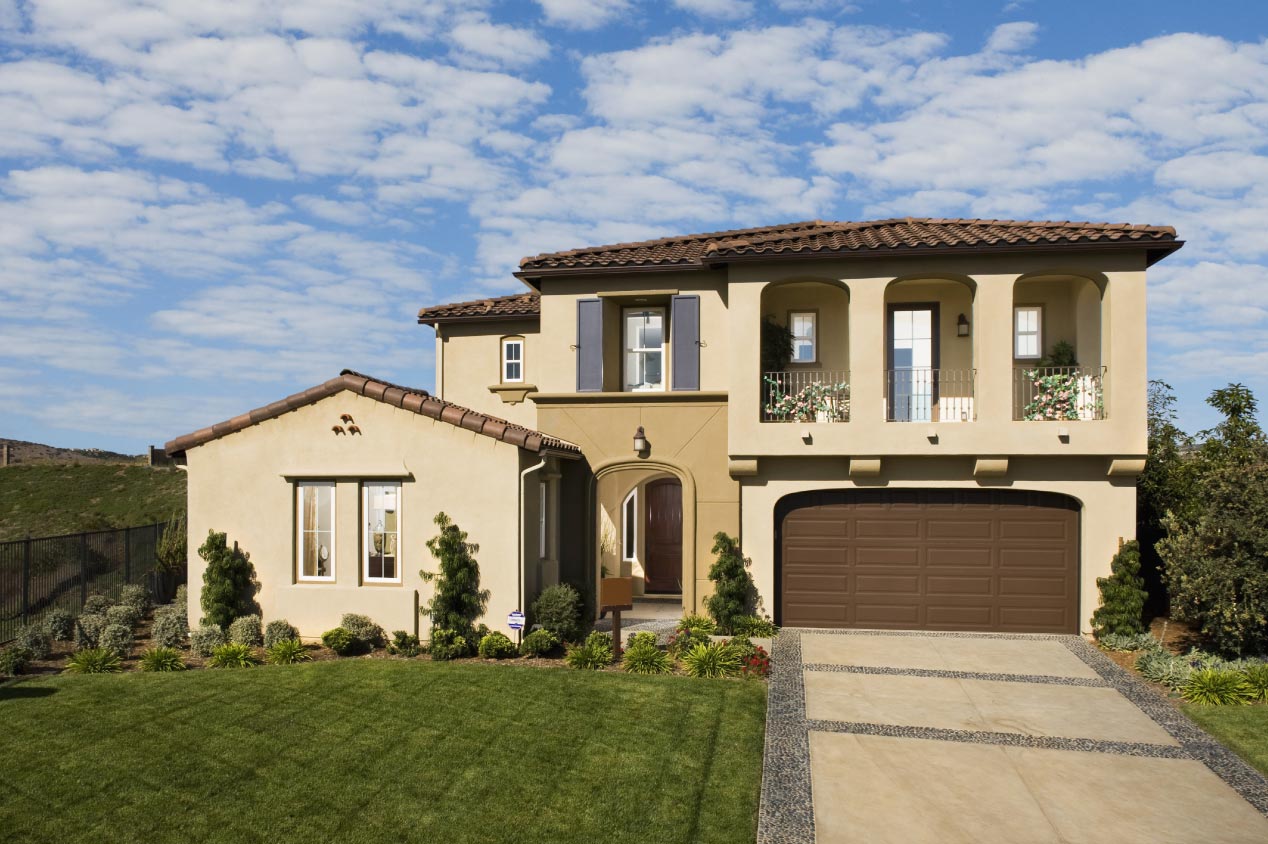 BUILT Images / Blend Images / stock.adobe.com
Traditional hard-coat stucco and synthetic Exterior Insulation and Finish System (EIFS) stucco are both great-looking, durable and weather-resistant options to coat the exterior of your home. This pair of layered cladding types may look alike, but there are some fundamental differences. Synthetic EIFS stucco is slightly more energy-efficient than old-school hard-coat stucco, offering better insulation, though it's more complicated and expensive to install. Hard-coat stucco holds up better to water, making it a good choice for areas with plenty of moisture.
On This Page:
What's the Difference Between EIFS and Traditional Stucco?
Traditional hard-coat stucco contains Portland cement, lime and sand. It's applied directly onto concrete or masonry in up to three coats and dries to a rock-like finish.
EIFS, on the other hand, is acrylic and applied in multiple layers over exterior sheathing such as plywood or polystyrene.
Synthetic Stucco (EIFS)
MAXFX / stock.adobe.com
EIFS is an acrylic product that installers apply to an under-panel, such as an insulation board, plyboard, polystyrene sheet or another exterior sheathing. It's more flexible than traditional stucco and consists of a moisture barrier, foam insulation, cement basecoat, reinforcing fiberglass mesh and an acrylic finish. Synthetic stucco is 80% lighter than traditional hard-coat and relatively durable, due to containing fiberglass. It also boasts an R-value (the ability to resist heat flow) between 4 and 5.6, making for efficiently insulated homes.
Traditional Stucco
oxanas / stock.adobe.com
Traditional stucco siding is a natural mix containing Portland cement, finely ground limestone, sand and water. You apply this finish straight onto the building over a reinforcing base mesh, without additional panels or sheathing. It can be used on exterior and interior walls and ceilings.
Stucco siding does offer many advantages. It is relatively inexpensive to install and highly customizable. While it's heavier than its synthetic counterpart, it's easier to apply and repair. As for insulation, the R-value of regular stucco is just 0.20. As a comparison, EIFS features an R-value between 4 and 5.6.
Stucco vs. Synthetic Stucco: Pros and Cons
Synthetic Stucco (EIFS)
Pros
Insulating properties: R-value (a rating of how much heat a material prevents entering or exiting a property) between 4 and 5.6
Less prone to cracking and crumbling due to thermal expansion or shifting foundations
Fiberglass layer increases durability
80% lighter than hard coat stucco
Cons
More complex and time-consuming installation process
Not suitable for DIY installation
More expensive than traditional stucco
Difficult to customize
Traditional Stucco
Pros
Affordable
Cures rapidly
Easy to repair
Less likely to absorb water
Cons
Heavy. Weighs 10lbs per sq. ft.
Prone to cracking over time
Susceptible to buckling in extremely hot weather
Stucco vs. Synthetic Stucco: Which Is Better?
Both hard-coat and EIFS stucco are fire-resistant and provide an attractive finish to your property, but differ in some of the most important criteria.
Cost
Cost is a major influencing factor when you're planning any home renovation project. To work out the average cost of siding, you'll need to know your home's exterior square footage. Traditional hard-coat stucco costs $7 to $9 per square foot installed, with materials costing between $5 to $6 per square foot and labor costing $2 to $3 per square foot. EIFS installation costs between $7 to $12 per square foot, with materials costing between $3 to $5 per square foot and labor costing $4 to $7 per square foot.
Most Affordable: Traditional Stucco
Maintenance
When it comes to ongoing maintenance, synthetic stucco is less of a headache, though it must be cleaned regularly and inspected for cracks. You should also avoid drilling into EIFS to prevent moisture-collecting weak spots, and always conduct a proper inspection after a storm.
Clean and inspect traditional hard-coat stucco regularly and do not paint the exterior, or you'll cover up pores, leading to long-term maintenance issues. Traditional stucco also cracks with extreme weather, such as repeated freeze/thaw cycles. Finally, if severely damaged, hard-coat stucco requires remediation of an entire wall.
Easiest to Maintain: Synthetic Stucco (EIFS)
Durability
Both of these multi-layer finishes are hearty and durable, but EIFS takes the slight edge. Synthetic stucco withstands hurricane-strength winds, thanks to the fiberglass layer, and is highly resistant to cracks and crumbling resulting from shifting foundations, thermal expansion, or freeze/thaw cycles. Hard-coat stucco, on the other hand, holds up better to moisture and is highly resistant to termite infestations, rot and mold, though it tends to buckle in extreme weather.
Most Durable: Synthetic Stucco (EIFS)
Ease of Cleaning
It's important to keep your home's exterior clean, and your siding should make this as easy as possible. Both types of siding are easy to clean, with traditional stucco excelling with a simple water-based cleaning solution. Avoid power washers with hard-coat stucco, or water will seep in through the layers. As for EIFS, use non-acidic cleaners and diluted bleach for stubborn dirt.
Easiest Cleaning: Tie
Choosing Synthetic Stucco vs. Hard-Coat for Your Home
Your local climate, along with other factors, impacts the best stucco choice for your property. While EIFS and hard-coat are both resilient and long-lasting, each performs best in differing conditions.
Synthetic Stucco vs. Hard-Coat For Hot Climates
A traditional hard-coat is a smart choice for hot climates. It doesn't shrink or expand with temperature fluctuations, so it's less likely to crack. Traditional stucco also won't melt or warp in extreme temperatures, is fire-resistant and performs well in humid conditions.
Winner: Traditional Hard-Coat
Synthetic Stucco vs. Hard-Coat For Cold Climates
Both traditional stucco and EIFS can withstand cold climates. However, because EIFS is slightly more energy-efficient and better at insulating, it's the best choice in colder locations.
Winner: Synthetic Stucco
Synthetic Stucco vs. Hard-Coat For Aesthetically Diverse Homes
Winner: Traditional Stucco
Traditional hard-coat stucco offers near-unlimited customization, making it aesthetically diverse. Local stucco installation pros can sand down the finish, or leave it textured, and the overall look integrates well with different architectural styles. Hard-coat stucco also adapts well to numerous tints and a variety of colors.
Stucco vs. EIFS vs. Other Materials
When comparing siding materials, stucco and EIFS are just two of many exterior finishes. You may find another option, such as traditional wooden siding, is better suited to your home and budget. If you're still unsure which is the best choice for your property, contact a local home exterior professional to discuss your options.
vs. Acrylic Siding
Acrylic siding is made of PVC plastic resin boards. It's treated to resist mildew, rot and chipping. Acrylic siding is cost-effective, easy to install and available in many colors. However, it can warp and melt in hot climates.
vs. Concrete Siding
Concrete siding, also known as fiber cement siding, is a good choice for Earth-conscious homeowners because it's made of natural, sustainable materials: wood pulp and Portland cement. Like traditional stucco, concrete siding is non-combustible.
vs. Wood Siding
Wooden siding is a popular choice for homeowners who want a traditional look. While there are many suitable wood varieties, cedar and redwood are common because they're resistant to decay. Wood siding is quick and easy to install, and it's simple to replace a damaged board. Wood is renewable and biodegradable, so if it's sustainably sourced, it's an environmentally-friendly choice.
Consult With a Siding Pro Today
7 Comments