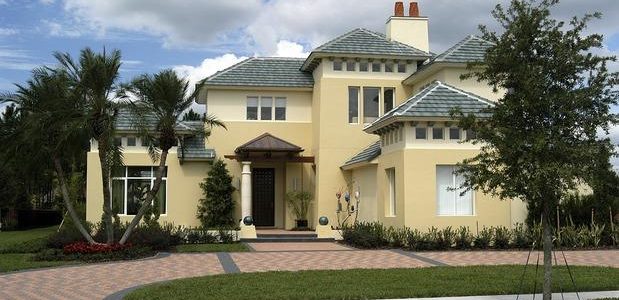 Traditional stucco siding has been used in homes for generations. Around the 1950s, a synthetic stucco siding began to replace traditional stucco in some homes. Also called Exterior Insulation and Finish System (EIFS), synthetic stucco siding can be a terrific alternative, but there are benefits to each.
The Basics
Traditional stucco siding is made from Portland cement, sand, lime, and water. This mixture is applied in three coats over a lath base, or a piece of mesh, and often coated with an expansive acrylic-polymer finish to deter cracking. Synthetic stucco siding, on the other hand, is multilayered. There is a foam insulation board (typically polystyrene), a coat of the synthetic stucco, fiberglass mesh, and then a top coat.
How Can You Tell the Difference?
If you have stucco walls and are unsure whether they are traditional or synthetic, it's no surprise. They two look almost identical. The way to see is to simply push on the wall. Traditional stucco will be rigid, while the synthetic will be a bit softer. Also, if there is a light fixture, vent, or other hole in the wall (hopefully not made by your child), you will be able to see the layering. If there is wire mesh, it is stucco, if there is foam core, it is synthetic.
Benefits to Synthetic Stucco Siding (EIFS)
Synthetic stucco siding was developed in postwar Europe as a way to patch walls. When builders realized how energy efficient the material was, it was soon used as an alternative to traditional stucco. Because of this, in the 1970s energy crisis it became widely popular. Because of the multiple layering, EIFS is a better insulator than traditional stucco siding. It is also more flexible, allowing ornate keystones, cornerstones and other accents that traditional stucco previously could not hold. And unlike poorly installed traditional stucco, synthetic stucco does not yellow or fade, which occasionally forces homeowners to paint over their stucco.
Benefits to Traditional Stucco Siding
The benefits of traditional stucco come in wetter conditions, as it is less likely to absorb water (and be damaged by it) than synthetic stucco siding. Similarly, synthetic stucco is a lighter material. Traditional stucco siding will hold up better to dings, hail, and woodpeckers. And while EIFS is more energy efficient, it is a small matter of degree. Both will be fire resistant, a great barrier to sound and the elements, and both come in a variety of styles and colors.
EIFS is slightly more expensive but the difference in cost is minimal. The benefits of each are best weighed for your own personal need. If you live in a wet area, or have children who like to hit golf balls against your home's walls, you might consider traditional stucco. If you want to use stucco for ornate design, or are concerned about energy efficiency, you might consider synthetic. If all of the above are true—well, you've got to make your own decision of priority.
Need to find a pro for your Stucco Siding?
Find Pros
---
7 Comments