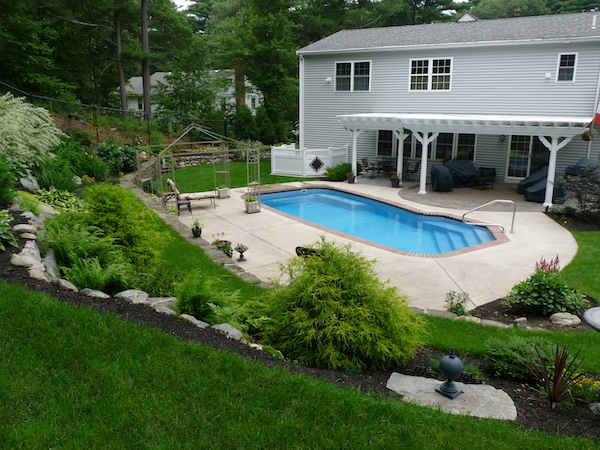 If you are considering adding a pool to your property, planning is important. There are many things that need to be taken into consideration before taking the plunge and buying a pool. You will need to establish a budget, learn about the different types of pools and what will work best for your property, find someone reputable to build or install the pool, and more. If you are considering an above ground pool, you may be able to perform the installation yourself with the help of some friends. However in-ground pools are likely to require a qualified pool builder. Before making a decision to purchase a pool, take the following into consideration.
A pool will cost a considerable amount of money and is not generally an investment in which you will recoup the money spent. Make a wish list of the features you would really like and then decide what is feasible.
Set a budget. While you may have a wish list of features you would like your pool to have, they may not be within budget. Set a budget and stick to it.
Do some research on the different types of pools. There are several types of above ground pools as well as in-ground pools. In-ground pools can be made with several different materials including fiberglass, concrete, and vinyl. There are also many different options for filtering and cleaning systems so doing some research is important in ensuring you wind up with the type of pool that will meet your needs.
If you decide on an in-ground pool, find a reputable company that can do the work. If you know any family or friends who have pools, ask them for a referral. Referrals are often the best way to find reputable companies to work with.
Take the weather into consideration. If you live in an area with frequent cool temperatures, you may want to consider a pool warmer. If you live in an area with harsh winters, the pool will need to be closed for part of the year with a protective cover. Consider all these things when making a choice.
What will be your pool's main purpose? Will your pool be mainly used by kids or is it being installed as an architectural feature? Are you looking to create a relaxing retreat space? Consider these questions when planning a pool to establish a clear sense of purpose that will help in your planning.
Decide on a pool shape. Above ground pools are generally round or oval but in-ground pools come in a variety of shapes. When deciding on a shape for your pool, consider what its main uses will be and what you would like the aesthetic to be. Rectangular pools will be better for swimming laps, while kidney and other shapes can help the pool better blend with surrounding landscaping.
You set a budget, but you also need to consider long term costs. Operating a pool will cost money over time. You will need to purchase chemicals to keep your pool water clean, the filter will need to be plugged in, resulting in a higher electric bills, and more.
Make sure you contact your insurance company. Having a pool on your property may affect your homeowners insurance, and even if it does not, your insurance company should be informed that it is being installed.
Remember to keep safety features in mind. You will need to check and see what local safety codes require. Some areas will required that a pool be in an enclosed or fenced in area that is locked. There are also alarms that you can install that will alert you when anything enters the water. Safety features should be factored into your pool budget.
Check to make sure you have the proper building permits. This will require contacting your local city hall. Most places require you to have building permits when doing any type of construction. Make sure you check on this prior to starting your pool installation.
Ready to start your
pool installation

?Find Pros
Ultimately pools can be a source of great fun and entertainment. They can also serve as a beautiful focal point of an outdoor space. They do require a fair amount of work and upkeep and ultimately there are many things that should be carefully considered before deciding to get a pool.
Pool Installation Information:
2 Comments