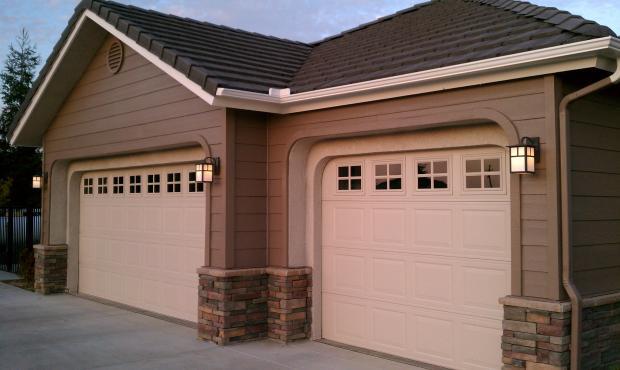 If your wood siding is swelling, cracking, or constantly needs repainting, then you may want to look into Masonite siding. Masonite boards are synthetically constructed from a mixture of wood fibers, wax, and other resins. As they are manufactured, these elements are bound together through a process of heat and pressure, fusing these components into a smooth, strong hardboard that is equally dense from every angle. It is remarkable how much this product resembles traditional lumber in terms of its look, yet avoids the flaws of conventional wood due to its strength.
Avoid the Hassle
The main reason many homeowners choose Masonite siding is because it looks like wood but doesn't come with the same troubles. Because of its strength, there is no swelling, shrinking, or blistering. It still retains that traditional, classic look of wood, but is cheaper than lumber to cut down on siding cost. Also, since the material is partially synthetic, it creates a gentler impact on the environment since it uses fewer trees in its initial production. And due to its artificial nature, there is also less risk of insect infestation.
You Have Choices
Masonite boards are pre-manufactured, which means that they can come in a variety of states: pre-stained, pre-primed, and pre-painted. If you want to completely avoid painting, you can select from an assortment of colors so when the contractor arrives they'll simply have to nail up the pre-painted board. This manufactured material is known for being a strong paint support, so if you have a specific color pallet in mind, then you may want to buy it pre-primed in order to do the job yourself. It also comes in a range of textures that match the look of wood, but unlike lumber, the paint won't crack or chip as easily. This is not to say that it won't ever have to be re-painted, but you may only have to hire a house painter every 8-10 years.
Keep an Eye Out
There were problems with some Masonite boards during the 80s and 90s. The Masonite Corporation, just one of many manufacturers on the market, was taken to court in a class action law suit after many of its customers complained about mold and swelling problems. Between 1980 and 1998 the company was creating low-quality boards that weren't properly compressed or installed; therefore they didn't retain any of the benefits Masonite siding is supposed to create, thus the reason for the Masonite recall.
So if you have an older house built around this time, inspect the exterior and look for any rot, discoloration, buckling, blistering, or deterioration, for your siding might be part of the Masonite recall. This corrosion can be slowed down by repainting and caulking, but it's not a permanent fix so make sure to take care of the problem quickly to avoid further damage to your house, such as leaks, mildew, and warped wall studs. But this is only a single, rare case (this manufacturer has since stopped making the product). Most companies out there are able to offer reliable service. But if you're building a new house and considering Masonite siding, make sure you buy from a credible company that offers warranties and hire a qualified contractor who has specific knowledge about installing this material and guarantees their work.
16 Comments