If you're looking for a hardwood alternative that's easy on your budget but still looks good, then luxury vinyl or laminate are great choices. These two materials are often confused with one another. However, they have some important differences that you should know before making your decision.
On This Page:
What's the Difference Between Laminate and Vinyl Flooring?
Laminate is made of 99% wood byproducts. It's also called composite, Pergo (which is a specific brand of flooring), or floating wood tile. It's composed of several layers of rigid, high-density fiberboards that are laminated together into planks. The photographic image under the resin layer depicts the material you want, which is usually stone or wood. It often floats, which means it can snap and click over an existing floor without being nailed or glued down. It can also be glued to a subfloor.
Luxury vinyl, which isn't to be confused with sheet vinyl, is a newer innovation that makes it a far cry from the plastic-like tiles you see in older homes. It's made of several layers of resilient polyvinyl chloride (PVC) while the top layer is coated with urethane. Luxury vinyl comes in two forms:
Luxury Vinyl Plank (LVP)– These long planks can mimic the look of traditional hardwood floors. They can float, be glued down, or snap together. LVP can also be smooth or textured to mimic different types of materials.
Luxury Vinyl Tile (LVT)– These attractive tiles come in a greater variety of lengths and widths compared to LVP. Therefore, it's better suited for imitating materials like stone, granite, and concrete. However, they can also be made into wood-like tiles and rectangles. LVT can float, peel-and-stick, be glued down, or snap together for easy installation.
Which Faux Wood is Better?
It all depends on your budget, preferences, and needs. Here's how luxury vinyl and laminate compare.
Appearance
When it comes to looks, which one will suit your needs?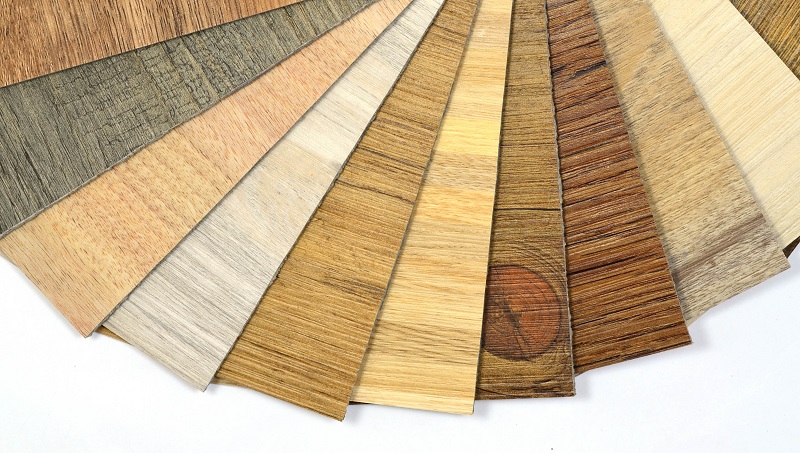 Luxury Vinyl
Pros– The photographic layer can depict many materials. Advances in manufacturing allow more detailed textures besides just smooth and shiny, departing from its "plastic" look of yesteryear.
Cons– It still looks a bit synthetic compared to natural materials.
Laminate
Pros– The photographic layer can depict many materials to suit your room's design. Manufacturing techniques have advanced for this material as well, allowing more textures besides a smooth laminated top layer.
Cons– Though it comes close to looking like wood, its synthetic nature makes it appear slightly artificial.
The Best in Looks: It's a tie!
Care
Which material is easier to clean?
Luxury Vinyl
Pros- This material is generally smooth and 100% waterproof, making spills easy to clean without giving dust a place to hide. Cleaning them requires a light vacuum, consistent sweeping, and the occasional deep clean with cleaners that can cost around $20 per gallon.
Cons- Homeowners who pick a textured style should expect to have a tougher time getting dust and food particles out of the grooves.
Laminate
Pros- Since it's smooth on the surface, spills are easy to clean. It also won't trap dust and dirt easily. Cleanup is easy, requiring regular vacuuming, sweeping, and a little TLC with material-specific cleaners. A typical cleaning product costs around $20 per gallon, or $8 for a 32-oz. spray bottle.
Cons- Homeowners who pick textured styles should expect to put more effort into removing dust and food particles from the grooves.
The Easiest to Care For: Vinyl
Return to Top
Installation
Which one is more convenient to install for both DIY homeowners and contractors?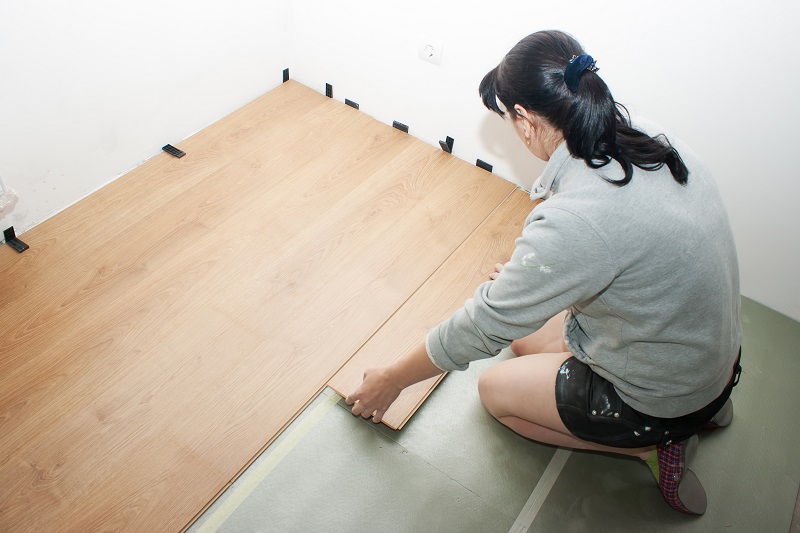 Luxury Vinyl- Homeowners are finding DIY installation potential in LVP/LVT because they come in many varieties, including:
Floating floors: Vinyl can easily install over an existing floor without nails or glue. An underlayment can help reduce noise and keep this floor warmer in cold weather. The click-and-lock feature makes seams tight and sturdy.
Peel and stick tiles: LVT can stick directly onto a smooth surface.
Glue-able: You can also choose to install LVT or LVP over a subfloor and secure them with glue.
Laminate– As you will see, this material is just as versatile as LVT or LVP, with some slight differences in the installation process.
Floating floors: Laminate can snap and click over an existing floor without being nailed or glued down. Use a foam underlayment, which can come already attached to the product, for added insulation and noise control. It also requires a vapor barrier to protect its fiberboards from moisture.
Peel and stick tiles: It can come in tiles that stick directly onto a smooth surface.
Glue-able: You can also choose to install this material over a subfloor and secure it with glue.
Winner for the Easiest to Lay Down: It's a tie!
Waterproof
When it comes to water and moisture-prone rooms, which material is better?
Luxury Vinyl– 100% plastic means that it's waterproof. It can even be submerged and still be usable.
Laminate– Though it's quite water-resistant from the top, its bottom layers are made of fiberboard which can absorb water if there is any flooding.
Best Floor for Your Bathrooms and Kitchens: Luxury Vinyl
Environmentally Friendly
It's becoming more important than ever to consider the impact we have on the environment, including our floors.
Luxury Vinyl
Pros– LVP and LVT emit little to no volatile organic compounds (VOCs). It also lasts for many years, which means there is less turnover and waste for replacement.
Cons– Though its plastic (PVC) is recyclable, there are few facilities that can recycle its type of plastic (#3) safely. Check with your local facilities to see if they can take old, vinyl floors. If they can't, try contacting Armstrong Flooring's On&On LVT/LVP recycling program.
Laminate
Pros– It's predominantly made of wood, which makes an overwhelming majority of these products (85%) recyclable. You can even find brands, such as Mohawk, that make these floors from recycled materials.
Cons– This material is known to emit VOCs, especially when the manufacturing is of lower quality. Homeowners must take care to check the Floorscore® of the product to ensure minimal off-gassing after installation.
Best for the Environment: Laminate
Resale Value
Whatever you put into your home or business will directly affect how it appraises. Which floor is a better investment?
Luxury Vinyl– This material has been making a lot of headway in recent years, but the stigma of its past still haunts it. If you pick a good quality floor, there's a chance you can subtly raise your home's value. However, lower-quality LVT/LVP can potentially hurt your home's value.
Laminate– This material also doesn't impress appraisers much. Though high-quality versions can slightly increase your property's value, cheaper versions can negatively affect it.
Best for Resale Value: Luxury Vinyl
Return to Top
Which is Best?

Though they're similar in appearance, radiant heating, and installation, Luxury Vinyl has a slight advantage in most of the other categories. However, both materials are excellent choices for any homeowner looking for an affordable floor that's made to handle high traffic and the messes of life.
| Laminate is Better For… | Luxury Vinyl is Better For… |
| --- | --- |
| Cost Cutters | Pets |
| The Environment | Repairs/Maintenance |
| | Durability |
| | Water/Moisture |
| | Care |
| | Resale Value |
Vinyl vs. Linoleum vs. Laminate
Linoleum is an economical flooring option that's made of linseed oil, tree resin, cork dust, wood flour, ground limestone, and pigments, which are all pressed onto a jute fiber backing. It's often considered interchangeable with sheet vinyl because they look similar, are affordable, water-resistant, and can mimic other natural materials like stone and wood. However, that's where their similarities end.
While linoleum has been around for over 150 years and is made of natural materials, vinyl has been in use since the 1940s and is made of 100% plastic.
Laminate can resemble wood and stone like linoleum, but it comes in solid interlocking planks and is made almost entirely of wood products. It's also not as water-resistant as linoleum or vinyl.
Laminate vs. Hardwood & Engineered Wood
To find out all the differences between these three materials, please visit our guide to laminate vs. hardwood and our laminate vs. engineered wood guide.
Return to Top
Top Laminate Brands
When you're shopping for laminate floors, research some key features like their quality, reputation, and the warranty. For a list of recommended brands, see our wood and laminate comparison guide.
Top Brands of Luxury Vinyl
Homeowners should take care to select a brand that matches the quality of floor they desire that also suits their budget. The world of LVP is vast, with quality varying among manufacturers.
Shaw
Armstrong
Mannington
Karndean
Lumber Liquidators
Mohawk
Harbinger
---
No Comments Yet
You can be the first to comment!