Left/Top: © Jena Ardell/ Moment /Getty Images.
Right/Bottom: © SMedia / iStock / Getty Images Plus /Getty Images.
Laminate and vinyl flooring are budget-friendly choices for any remodeling project. People often confuse these similar products, but they do have some important differences. Luxury vinyl products are waterproof and reasonably tough, while laminate planks are slightly cheaper and easier to care for. In many other respects, these wood flooring options are evenly matched.
On This Page
What's the Difference Between Laminate and Vinyl Flooring?
Both vinyl and laminate are manufactured composites that share many attributes. However, laminate utilizes more natural products than vinyl.
Laminate
Laminate flooring consists of a water-resistant base layer that stabilizes the plank. Above sits a multi-layer core of high-density fiberboard. Sometimes the core is entirely synthetic, but sometimes it consists, at least in part, of wood waste, helping to reduce its environmental impact. The next layer is a photographic print that mimics whatever material you've chosen. It's often wood-look but can also resemble stone or tile. A coat of resin tops the print.
The photographic layer is thin and isn't suitable for refinishing. Additionally, once the resin wears off, you can't reseal the floor.
You can glue laminate to a subfloor, float it, or nail or glue it down.
Vinyl
Luxury vinyl is entirely synthetic, consisting of multiple layers of polyvinyl chloride, or PVC. It has a tough urethane topcoat that acts as a wear layer. Vinyl is suitable for snap-and-click, peel-and-stick, glue-down and floating installations.
LVP
Luxury Vinyl Plank, or LVP, is the material of choice for those wanting to mimic real wood floors on a tight budget. They're available in smooth or textured options to look more realistic.
LVT
Luxury Vinyl Tile, or LVT, does a better job of resembling a wider range of materials, particularly natural stones and concrete. The tiles come in a greater selection of widths and sizes, so joins are less frequent and not so obvious.
Laminate vs. Vinyl Flooring: Which is Better?
These two budget flooring options are a close match in many ways, including installation method, appearance and radiant heating. They're both solid choices for affordable flooring throughout the home.
| Laminate is Better for… | Luxury Vinyl is Better for… |
| --- | --- |
| Cost Cutters | Pets |
| The Environment | Repairs/Maintenance |
| | Durability |
| | Water/Moisture |
| | Care |
| | Resale Value |
Appearance
The Best in Looks: Tie!
Even when you're on a tight budget, you want to achieve the best possible finished look.
Laminate
Pros
Top layer can depict any wood type
Different textures are available to provide traction and a more natural-looking finish
Cons
Still looks synthetic due to the unnatural shine and photographic print
Vinyl Flooring
Pros
A variety of textures available
Can mimic any material, including wood and stone
Cons
Even with improved textures and printing, still looks synthetic
Cost
The Most Affordable: Laminate
Aside from the cost of initial outlay, think about the cost of upkeep, repair, maintenance and replacement.
Laminate:
Laminate flooring costs $1-$5 per square foot, without installation
Pricing depends on quality
Vinyl Flooring
Vinyl flooring costs $3-$7 per square foot, without installation
Pricing depends on thickness and quality
Care
The Easiest to Care for: Laminate
Quick, easy floor cleaning is essential in busy households. Ideally, you won't need special cleaners and products to keep your floor germ-free and looking good.
Laminate
Pros
Easy to clean
Doesn't trap dust and dirt
General daily cleaning with a broom or vacuum is fast and easy
Commercial cleaning sprays let you do an easy deep clean
Cons
Textured laminate flooring is more difficult to clean
Excess moisture can seep between cracks and cause damage underneath
Vinyl Flooring
Pros
Smooth and easy to clean
Only requires sweeping and vacuuming for general tidiness
Easy to deep clean with a cleaning spray
Cons
Dust and dirt is more difficult to remove from textured vinyl
Durability
The Winner for Easiest to Lay Down: Tie!
Durability is essential. Even when using low-cost materials, your floor should withstand the rigors of your home and lifestyle for years to come.
Laminate:
Many different options available
Can last up to 20 years
Can't refinish or reseal laminate—must be replaced
Vinyl Flooring
Usually comes with a 15+ year warranty
You can add extra layers of urethane to extend the life of vinyl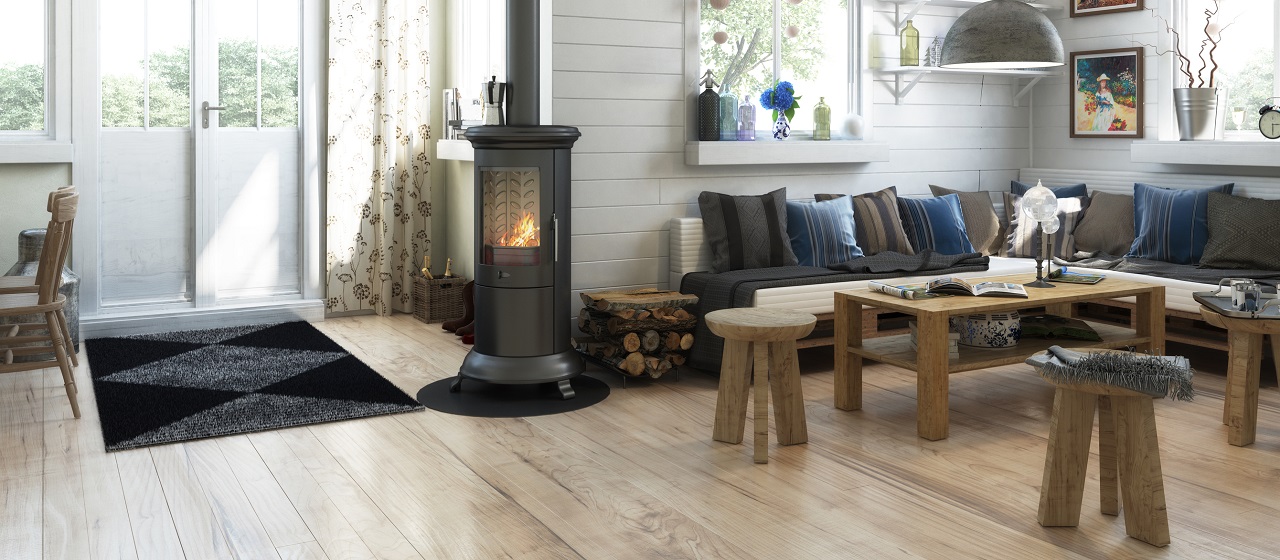 © Marc_Osborne / iStock / Getty Images Plus / Getty images.
Installation
The Winner for Easiest to Lay Down: Tie!
Both laminate and vinyl flooring is suitable for DIY installation. However, unless you have adequate experience and knowledge, it's always advisable to use a flooring professional for the best possible results.
Laminate:
Can lay over an existing floor
Use foam underlayment to add insulation and control noise
Laminate tiles stick directly onto a smooth surface
Vinyl Flooring
Can float over an existing floor without nails and glue
Can apply vinyl tiles directly on smooth surface
Can glue vinyl tiles and planks directly to a subfloor
Moisture Resistance
Best Floor for Your Bathrooms and Kitchen: Vinyl
The flooring in any room, but especially kitchens and bathrooms, is susceptible to moisture damage. Learn the best choices to keep water damage at bay.
Laminate:
Can offer moderate moisture resistance with proper installation and a vapor barrier
Vinyl Flooring
100% waterproof
Still safe and usable if submerged
Repair
Most Convenient to Repair: Tie!
No matter how careful you are, your floors take a lot from the wear and tear of daily life, so you need to know how easy it is to make repairs before you decide on a product.
Laminate:
Fast and fairly easy to remove for replacement
Cannot be repaired; whole planks must be replaced
Vinyl Flooring
Extend its life by applying extra layers of urethane
Cannot sand or refinish; excessive damage requires replacement
Environmental Impact
Best for the Environment: Laminate
Environmental and personal health impacts are increasingly important considerations for homeowners and may influence your purchasing choice.
Laminate:
Re uses some wood byproducts
Some brands, such as Mohawk®, use recycled materials
Laminate emits VOCs (volatile organic compounds)
Vinyl Flooring
Lasts for many years, meaning less waste
Though plastic is recyclable, few facilities recycle this type of plastic safely
Pets
The Best Choice for Your Furry Friends: Vinyl
Dogs and cats can scratch floors, knock over a water bowl, or have a little bathroom accident before they're fully trained, so if you have or plan to get a four-legged companion, factor this into your flooring choice.
Laminate
Pros
Water and scratch-resistant
Dander and pet hair is easy to sweep
Cons
Not completely waterproof
If unsealed, pet urine can seep into cracks
Vinyl Flooring
Pros
100% waterproof: Makes house-training accidents easier to clean up
Scratch-resistant surface
Pet hair swept away easily
Cons
Vinyl can hold odor: Clean bathroom accidents quickly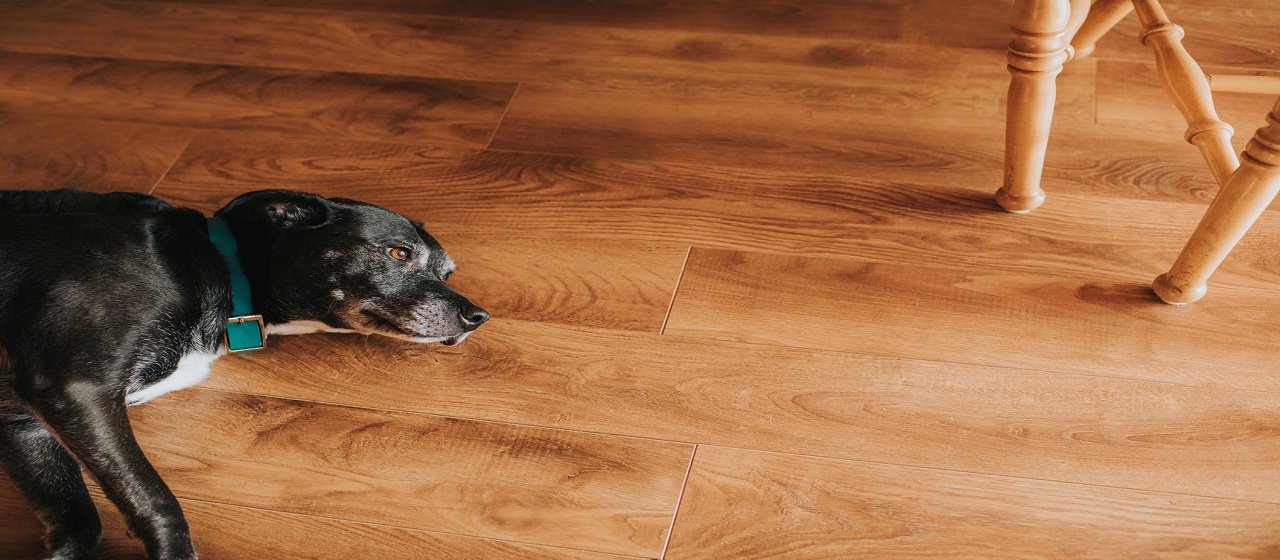 © Catherine Falls Commercial / Moment / Getty images.
Radiant Heating
Best for Radiant Heat: Vinyl
When you pair it with the right flooring, radiant heating efficiently warms your home, but not all types of floor work well with this system.
Laminate:
Only specialized laminate is suitable for use with radiant heat systems
Laminate is not an effective conductor
Gapping occurs as planks expand and contract with temperature fluctuations
Vinyl Flooring
Efficiently conducts heat
Not all vinyl is compatible
Pair vinyl with self-leveling underlayment to further improve heating efficiency
Resale Value
Best for Resale Value: Vinyl
Laminate:
High-quality versions can increase property value slightly
Laminate does not have a particularly good reputation, unlike hardwood or stone
Vinyl Flooring
Low quality vinyl flooring can lower the value of a home
Although vinyl flooring has improved in recent years, it still doesn't have a good reputation
Which Is Best for Your Home?
Laminate and luxury vinyl are similar in most respects, so the final choice depends on your budget, the best choice for the room you're remodeling and the look you want.
Bathroom Flooring
The best bathroom flooring is waterproof and slip-resistant, so high-quality, textured luxury vinyl is the better option here. It's 100% plastic so it doesn't incur water damage and it's easy to keep clean and hygienic.
Kitchen Flooring
Moisture resistance is a key factor in the kitchen too, so when it comes to laminate vs. vinyl for the best kitchen floor material, luxury vinyl wins.
Living Room Flooring
Luxury vinyl looks slightly less synthetic than laminate, so it's a strong contender as an affordable living room floor.
High-Traffic Areas
In high-traffic areas, vinyl lasts longer, particularly if you add extra urethane layers, which you can't do with laminate.
Laminate vs. Vinyl vs. Other Materials
Laminate and vinyl are both popular, affordable flooring products, but they're far from your only options. Take a look at how they compare to other budget-friendly materials.
Vs. Linoleum
Linoleum is often confused with vinyl, but linoleum is a natural composite product that's been in use for roughly 150 years. It's made from linseed oil, sawdust, cork powder and ground stone. It's also recyclable and often contains recycled materials, so it's a reliable, affordable, environmentally friendly option. It's similarly priced to vinyl and laminate and has a high tolerance for moisture, so it's a great choice for kitchens, bathrooms and laundry rooms. It works well in high-traffic areas and homes with pets and kids, requires minimal maintenance and is easy to clean.
Vs. Hardwood and Engineered Wood
Hardwood and engineered wood floors are more expensive than laminate and vinyl, but have a much longer lifespan. They can be refinished multiple times. Both of these options give a home a higher resale value and a beautiful, natural appearance.
Top Engineered Hardwood and Laminate Flooring Brands
| Top Laminate Brands | Top Vinyl Flooring Brands |
| --- | --- |
| Shaw® | Shaw® |
| Top® | Armstrong® |
| Armstrong® | Mannington® |
| Pergo® | Karndean® |
| Bruce® | Lumber Liquidators® |
| Mohawk® | Harbinger® |
9 Comments