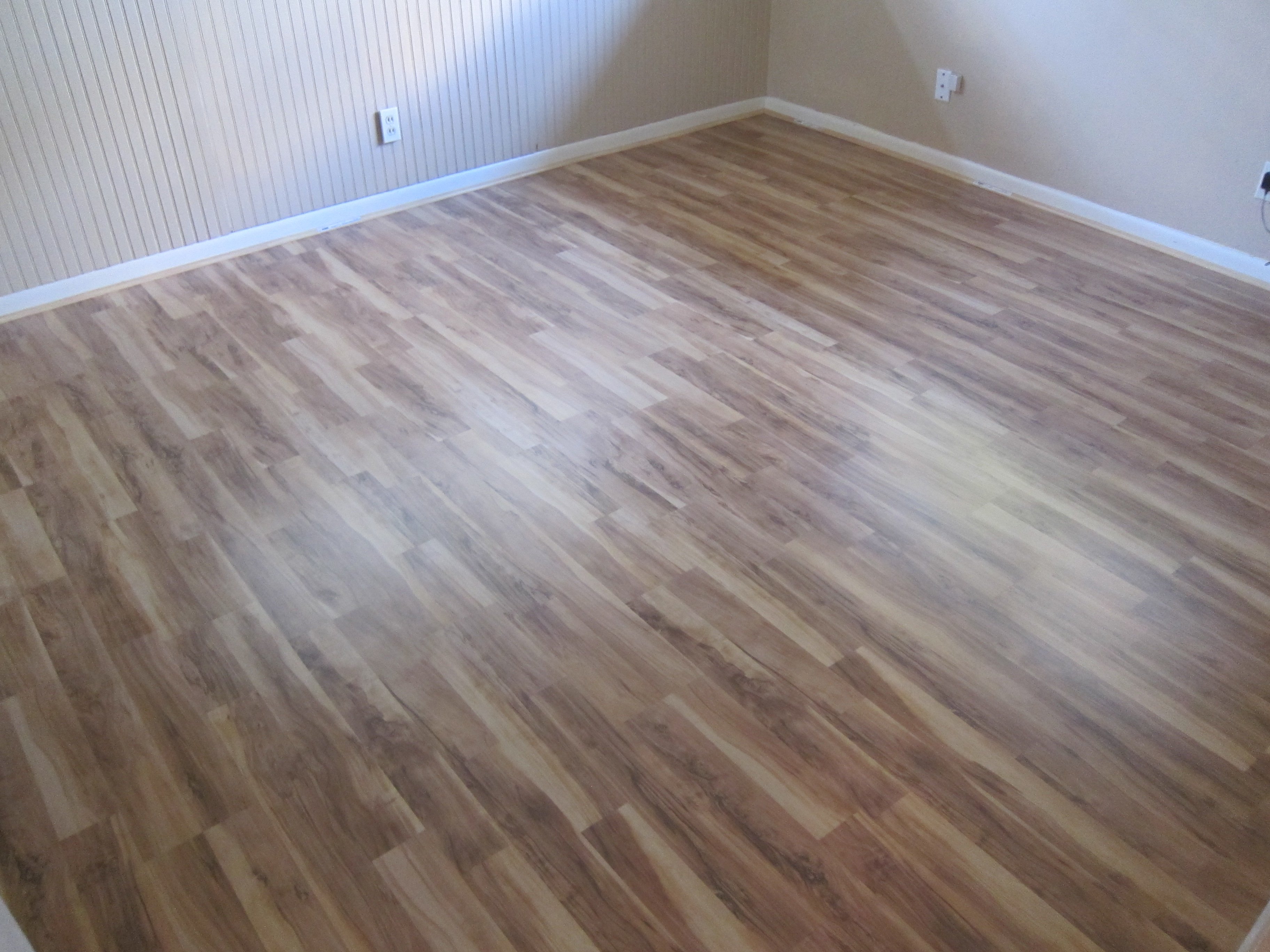 Few products in the home improvement world have made a bigger splash than laminate flooring. It's marketed as a tough, cost effective, and easy to install flooring material, but does it live up to the high expectations? In this edition of Pros, Cons, & Costs we'll be taking a closer look at laminate flooring to try and answer that question.
The Pros
When it comes to the benefits of laminate flooring as a building material, just about everything you've read or heard about laminate is true. In fact, you'd be hard pressed to find a flooring material with a larger upside than laminate. Here's a list of the benefits you'll enjoy if you install laminate floors in your home.
Durability—Jake Games of Pro Works Flooring, Inc., in Denver, Colorado, says that laminate flooring's reputation for toughness is well deserved. "I've taken a key to it and scratched the heck out of a sample," says Games, "and it doesn't scratch." Scratch resistance isn't laminate's only asset, either. Laminate flooring is also resistant to impacts, stains, and won't fade when exposed to sunlight.
Easy Installation—No flooring material is easier to install than laminate flooring. A lot of that is due to the fact that laminate forms a floating floor, meaning it doesn't have to be nailed, stapled, or glued to a subfloor. The other reason laminate is so easy to install has do with how the planks attach together. "We prefer stuff that clicks together," says Games, referring to the snap together flooring planks that now account for the majority of laminate flooring on the market.
Great Looks—"Laminate is some really cool stuff," says Games, "it looks really similar to real wood." In part that's due to the high resolution images that are presently used to create the many looks of laminate flooring, though Games points out that the textures now used with laminate flooring take it a step further, making for laminate flooring that feels as authentic as it looks.
Versatility—According to floorfacts.com, laminate flooring can be installed over just about any substrate, including concrete, wood, plywood, OSB, and previously installed vinyl flooring. And since it doesn't expand and contract like real wood does, Games also notes that it's good flooring for use in areas where hardwood flooring isn't an option, such as in below grade installations.
The Cons
Contrary to what some would have you believe, laminate flooring isn't a perfect building material. It does have some downsides that homeowners are smart to take into account before choosing to install it. Here are the cons:
Moisture Damage—At its core, laminate is made from a composite material called high density fiberboard (HDF), which is more susceptible to water damage than natural wood. According to Games, once HDF is exposed directly to standing water, it breaks down and expands. Once that happens, a laminate floor is compromised and will have to be replaced. That limits the areas where laminate can be installed, ruling out places like bathrooms where regular exposure to water is commonplace.
Laminate is Hard to Repair—"Wood can be refinished 6, 7, 8 times, and essentially you get a new floor each time," says Games, who notes that refinishing hardwood costs about half as much as installing a new laminate floor. Laminate, on the other hand, is much harder to repair, even when it comes to simple patch jobs.
Proper Installation—While laminate is commonly advertised as DIY friendly, Games warns that it still takes some skill to install it correctly. "It's pretty tough to make it look sharp unless you know what you're doing," says Games, who points out that the initial and final phases of installing laminate flooring are the most critical, and difficult, aspects of achieving a professional grade, quality installation.
Laminate Flooring Costs
Perhaps the biggest advantage of installing laminate flooring is the cost. "Laminate runs about one half to two thirds the cost of wood," says Games. In dollars and cents, expect to pay between $1 and $5 a square foot for materials, and another $1.50 to $3 per square foot for labor if you choose laminate flooring for your home. Any way you cut it, however, laminate flooring comes with a huge upside at very reasonable costs.
Laminate Floor Installation
Laminate flooring is a floating floor meaning it's not bonded to the subfloor beneath it. This is important to allow for the natural expanding and contracting of the laminate material; it needs to breathe. Individual planks are assembled together in some kind of tongue-and-groove application. Each manufacturer may have a different interlocking system (several companies have patented theirs). Boundaries and edging can require an extra touch to achieve a superior installation. If you install your laminate flooring on your own and you do it incorrectly, you may end up nullifying the warranty on your laminate flooring. Laminate flooring services will make sure your installation is of superior quality, as hassle-free as possible, and going to give you a durable floor for many years to come.
Laminate Flooring Problems and Repair
Peaking— This occurs in laminate flooring when the planks get pushed together creating raised joints. If the planks were incorrectly glued to the subfloor, this is common, although inadequate space between the flooring edge and the wall can also cause this problem. Glue is a serious problem, but laminate flooring can be easily re-edged to create more space from walls.
Water/Moisture Damage— Excessive moisture or exposure to water can sometimes cause buckling. You'll need to remove the source of the problem and replace any badly damaged planks. Moisture can also lead to mold or mildew. This can lead to hiring a mold remediation contractor to get rid of the mold.
Gapping— Laminate planks can sometimes pull away from each other if the room temperature drops too low. Remember to keep rooms at a reasonable temperature in the winter even if you're not using that room. Cold temperatures can also lead to other problems, such as damaged pipes.
Choosing Laminate Flooring
Talking to a general laminate flooring services contractor can be a valuable resource to help you choose your laminate flooring. They've likely seen nearly every product available and will be able to give some idea of the advantages and disadvantages of each laminate flooring manufacturer's product. Tell this contractor what you want and they can order it for you and then install it, killing two birds with one laminate stone.
3 Comments