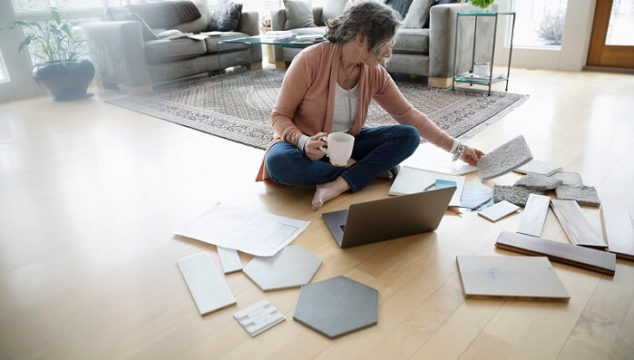 Your choice of flooring is one of the most important decisions you have to make when it comes to improving your home. The material is an integral part of your interior design. It also determines use, difficulty of installation and maintenance. Before you select, it's wise to educate yourself on what's available as well as the benefits and drawbacks of each.
On This Page:
How to Choose Flooring
To choose flooring, it's best to start by determining what you need. Consider these factors:
Room: Some types, like carpet or hardwood, aren't ideal for every space
Family Situation: Young children or pets need spill-proof and scratch-resistant flooring
Budget: Price varies widely, so you need to know what you can afford
Installation Requirements: Some materials need an underlayment or pad, which may cost extra
Style: Certain types work better than others to create the right aesthetic
Return on Investment (ROI): Higher cost or quality often means a better long-term investment
Types of Flooring Materials
1. Hardwood Flooring
Hardwood continues to be the top choice for its great appearance and long-term ROI. The cost to install wood flooring ranges from $2,500 to $7,000, making it one of the most expensive options. It's best for the shared living spaces of the main floor.
It will develop crapes, scratches and dents over time. Refinishing hardwood flooring costs $1,100 to $2,400, and you can do it every 3 to 5 years.
2. Laminate Flooring
The pros and cons of laminate flooring include these benefits:
lower price
ease of installation
durability
variety of colors and styles, like natural wood
As a disadvantage, this material can be prone to moisture damage and difficult to repair. Homeowners prefer to install it in high-traffic areas that aren't the kitchen or bathroom.
3. Vinyl or Linoleum
Vinyl flooring isn't the cheap alternative it used to be. These days, this synthetic flooring for the home is durable and effectively mimic wood, ceramic and stone.
Since it is so versatile and meant for high-traffic, you can put it almost anywhere. Installation and maintenance are a breeze.
Get Estimates For Flooring Materials
4. Porcelain or Ceramic Tile Flooring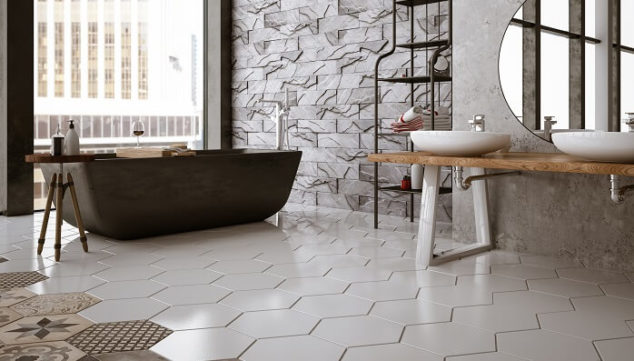 Ceramic or porcelain tile is a durable, non-porous and beautiful flooring choice. Since it's waterproof, it's great for kitchens, bathrooms and entryways.
It is more difficult to install, and it can chip and scratch under heavy use. Unlike hardwood or carpet, you can replace individual parts instead of the entire surface if necessary.
5. Natural Stone Tile Flooring
Natural stone tile is a classic flooring that includes granite, marble, travertine and sandstone. Some materials, like travertine, are more durable than others. Keep in mind that finishes require different amounts of care. A polished marble surface will show scratches and scuffs more easily than a tumbled one, for example.
6. Carpet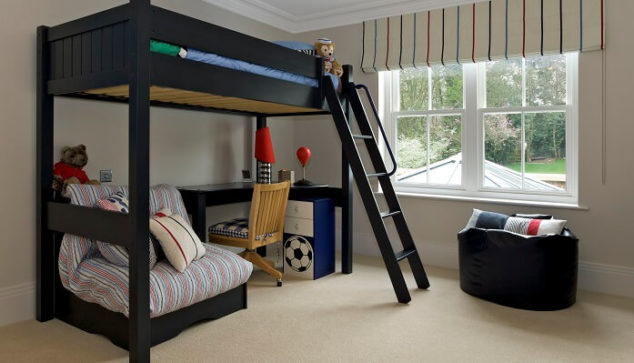 Carpet remains a favorite for many homeowners, especially for bedrooms. It's soft, warm and helps cut down on noise. Carpet installation costs $3.50 to $11 per square foot, making it one of the cheapest materials. The expense to install a carpet pad averages $3.75 per square foot.
It does require more upkeep, though newer stain-resistant varieties make it easier. To maintain an attractive and sanitary surface, you should hire a pro to clean it at least once a year.
Compare Quotes From Flooring Pros
New or Alternative Flooring Ideas
If you're looking for unique flooring materials that look great or have extra benefits like sustainability, consider these other types:
Find the best material for your floor
Flooring Comparison
To figure out which is ideal, you'll need to do a flooring comparison. There's often more than one right answer for things like durability, comfort and style. You'll find a few tips below to help you narrow down your choices.
To find the perfect flooring material, you may also need to compare the finer details of two types, such as:
Most Durable Flooring
The most durable hard flooring types are:
bamboo
travertine
vinyl sheet
Best Type of Flooring for Dogs, Cats or Other Pets
The ideal flooring for pets is non-slip porcelain or stone tile. This waterproof surface is less likely to scratch or wear underfoot.
Whole House Flooring Ideas
If you're installing the same flooring for the whole house, you'll probably want solid hardwood or tile. These materials work well in most rooms.
Eco-Friendly, Sustainable Flooring Materials
The best recycled flooring materials are bamboo and cork. Cork also provides additional insulation with an R-value about 1.125, the highest of indoor hard surfaces.
Best DIY Floor Coverings
The best DIY option is a floating floor in vinyl or engineered hardwood.
Top Non-Porous Floors
Flooring types with a waterproof, non-porous surface include:
porcelain or ceramic tile
vinyl
concrete
Find the best material for your floor
Easiest to Install or Maintain
Vinyl plank or sheet is the easiest to install or maintain. All you need to do is sweep it regularly and mop on occasion.
Prettiest Flooring
The prettiest flooring has a lot of character and comes in hardwood, natural stone tile or terrazzo.
Best Old Flooring Types
If you need to match old flooring in a home, look for solid hardwood or natural stone tile. These styles have been popular for centuries.
Fire-Resistant Flooring
The flooring types most likely to resist fire are stone or porcelain tile. They don't burn or melt except at very high temperatures.
Soundproofing
Cork or carpet are ideal options for soundproofing. Many homeowners prefer this for rooms like a young child's play area or recording studio.
Best Flooring for Radiant Heat
The best flooring for radiant heating has a thickness of 0.375 inches to 0.5 inches in these materials:
natural stone tile
ceramic or porcelain
laminate
engineered hardwood
Most Resilient for Kids
The most resilient flooring for kids is carpet or vinyl. Children are more likely to spill or scratch surfaces, and these products can be easier to maintain.
For Elderly or Disabled People
The best flooring for people with limited mobility is rubber or low-pile carpet. These materials are soft and non-slip.
Best for Resale Value
Hardwood or tile are the ideal flooring choices for resale value. Hardwood in particular can have an ROI as much as 70% to 80%.
Non-Slip Industrial or Commercial Flooring
The best non-slip industrial or commercial flooring includes:
carpet with low loops
laminate
concrete with an epoxy coating
Consult with a pro when buying flooring
Best Flooring Options for Every Room
Bathroom or Kitchen Flooring
The best flooring for bathrooms or kitchens is tile or vinyl. These materials also go well in the mudroom.
Living Room Flooring: Hardwood or Carpet
Hardwood or carpet are the best flooring choices for the living room. They offer comfort and style without compromising durability.
Dens or Family Room Flooring Ideas
When you choose flooring for the den or family room, consider vinyl or carpet. These provide an ideal balance of comfort and durability.
Durable Entryway or Foyer Flooring
Tile or vinyl are the most durable flooring options for entryways and foyers. They are waterproof and scratch-resistant.
Best Kinds of Flooring for Laundry Rooms
The best flooring for laundry rooms are vinyl or tile. These types can handle higher humidity and spills without warping or bleaching.
Compare Quotes from Top Flooring Pros
Best Floor for Stairs or Hallways
Carpet or hardwood are the most appropriate choices for stairs and hallways because they are easier to cut to unusual sizes.
Good Flooring for Bedrooms: Carpet or Cork
Good flooring for bedrooms is a soft and warm material like carpet or cork.
Offices
Laminate and low-pile carpet make great options for home offices. They are durable, stain-resistant and ideal for high-traffic.
Basement Floors
The best basement flooring types are tile, laminate or engineered hardwood. These materials handle higher moisture better than hardwood and can be installed on a concrete subfloor.
Garage Floors
The best option for this room is concrete. Installing garage floor coatings or garage tiles helps provide a non-slip surface that is easy to clean.
Outbuildings: Barn and Shed Flooring
The most durable flooring options for outbuildings are concrete or pressure-treated wood. These materials are moisture-resistant and hardy in hot or cold weather.
Outdoor Flooring Types
If you need to install outdoor flooring, your best bet depends on location:
Deck: Pressure-treated wood for price and selection
Patio or Driveway: Concrete for durability
Covered Porch: Indoor/outdoor carpet for comfort
Compare Quotes from Top Flooring Pros
FAQs
Where's the best place to buy flooring?
The best place to buy flooring is from local or national flooring contractors near you. These companies usually have reliable service and a good inventory. They may also be able to get better prices on materials than homeowners.
When's the best time of year to buy floors?
The best time to buy flooring is early winter and late spring. These months avoid the fall and summer rush, which mean you can get better deals and quick installation.
How many different types of floors can I put in a room?
You can put as many different types of flooring in a room as you like, as long as you put transitions between them. Most people prefer one or two.
How can you tell which kind of flooring you have?
If you're not sure which kind of flooring you have, look at pictures online to get a sense. If it's still unclear, take a photo to a local installer for more information.
What are the best types of floating floors?
Engineered hardwood
Laminate
Vinyl plank
These products are durable and relatively easy to install.
What's a good type of floor molding, trim or transition?
Solid wood is the highest-quality and most-durable material for molding, trim or transition.
What's the cheapest type of flooring?
With prices running as low as $0.75 per square foot for materials, the cheapest flooring types are vinyl or carpet.
Hire a Local Flooring Contractor
---
2 Comments