See if We Have Top-Rated
Home Security Contractors in Your Area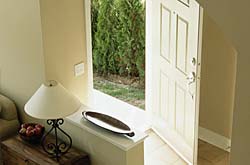 During this warming weather most homeowners are opening their windows and using their screen doors to enjoy those evening breezes. However, your home can be left unsafe when you leave or when you are asleep if these doors and windows are left open. What's more is that your home might be unsafe in more ways than just unlocked doors and poor security measures. Below is a list of some remodeling options that will tighten your security during any season, as well as some other smart choices that are just good practice.
New Windows Do More than You Think
Most thieves are opportunistic. They come into a neighborhood and look for houses that seem undefended or have windows that aren't locked. Depending on how old your windows are, they might not even be able to fasten securely. New windows that lock and have catches that won't allow them to open more than a few inches are key to tip-top home security. The other thing that's great about replacing your windows is that new windows are much more energy efficient, and in some cases, they can often pay for themselves through energy savings long before the end of their life.
Install an Alarm System
Alarm systems offer little in the way of physical obstacles to thieves. Instead they offer an important psychological one.
In a neighborhood with an efficient police force, the alarm substantially increases the odds that the thief will get caught. Even in areas where police response times are slow, the noise and attention of an alarm may well dissuade the burglar from finishing his mission.
The cost of alarm systems varies widely. A burglar easily can disable some of the simpler, less expensive detection devices. The more complex and unfamiliar the array of devices, the more likely the burglar is to trigger the alarm or give up trying to disable it.
The response time to alarms is driven by the effectiveness of the monitoring service you're using. When considering a monitoring service, get the names of people who have had the opportunity to observe response times in the past.

While the above items are specific home improvements that will ratchet up your home security, here are two methods that are helpful to your home security even if you already have the above items.

Make Your Home Appear Occupied
We know that most thieves are just looking to take advantage of someone who might have forgotten to lock something on their way out the door. As a result, it is critical that you make your home look occupied at all times.
One big clue that you are out of town is if your mail or newspapers are piling up. Never allow newspapers to accumulate in the front yard. Ask a neighbor or friend to get your mail.
Not only should some lights be on, but the array of lights should change just as it would if the home were occupied. The easiest way to do this is with timers.
Leave on a TV or radio with the volume turned up loud enough to be heard by someone approaching the doors or windows.
Having a car in the garage or driveway can also be a deterrent. If you are going on a trip and not leaving a car at home, you might want to make arrangements with the next door neighbor to park one of their cars in your driveway while you are away.

Keep a Record of Your Valuables
Most area police departments encourage homeowners to etch their social security number on the metal surfaces of valuables that are prone to theft, although sometimes this isn't very practical for it can decrease the item's value. Here are a couple things that will help if thieves happen to breach your security.
Photographs of especially valuable items like artwork and antiques can help police recover goods.
A journal or log of jewelry and other valuables will also help expedite dealing with insurance agents.

Final Security Items
There are two other wise ways to protect what is yours in your home. Although these two items might not fit all types of homes and landscapes, they can do a solid job of home protection.

Motion Detection Lighting can double serve in the same way as new windows in that motion detection lighting will save on your energy bills by not having a bright light on your yard all hours of the night. Plus, this type of lighting with almost throw a spotlight on anyone prowling around your yard.

Installing a Fence gives criminals yet another obstacle to overcome. Fences can also add a little privacy to your backyard, and keep children in one place as they play.

Matt Myers is a freelance writer for the home maintenance and remodeling industry. Formerly a contractor specializing in deck building and casework, Matt has written over 500 articles for both homeowners and contractors.