See if We Have Top-Rated
Heating & Cooling Contractors in Your Area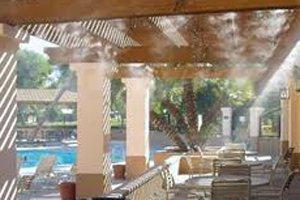 Ever wonder what it would be like to have outdoor air conditioning? Outdoor patios and living spaces are great, but in the middle of summer, they may not be delivering a suitable relaxing atmosphere when beads of sweat are rolling down your face and skin. Some form of outdoor cooling is bound to work for your home and budget. Depending on your need and desired comfort level, you should be able to enjoy your backyard year round.
How Misting Systems Work
Misting works by forcing water through a brass and stainless steel mist nozzle producing a micro-fine mist. The water droplets that create the mist are so small, about one-half the diameter of a strand of hair, that they instantly flash evaporate. This flash evaporation can reduce the surrounding air as much as 35 degrees in just seconds. The mist is so fine that it quickly evaporates to create the cooling effect. The idea is to keep the nozzles at an appropriate distance.
For patio systems, it is ideal to mount the mist line approximately 8 to 10 feet above the ground for optimum cooling. The pressurized nozzles should be spaced approximately 24 inches apart for most misting systems and angling the nozzles 45 degrees away from the targeted area typically provides the best comfort level with the least amount of residual moisture.
Dry Mist and Outdoor Mist Fans
You might think that all those water droplets eventually make their way to your skin, coating you in a layer of moisture and humidity. The microscopic size of the water droplets and flash evaporation cures that potential problem long before the moisture ever reaches your skin. In fact, a high quality system shouldn't even noticeably raise the humidity level of the targeted area. The best systems also use outdoor misting fans. Perimeter nozzles surround your patio or targeted area, and fans push the cool air into and throughout the area, providing an unmatched cool breeze that will tame even the hottest summer afternoons.
Outdoor Misting System Costs
Misting systems are available with any number of options and ranges. You can buy a cheap, low pressure misting system that will provide moderate comfort for an immediate work area for less than $100. A comprehensive system that provides top-level comfort for a large patio may cost well over a thousand or even several thousand dollars.
Low pressure misting systems will allow you to cover a greater area for less cost because they use your household water pressure. The trouble is your household water pressure is insufficient to create flash evaporation without leaving residual moisture. High pressure systems use their own pumps, but require an additional water volume for larger patio areas.
Marcus Pickett is a professional freelance writer for the home remodeling industry. He has published more than 600 articles on both regional and national topics within the home improvement industry.
More Tips & Advice For Your Home
Related Articles
Recent Articles