Updated: September 15, 2021
Reviewed by Cati O'Keefe, Expert Home Building & Sustainability Contributor.
Written by HomeAdvisor.
Cost of Modular Homes
Building a modular home costs $100 to $200 per square foot plus the cost of land and any additional fees. An 1,800-square-foot modular home typically costs between $180,000 and $360,000 or $270,000 on average. By comparison, the cost to build a custom home runs from $350,000 to more than $1 million.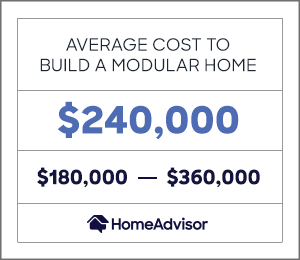 1. Modular Home Cost Calculator
| | |
| --- | --- |
| Freight | $5,000 - $15,000 |
| Land Preparation | $1,250 - $4,000 |
| Foundation | $4,000 - $13,000 |
| Installation | $25,000 - $50,000 |
| Utility construction | $3,000 - $20,000 |
| Taxes | $5,000 - $10,000 |
| Permits & Fees | $500 - $5,000 |
| Additions (Decks, Garages) | $7,500 - $50,000 |
| Sub-Total | $51,250 - $167,000 |
| 1,800 square-foot model | $72,000 - $144,000 |
| Total | $123,500 - $311,000 |
2. Modular Home Prices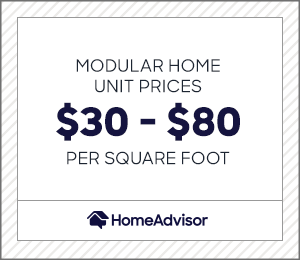 A modular home that is 1,800 square feet will cost about $72,000 to $144,000 for the matierals alone without any customization, such as flooring or siding upgrades. The price of the base model is the largest single expense of the total cost for a finished home. However, when you look at base prices for these units, keep in mind that it is only one part of the total expense.
a. Modular Home Cost Per Square Foot
Home buyers pay about $40 to $80 per square foot for the base price of a modular home. When you request a quote from a builder, you need to confirm what the total includes. The base price covers the cost of the sections, but not customization, delivery or installation.
Modular Home Price List Per Square Foot
Square Footage
Base Model Costs*
Total Finished Cost with Installation
1
$40 - $80
$100 - $200
1,000
$40,000 - $80,000
Custom: $50,000 - $120,000
$100,000 - $200,000
1,500
Base: $60,000 - $120,000
Custom: $75,000 - $180,000
$150,000 - $300,000
2,000
Base: $80,000 - $160,000
Custom: $100,000 - $240,000
$200,000 - $400,000
*Add an additional $10 to $40 per square foot if you plan to customize your home.
b. Prefab Home Kit Prices Per Size
Home Type (Square Footage)
Average Cost
2-Story (2,100)
$84,000 - $168,000
1-Story Ranch (1,600)
$64,000 - $128,000
4 Bedroom/3 Bathroom (2,200)
$88,000 - $176,000
3 Bedroom/3 Bathroom (1,700)
$68,000 - $136,000
3 Bedroom/2 Bathroom (1,500)
$60,000 - $120,000
5 Bedroom/3 Bathroom (2,600)
$104,000 - $208,000
2 Bedroom/1 Bathroom (1,000)
$40,000 - $80,000
Paying for a base-model home kit can cost as low as $30, but typically ranges from $40 to $80 per square foot. Some builders are willing to sell and deliver a pre-built house to a homeowner who will complete the rest of the work. Others arrange the construction and finishing through their own subcontractors. Decide which approach you prefer before talking to builders to make sure you are contracting with a partner who is aligned with your goals.
c. Cost to Move a Modular Home
Transporting the sections from the warehouse to the property costs about $5 per square foot. Delivery charges often relate to the number of sections for the home. Floorplans under about 1,200 square feet may be built as one unit. Larger houses usually come in multiple shipments.
Consult with a Modular Home Builder
3. Average Cost to Build a Modular Home
In addition to the cost to purchase the modular home, you'll pay about $52,000 to $167,000 to have it delivered and installed. The wide range accounts for variations in the land and the size of the home. Generally, the company providing the structure prefers to handle all of these tasks, giving you one grand total for the finished home. This estimate from an experienced builder should be highly accurate. Consult the sales contract for procedures concerning delays or damage prior to completion as they may differ between companies. Problems that come up after you take ownership will be a matter of warranty coverage.
Some factors and additional fees that may impact your final cost include:
4. Cost of Prefab Home Customizations or Additions
Depending on the model you select, you may want to opt for some customizations or add-ons. Common options include:
5. Factors that Impact the Cost of a Modular House
Additional cost factors may vary depending on your local ordinances and options. When planning your budget, be sure to consider:
Permits & fees
Regional size & design differences
Sales tax
Custom designs
a. Permits & Fees
The cost of permits and fees ranges from $500 to $5,000. The permits required for preparing the land and installation usually cost the most. Some municipalities may require impact fees for parks, roads or schools. Homeowners may need to obtain permission for:
Building
Utility Connection
Soil Testing
Construction of Additional Features
Ask your contractor which permits you need or consult your city's building department.
b. Regional Size & Design Differences
Although prices per square foot tend to be fairly standard nationwide, homeowners may notice regional differences in the size and design of homes available. Companies located in areas with bigger lot sizes may offer modular homes with larger footprints, particularly one-story ranch styles. Home manufacturers that serve urban clientele will most likely have a suite of compact two- and three-story designs that are appropriate for narrow lots.
c. Sales Tax
Homeowners may need to pay sales tax on the modular home components, which average about $5,000 to $10,000. Taxes are usually specific to the state but may also vary by city. The manufacturer of your modular home should be able to answer sales tax questions or contact your local tax office.
d. Custom-Design Prefabricated Home Prices
"If you find custom changes push you over budget, ask your builder to steer you toward a plan that meets your needs. You shouldn't be reworking large portions of the floor plan. Use your dollars for details like bumpouts or window placement changes."
Cati O'Keefe
, Expert Home Building & Sustainability Contributor.
For a custom modular house, you should plan to pay at least $200,000 to $400,000. Many builders are willing to customize a design beyond finishes like flooring or countertops. Some are able to adapt an existing design or even create a brand-new design. When choosing your modular home builder, ask about the level of design customization offered. If you add a lot of customization, be prepared to exceed the average price per square foot quoted here.
6. Modular Home vs. Building a Fully-Custom House
Style
Price Per Square Foot
Pros & Cons
Modular
$100 - $200

Usually cheaper
Finished more quickly
Fewer choices

Custom
$100 - $400

Costs more
Takes longer to complete
Most freedom in design
7. FAQs
a. What's the difference in cost between a modular and manufactured home?
Manufactured homes cost around $40 to $50 per square foot compared to $40 to $80 per square foot for modular home construction. The two types may look similar, especially for smaller sizes, but they have one main difference: Manufactured homes are built on a chassis to the national HUD standard. They are considered a vehicle for tax and zoning purposes and can be relocated. In contrast, modular homes are installed on a permanent foundation.
b. How much is a modular duplex?
The price of a modular duplex may not differ significantly from the $40 to $80 per square foot for a single-family home of a similar size, but not all builders offer duplex floorplans. Search for professional contractors who specialize in multi-family construction or ask a manufacturer if they can convert a floorplan from one to two units.
c. How much does it cost for a multi-family prebuilt home?
A two-story prefab home ranges from $84,000 to $168,000. Builders suggest separate floors for multiple generations living in a single house. Homeowners can also consider paying an additional $18,000 to $30,000 to install a walkout basement with a separate entrance.
d. Can you install a modular home on a basement?
Yes. Modular home installers know how to place the modules on top of a basement. When you are doing your research on potential builders ask them for information about including a basement.
e. Are modular homes a good investment?
Yes. According to the Appraisal Institute, modular homes and stick-built homes are appraised and valued using the same metrics. Modular homes have risen in quality in the past few decades, offering many features buyers want, such as:
High-end finishes
Quality exterior materials
9-foot-plus ceilings
Open floor plans
Energy efficiency
If you are thinking about buying new construction, going with this type of house may help you save some money and finish the building process more quickly.
f. How long does it take to set up a modular home?
It takes about 4 to 6 weeks to complete the home from the time the sections are delivered to the final walk-through. Builders often quote around 4 to 6 months from the moment they receive a signed contract to a finished installation.
g. What brands build modular homes?
Available in the United States
Variety of options from $75,000 to $150,000 as a base price
Contact the company directly for warranty information
Champion
Available in the United States and Western Canada
Tiny Homes, 1- and 2-story
Between 400 and 2,700 square feet
Features 7-year factory warranty
Homeway
Available in Southern Illinois
Finished price of $120 - $180 per square foot
Customizes to suit any design
Features 1-year warranty on construction
Pratt
Available in Texas, Louisiana, Oklahoma and Arkansas
Base: $65 - $85 per square foot
Provides a 7-year warranty on structure and appliances
Heckaman
Available in Indiana, Illinois, Michigan, Ohio, Kentucky
1- and 2-story houses
Homes between 1,400 and 2,800 square feet
Kent
Available in Maine and Atlantic Canada
Tiny Homes, 1- and 2-story
Homes between 200 and 2,500 square feet
Hire a Modular Home Builder
Thank you for submitting your feedback.