Elevator Repair Costs
Elevator repairs cost between $190 and $469, or an average of $329. The overall price can be as low as $100 or as high as $1,900. If full replacement is necessary, the price can range from $10,000 to $20,000, depending on the type of drive and number of floors it traverses.
Stair Lift Repair Costs
A stair lift is a more affordable option, with average service calls in the $100 to $400 range, and complete replacement ranging from $2,500 to $5,500 for a straight, single floor lift.
The average cost of a service call for an elevator or stair lift is $120. If any repairs need to be made, the cost of labor to repair an elevator or stair lift averages $75 per hour. An inspection fee or certification of safety varies by municipality and averages about $25 for a stair lift and $150 for an elevator.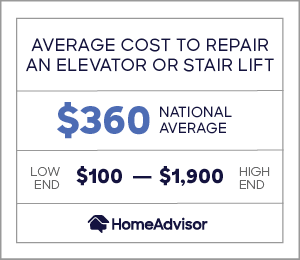 Most maintenance companies can handle issues such as routine maintenance, safety testing, inspection, and repair. Many manufacturers recommend using the same company for maintenance and repairs as installation. Some companies are factory-authorized and perform repairs using original parts from the manufacturer.
Regularly scheduled maintenance can alleviate the pain of a major fix. This can cost between $200 and $300 per year for annual or semi-annual routine maintenance. You can also modernize an aging elevator which will increase the lifespan, update the look and function, and minimize ongoing repairs. This will be a cheaper than full replacement.
An elevator is a complex piece of machinery and as such, it is not recommended that you undertake repairs yourself. Rather, they should be done by a certified disability services professional. However, there are a couple of things you can check before making the call to a service company.
Check the circuit breaker or fuse panel to make sure there is still power. Some elevators are designed to travel to the bottom floor and open the door on battery power when the main power goes out.
Reset Switch. There may be a built-in switch that will restore power.
Door Obstructions. Check the track to ensure nothing is blocking it from closing properly.
Outer Door Latch. This door at each floor exit could be obstructed.
Beyond these simple fixes, a service company should be called due to the safety factors involved and technical knowledge required.
How Long Does an Elevator Last?
With routine maintenance, it can last between 20 and 30 years.
A lift is a little simpler mechanism and there a few things you can check before calling a service company.
Check the fuse or the circuit breaker to make sure there is still power to the device.
Reset Switch. There may be a reset on the controls themselves.
Obstructions. Make sure there are no obstructions on the rail or around the safety switches. This is a common issue after the flooring around the lift has been replaced.
Test the controls to see where the malfunction is occurring. Is it the joystick on the chair itself, or the wall mounted call button or remote control that isn't functioning? Narrowing down the problem could save you money.
Average Length of Life of a Stair Lift?
About 10 years on average if properly cared for with routine maintenance and lubrication.
Lengthen the Life of your Lift or Elevator With the help of a pro
Costs for modernization can range from $200 to $300 to upgrade fixtures and railings inside the cab to $8,000 or $10,000 to replace the control system. If your elevator is not running smoothly or you want to increase the energy efficiency of the unit, then the installation of a new motor or piston will run in the $10,000 to $15,000 range.
There are several advantages to modernization:
Improved energy efficiency
Reduced wait times
Faster ride
Smoother ride
Improved safety & reliability
Reduced calls to service company
Updated look and feel
Minimized noise and vibration
| Task | Highest Avg. Cost |
| --- | --- |
| Door hardware (Electrical) | $800 |
| Door hardware (Mechanical) | $1,200 |
| Replace landing entrance doors | $2,800 |
| Piston | $3,000 |
| Travelling cables | $3,000 |
| Cab operating panels | $4,000 |
| Cab wiring | $4,000 |
| Replace controller wiring | $4,000 |
| Piston gripper installation | $15,000 |
| Motor replacement | $11,500 |
Malfunctioning door operators account for nearly three-quarters of elevator service requests.
Replacement cables for a cable drive or hydraulic system.
Replacement chain for chain drive systems.
Fixing a ruptured hydraulic fluid line in hydraulic systems.
Cleaning and seal maintenance for pneumatic.
Drive chain adjustments to ensure that the lift chair stops, or the elevator opens at the proper place.
Electronic glitches - Newer systems are often outfitted with automated or computerized controls that may experience glitches, which interfere with optimal system performance.
Prices of Stair Lift Fixes
The most common is the replacement of the battery which typically costs between $50 and $100.
A full replacement could cost as much as $20,000, so this should be weighed against the expense of anticipated repairs. Depending on the age, continual maintenance can become expensive. At some point, it will make sense to replace some major components rather than repairing them. A new elevator should last between 20 to 30 years. One that has had its drive system (motor, pistons, cables) and controls replaced should last the same 2 to 3 decades.
Elevators and stair lifts are prone to certain types of problems related to their functioning. Some of the most common issues that owners experience includes: the device getting stuck, its call box not working, odd noises, and jumpy or bumpy rides. Property owners may also notice unusually high energy use, slow operation, or increased down time. A lack of routine maintenance may increase the frequency of system breakdowns and problems.
Elevator:
Door: This can simply get stuck. Check for obstructions before calling for service.
Noise: A service company will likely be needed to determine the cause.
Slowing: A technician will be able to troubleshoot.
Stuck on One Level: This may be due to the door open sensors being activated when the door has been closed. Check for obstructions on the sensors.
Stair Lift:
Chair: If it is in the travel position but the seat paddles won't spring back up, it is likely the springs are broken. This will require a technician.
Safety Switches: If obstructed will cause the lift to only move in one direction.
Joystick: If the wall mounted call buttons and the remote unit will still operate the chair, but the joystick on the chair itself will not, call a professional.
Track Hinge: Common problem after flooring around the lift is replaced. Check to make sure there are no obstructions around the rail.
Repair Your Elevator or Chair Lift with the Help of a Pro
When investing to fix an elevator or stair lift, there are several factors to take into consideration:
Anticipated length of home ownership
Possible increase in home resale value
Increased safety and peace of mind
Factors that affect the cost of stair lift repairs:
Track length
Curved track - More complexity increases the price.
Sensitive electronic controls - May require upgrades to electrical system.
Factors that affect the cost of elevator repairs.
Number of floors/stops
Automatic vs manual door opener
Type of drive mechanism - Hydraulic systems tend to be more expensive than pneumatic or vacuum driven ones.
Elevators and lifts will typically carry a warranty for a period of time (usually a year) after the device is installed where both parts and labor are covered. This may be followed by another year in which the manufacturer covers the price of the parts, but the homeowner pays for the labor.
Minimizing the impact of expensive home repairs can often justify the price of a home warranty, but check with your carrier make sure that your elevator or lift is explicitly listed on the warranty. Likewise, you should check with your homeowner's insurance to confirm that your unit is listed in the policy or your insurance may not cover repair or replacement in the case of major damage to your home. Medicare and/or your health insurance may cover some of the expense of installing a lift in your home. If your doctor prescribes the use of a lift it may be considered by your insurance to be necessary durable medical equipment (DME). Check with your health insurance provider to see if this is covered and what portion of the price it may cover.
Commercial elevators have further considerations.
Regular Inspections: Frequency can be determined by the state authority or the municipality, but is typically annual. Residential systems may not require an inspection or may just require it when first installed. Check with your local authority or a local professional for the requirements in your area.
Higher Traffic: Because they are in public spaces and usually see more traffic, they require more frequent maintenance and repair.
Code Requirements: When installed in public or commercial spaces, there are more stringent building codes and ADA requirements. Repairs or upgrades may be needed to meet the codes. The same requirements may not apply in residential situations. Check with a local elevator service company.
Consult with a Contractor For Repairs
Thank you for submitting your feedback.