February 4, 2021
Reviewed by Robert Tschudi, Home Building & Remodeling Expert.Written by HomeAdvisor.
Plantation Shutter Cost
Plantation shutters cost $2,904 on average for purchase and installation in all windows in your home. Most projects fall in the $1,307 and $4,506 range. In general, these window treatments should cost you about $20 to $45 per square foot, or $150 to $350 per window. Labor runs about $65 to $100 per hour. Labor costs depend on the contractor's workload, remoteness of the location, environment and overhead. Get at least three estimates. They should all involve the contractor coming out to measure your windows and learn about the results you want.
Plantation shutters are window coverings that are mounted on the interior side of your window.
Plantation Shutters Prices
Overall, plantation shutters are $45 to $420 apiece. Materials for a whole house with eight windows would be $360 to $3,360. Real hardwood panels cost the most at $55 to $420 each, while faux wood comes in at $45 to $300. When buying custom models, expect to pay $20 to $45 per square foot, which includes installation. Otherwise, the labor rate for installation is extra.
Plantation Shutters Cost Per Window
Beyond materials, the size of the window influences the cost with most landing in the $45 to $420 range.
| Dimensions (in inches) | Faux Wood Price | Real Wood Price |
| --- | --- | --- |
| 16x20 | $45 | $55 |
| 24x50 | $150 | $200 |
| 36x54 | $250 | $320 |
| 36x60 | $300 | $400 |
| 42x48 | $255 | $330 |
Contractors can go through a wholesale supplier to get sizes that home improvement stores do not carry. This also helps decrease material costs since pricing is lower through dedicated suppliers.
Wood Plantation Shutters Cost
Hardwood panels are the most expensive at $55 to $420 for each window panel. Since the natural wood is rather porous, it works best in low humidity areas, such as the living room and bedroom. When installed in the bathroom or kitchen, the moisture in the air could cause the panels to warp. Faux wood is a much better fit for those areas since it is not prone to warping.
Faux Wood Shutters
Faux wood plantation shutters cost $45 to $300 each. Since they feature nonporous materials, they work well in any room. They are also low-maintenance and durable, which reduces the need for replacement.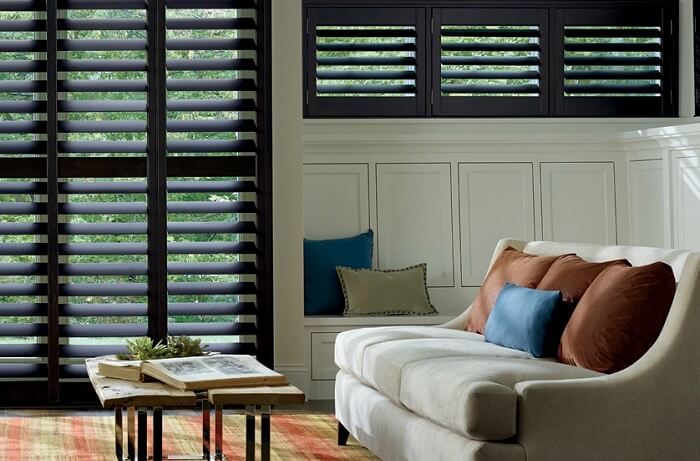 by Interiors Direct. Keizer, OR.
Vinyl Plantation Shutters Prices
When made from vinyl, these window coverings are $100 to $300 apiece. The vinyl needs little attention to stay in great shape and they are extremely easy to clean. With just a wipe down here and there, they can look as good as new year after year.
PVC Shutters
When choosing PVC, each panel is $100 to $300. The louvers are quick and easy to wipe clean, which will keep them looking nice without much effort. PVC also has fire-resistant qualities, while perfectly blocking out light and heat.
Compare Plantation Shutter Quotes From Local Pros
Custom Plantation Shutters Cost Estimate
When ordering custom plantation shutters, expect to pay $20 to $45 per square foot. Most projects come in at $2,700 on average for homes with eight windows. Unlike buying premade panels, square foot rate includes installation.
Exterior vs. Interior Plantation Blinds Cost
Exterior shutters cost $300 to $900, while interior plantation panels are $1,300 to $4,100. On average, exterior window treatments are $600 for labor and materials. Interior ones, however, are an average of $2,700 for the panels and their installation.
Average Cost of Plantation Shutters Installed
The average cost of having plantation shutters installed is $2,700. The rate is either a $20 to $40 square footage cost or labor and materials separately. When charged separately, labor is $65 to $100 per hour with two hours required for each window. Most homes have eight windows bringing the total hours to 16, which equals $1,040 to $1,600 for labor alone.
Expenses may vary due to the contractor's workload, location and environment. Overhead for the business factors in as well. So, make sure you get three estimates and compare the rates to find the most reasonable quote for you.
Labor Cost of Plantation Shutters Per Square Foot
When charging a $20 to $45 per square foot rate, contractors bundle both labor and materials. The rate varies with the material type and any factors that increase the difficulty of the install. Included is fabrication of each custom panel plus any required hardware.
Window Plantation Shutters Cost for Whole House
Full house installs cost $1,300 to $4,100 or $2,700 on average. For eight windows at $45 to $420 each, you can expect to pay $360 to $3,360. At $65 to $100 per hour, labor adds $1,040 to $1,600 to the total, which depends on the property location and contractor's workload.

by The Shutter, Blind & Shade Company, Inc. Knoxville, TN.
Shutters for Bay Windows
When buying shutters for bay windows, you will pay around $800 total. This price includes one 48-inch by 44-inch center window panel at $350 for hardwood or $270 for faux wood. Plus, two 24-inch by 50-inch panels at $200 for hardwood and $150 for faux wood to cover each side window.
Plantation Shutters for Sliding Glass Doors Cost
At the 80-inch by 60-inch standard size, panels for sliding glass doors cost $860. Longer 80-inch by 72-inch panels are $1,040.
Plantation Shutters for Patio French Doors
When buying these window treatments for 80-inch by 24-inch patio French doors, expect to pay $640. If the doors are 80-inch by 36-inch in size, then the price is $950.
Get Local Estimate For Your Plantation Shutter Installation
California Shutters Cost
The cost to install California shutters is $2,200 on average or $1,000 to $3,400. This price covers installation over eight windows priced at $70 to $1,140 each. A $65 to $105 labor rate applies as well at about two hours per window for a total of $1,040 to $1,600. When buying custom panels, the $20 to $45 per square foot rate applies instead.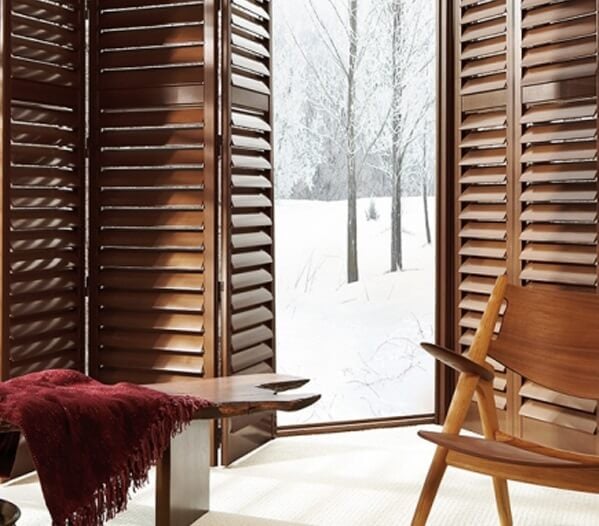 by Vineyard Blind & Shutter, Inc., Wildomar, CA
Cost of Plantation Shutters vs. Blinds
Installing blinds costs an average of $700 for a typical home, while plantation shutters are about $2,700. Blinds are about $80 each and shutters range from $45 to $420 apiece. In addition, blinds take a lot less time to install at 30 minutes each window instead of two hours.
Benefits of Plantation Shutters
You might choose plantation shutters if you are looking for:
A permanent addition to the house: While they don't add much to the sale price, the curb appeal helps the house sell faster. The permanency of these window coverings allow appraisers to factor them into the property value.
Versatility: Many have the ability to open only halfway if desired. If you want to let in all the light, the panels swing away from the window to grant an unobstructed view.
Insulation: With all the louvers closed, it creates a good insulating barrier. This traps unwanted temperatures and saves you money on your energy bill.
Easy maintenance: With wide louvers, a simple wipe-down is often all that's needed. Vinyl models are removable at the hinges, allowing you to spray them off for a major cleaning.
Elegance: The classic, yet modern look conveys a permanency like no other window dressing can. Whether painted or natural wood, they all have a look that says, "Welcome home.
Compare Quotes From Top Shutter Installation Contractors Near You
Popular Plantation Shutters Brands
Across the high, mid and low price range, there are three popular plantation shutter brands. All three manufacturers offer frames to go around the panels. Available as a separate piece, the frames are well worth the money, as they add beauty and warmth to the room.
Hunter Douglas plantation shutter prices are at $20 to $26 per square foot. This manufacturer represents the high end of the scale, offering both natural hardwood and faux wood styles. They offer exceptional craftsmanship and the customer service to match.
At the middle of the range is Budget Blinds plantation shutter costs at $20 to $24 per square foot. This manufacturer offers faux and natural wood products that balance aesthetics with affordability. They allow you to work within a tight budget without compromising on quality.
Graber is at the low end with prices at $18 to $24 per square foot. At this rate, they provide truly affordable options in a variety of styles. They have both natural and faux wood products that are easy to install.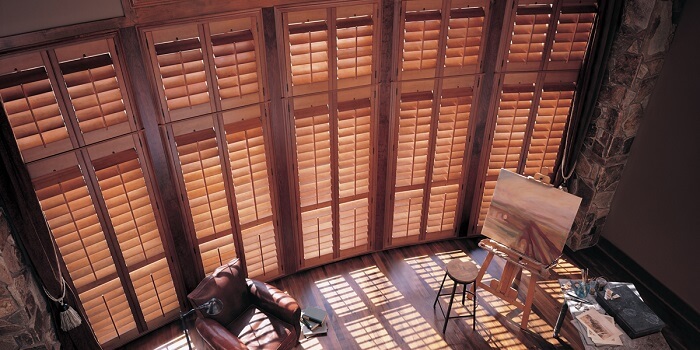 by Frisco WindoWear. Sanger, TX
DIY Installation vs. Hiring Shutter Installers
To get the fit just right, it is best to hire a shutter installer near you. They will select the best panel sizes for each of your windows and doors. Then, install them evenly to perfectly frame the openings. This is only approachable as a DIY project if you have experience precisely fitting sturdy window treatments. Even in that case, you may not benefit from wholesale prices available through a contractor.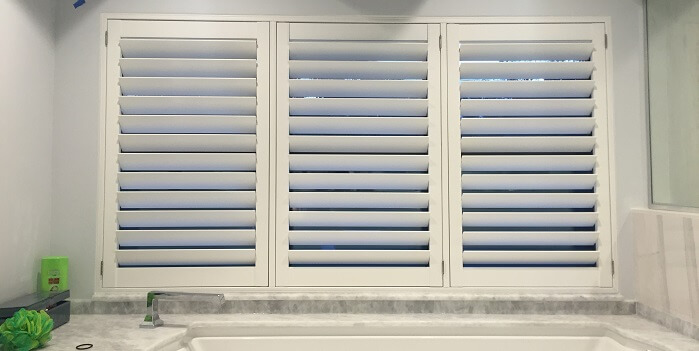 by Budget Window Fashions & Interiors. Miami, FL
FAQs
What's the difference between shutters and blinds?
Shutters have rigid frames that hold rotating louvers. They are often made from natural and faux wood materials. Blinds also have louvers, but they are usually made from vinyl or aluminum. String holds the louvers together, creating a relatively flexible structure.
What's the difference between a plantation shutter and California shutter?
The main difference is the louver size. On the plantation style, the louvers are two to four-inches. This creates a dramatic appearance and wide open view. California shutters, on the other hand, have one to two-inch louvers. The smaller louvers have a timeless look that dresses up both small and large windows.
Why are plantation shutters expensive?
Plantation shutters cost more because they are a long-lasting window treatment. Their materials are often pricier than those used for blinds and curtains. They take much longer to install as well.
Do plantation shutters add value?
This high-end window treatment offers a 75% return on investment, or ROI. Projects that cost $2,000 add $1,500 to the sale price, but only if sold right away. Although shutters do not add a ton of value to the home, they greatly improve the interior design. Plus, they are superior to other window coverings in blocking both heat and light from entering your home.
What type of plantation shutter has the best price?
At $45 to $300 apiece, ones made from faux wood offer the best price. They also provide incredible value by resisting warping in high humidity areas and requiring minimal upkeep.
Where's the best place to buy cheap plantation shutters?
The best place to buy cheap options is through your contractor. They can secure the lowest prices by working with suppliers dedicated to selling these window coverings.
Where can I get plantation shutters at a wholesale price?
To buy materials at a wholesale price, you must buy them in bulk. For that reason, it is best to work with window treatment installation professionals to get the best deal. They will tap into their connections to secure wholesale prices on materials to help save you money.
Hire a Local Professional to Size and Install Your Plantation Shutters
Thank you for submitting your feedback.