Plantation Shutter Costs
Plantation shutters look like large, wooden blinds, but there are significant differences. Blinds are often narrow, made of aluminum or vinyl, and the slats tilt based on a gear and pulley mechanism. By contrast, plantation shutters have wide compound louvers that fit into a frame and are controlled by way of a wooden rod running up the middle. When not needed, they swing away on hinges in the same way traditional shutters do, except on the inside.
On This Page: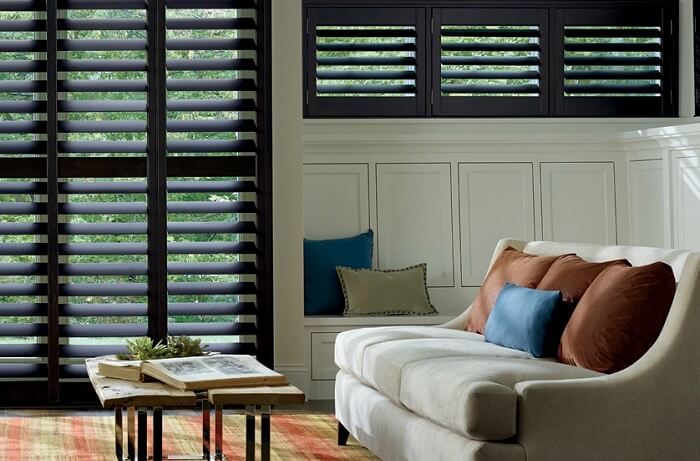 by Interiors Direct. Keizer, OR.
Cost of Plantation Shutters
Plantation shutters cost around $2,654 although that price can vary between $1,287 and $4,028 depending on their size and the material, whether or not they are custom, and who installs them. If you choose to DIY and order shutters online, you may need to account for shipping costs. If you have them professionally installed, your contractor may have access to pricing not available in the home improvement stores.
DIY
Plantation shutters are something many homeowners can purchase and install themselves. How much they cost depends on size, material, and whether or not they are custom.
Faux wood shutters can cost $80-$200 depending on size and come in neutral colors, although they can be painted for a cost.
Natural wood is $90-$600 depending on size and can be stained as a DIY project or professionally for up to $125.
Additional tools include $4-$15 for hang strips and about $4 for mounting hardware. Locks or closures can cost up to $15.
Finally, if you order them online, you can expect to pay $30-$70 shipping per shutter or per set of shutters per window depending on the supplier. Keep in mind that even if you're handy with tools, installing shutters can be time-consuming if you've never done it before. Also remember that many shutters bought from a store do not include decorative framing.
Cost of Installation
Costs for having plantation shutters installed by a contractor are a bit more predictable. Contractors who have installed plantation shutters before can quickly get accurate measurements and suggest which materials would work best in different rooms. For example, while natural wood may look beautiful in your living room, it might not be so practical in a bathroom where moisture will cause the wood to warp. The size, material, and quality of the shutter will have a significant effect on the cost. Contractors usually go through a shutter supplier and can get various sizes that are not normally available at home improvement stores. Here are some sample prices of the shutters most contractors use for standard-sized windows:
16x20 -- Faux wood $45, Real wood $55
24x50 -- Faux wood $150, Real wood $200
36x54 -- Faux wood $250, Real wood $320
36x60 -- Faux wood $300, Real wood $400
42x48 -- Faux wood $255, Real wood $330
48x44 -- Faux wood $270, Real wood $350
In general, plantation shutters should cost you approximately $20 per square foot. Labor costs depend on factors such as the contractor's workload, remoteness of the location, environment, and the contractor's overhead. Get at least three estimates. They should all involve the contractor coming out and measuring your windows and getting the details of what you want. Labor generally runs about $100 per hour.
Hire a Shutter Installer

by The Shutter, Blind & Shade Company, Inc. Knoxville, TN.
Benefits of Plantation Shutters
Plantation shutters offer advantages and benefits to homeowners over other window coverings including:
A permanent addition to a house: While they don't add much to the sale price and don't guarantee a return on investment, the curb appeal helps the house sell faster. The permanency of plantation shutters allow them to be included in appraisals.
Versatility: Many have the ability to open only halfway if desired. If you want to let in all the light, plantation shutters swing away from the window to grant an unobstructed view.
Insulation: When all louvers are closed, a good insulating barrier is created, trapping unwanted temperatures and saving you money on your energy bill.
Easy maintenance: With wide louvers, a simple wipe-down is often all that's needed. Vinyl shutters can be taken off their hinges and sprayed off for a major cleaning.
Elegance: The classic, yet modern look conveys a permanency like no other window dressing can. Whether painted or natural wood, they all have a look that says ?welcome home.?

by Vineyard Blind & Shutter, Inc., Wildomar, CA
Wood vs. Faux Wood
It's not hard to argue that natural wood is more appealing than vinyl or PVC. However, "faux wood," as it's sometimes called, has some advantages:
Price -- Faux wood shutters are often lower in price than real wood.
Weight -- Because some shutters are made "hollow core" (as opposed to vinyl-wrapped medium density fiberboard, MDF), they can be significantly lighter.
Moisture Resistance -- If you live in an area with high humidity, hollow faux wood or aluminum core will resist expanding and sagging. (MDF core louvers will tend to expand and crack as the material swells with moisture.)
Natural wood is the choice for those who have a very healthy budget or for whom a specific appearance is a must. Among the advantages are:
Size -- Because wood plantation shutters are made of hardwood, they can be quite a bit larger than plastic or vinyl. Shutters larger than 29 inches can sag if they are made of vinyl, so they need divider rails or other supports which can destroy the traditional look of a plantation shutter.
Natural -- While vinyl or plastic shutters can be painted to match any color scheme, the natural shades and finishes of the various species of wood have something for every look.
Classic -- While many plastic shutters can be made to look like real wood, the faux wood finishes can vary significantly depending on manufacturer and model. Up close, it can be easy to tell they're plastic. The warmth of natural wood is a classic feel that's impossible to beat.
Contact a Plantation Shutter Pro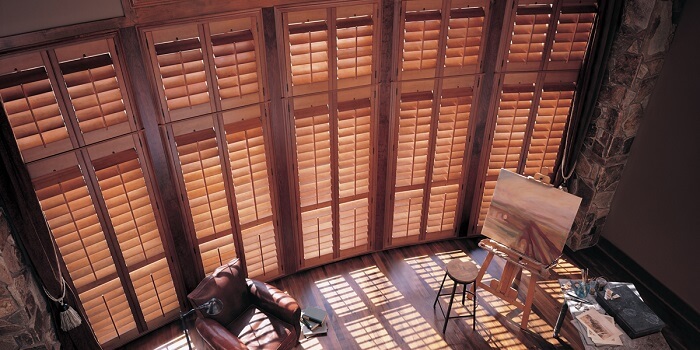 by Frisco WindoWear. Sanger, TX
Popular Plantation Shutter Brands
When you go to purchase your plantation shutters, there are three brands that represent the high-, mid-, and low-cost range of what's available. Which one you choose depends on your budget and your tastes. Hunter-Douglas produces three lines of plantation shutters in both real wood and faux wood styles. A higher-end product, Hunter-Douglas is worth the cost for beauty, quality of workmanship, and customer service. Hampton Bay produces a mid-cost line of shutters as well as other products such as lighting and ceiling fans. The mid-range pricing of Hampton Bay makes them very popular for those who are balancing aesthetics with a budget. HOMEbasics is a low-cost brand for budget-minded DIYers. Available in both faux and real wood, the affordability combines with the visual appeal to make this a very popular choice for plantation shutters. Reviews also describe them as easy to install. Regardless of which line you go with, be sure to ask about frames. Frames can cost extra, but they add an unsurpassed beauty and warmth to a room with plantation shutters.

by Budget Window Fashions & Interiors. Miami, FL
Thank you for submitting your feedback.