Radon Mitigation Costs
Radon mitigation costs depend on a number of factors including your home's design and size, type of foundation and geographical location. Nationwide, radon mitigation averages $981 with a typical range between $772 and $1,190. Larger homes, or those with complex configurations, may reach as high as $3,000.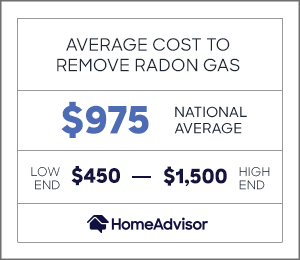 Radon gas removal is common in both newer and older homes. It is a colorless, odorless radioactive gas present in all 50 states with levels varying widely, even in the same neighborhood. It forms naturally from decaying radioactive elements, such as uranium, present in the ground.
It enters through a home's stack effect. This effect occurs when warm air rises and leaves the upper floors and attic. When the air exits, it creates a vacuum in the lower levels. This vacuum pulls air and trapped radon gases from beneath the foundation, through porous concrete and tiny cracks in the foundation. More enters in the winter when the stack effect is more pronounced. Because of this, winter is the best time to test for radon.
Thank you for submitting your feedback.