Asbestos Testing Costs
The national average for asbestos testing is around $487, with the typical range between $228 and $795. It can cost as low as $90 or high as $2,000. Test prices increase with building size and the project complexity.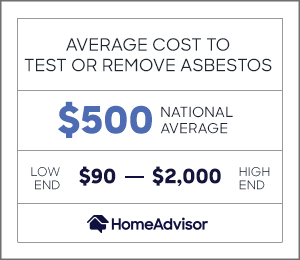 In the early to mid-20th century, contractors used this naturally occurring silicate in homes for its durability and insulating capabilities. However, when aged and damaged, it crumbles and flakes, which releases its fibers into the air. When people breathe in carcinogenic fibers, it can lead to fibrotic lung disease or mesothelioma. It's important to get a professional to test for its presence to see if your home needs asbestos removal or abatement.
Thank you for submitting your feedback.