April 14, 2021
Reviewed by Robert Tschudi, Home Building & Remodeling Expert.Written by HomeAdvisor.
Asbestos Removal Costs
The national average cost for asbestos removal is $2,014. The average homeowner typically pays between $1,118 and $2,915. Extensive, whole-house remediation can run anywhere from $15,000 to $30,000 or more. Pricing depends heavily on setup. Sealing off the area is the largest expense, composing about 60% to 70% of the final bill. Professionals figure $75 to $200 per hour for labor.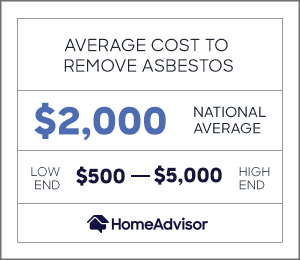 Despite the apparent dangers, removing it isn't always the right course of action. It only becomes a threat once it's airborne. The is to leave asbestos-containing materials that are in good condition undisturbed. However, leaving it be isn't possible when remodeling, renovating or adding onto an older home. You'll need to encapsulate it or possibly remove it.
Thank you for submitting your feedback.