Paver Patio Cost
Installing a brick or paver patio costs an average of $3,400 with a typical range of $2,400 to $7,000 for the average 280 square foot patio. For large or complex jobs that include additional prep work or artistic designs, you might pay $10,000 or more. Expect to pay anywhere from $8 to $25 per square foot although high end stone installs can hit almost $50 per square foot.
We'll cover all the following cost considerations in this guide, including: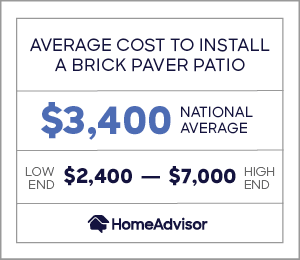 Project size.
Location and accessibility.
Local permits and code requirements.
Landscaping and grading.
Outdoor living addons.
Material choice.
Adding plumbing, gas or electrical.
Thank you for submitting your feedback.