March 6, 2021
Reviewed by Robert Tschudi, Home Building & Remodeling Expert.Written by HomeAdvisor.
Pool Screen Repair Costs
The national average cost for pool screen or enclosure repairs is $887 for materials and labor. A typical range for most homeowners falls between $286 and $1,496. This guide aims to help homeowners understand the types and costs of different methods of pool enclosure repairs.
The average cost of a minor repair such as a screen or sealant fix is $35 per hour in labor, plus the cost of materials, which averages between $5 and $15 per square foot for screen panels. Glass panels cost an average of $45 to $65 per square foot with labor costs reaching $50 per hour.
Major repairs, such as fixing structural damage, repairing or replacing broken doors, and fixing rotted wood fascia cost an average of $35 per hour, excluding material prices which varies for each job.
Complete rescreening of a pool enclosure costs an average total of $8 per square foot.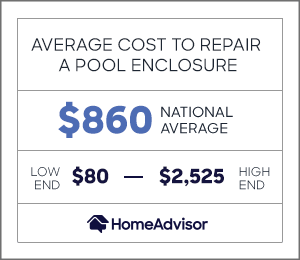 Pool enclosures offer a way for homeowners to enjoy additional leisure space around their above-ground or in-ground home swimming pool. They also act as a safety and protection device to keep people out of the pool when there is nobody available for supervision. Proper maintenance and performing necessary repairs quickly can lengthen the life of your enclosure to enjoy for years to come.
Pool Screen Enclosure Repair Costs
Average repairs for a pool screen enclosure costs $35 per hour in labor. Materials for this job average an additional cost between $5 and $15 per square foot for screen panels. For glass panels, the average cost is between $45 and $65 per square foot. Labor costs are slightly higher at $50 per hour.
Aside from screen or panel repairs, there are many other issues that enclosures might have. These include a complete rescreening, repairing rotten wood fascia, and repairing structural damage such as doors or fixing sealant around junctions of the enclosure.
Total Cost of Pool Enclosure Repairs

| Types of Repair | Cost of Materials and Labor |
| --- | --- |
| Complete Rescreening | $8 per square foot |
| Repairing Rotten Wood | $9 - $28 per square foot |
| Repairing Structural Damage | $10 per square foot (materials)$35 per hour (labor only) |
Minor Screen Repair Prices
Carrying out minor repairs like screen or sealant repairs cost $35 per hour in labor alone.
Regardless of a repair being minor or major, hourly labor costs are about the same. However, when it comes to replacing fasteners or sealants around junctions, doing a full rescreening is often cheaper than replacing individual parts or sections. Screens have to be taken down in order for the small parts to be replaced. Essentially, workers are removing and reinstalling the entire pool screen, so you're paying the same amount in labor, just without the extra material fees.
When replacing individual panels, the price per panel is more expensive than an entire screen roll. It's best to perform minor repairs during a full screen replacement to save on labor costs and materials.
Fascia and Soffit Repair Prices
Replacing or repairing rotten fascias or soffits costs between $9 to $28 per linear foot depending on the type of wood chosen.This price range includes the cost of labor,but is subject to company rates and locations.
Problems with fascia and soffit materials are common for pool enclosures that are positioned against the roof or side of a home. The buttress prevents water from draining properly off the roof, causing mold, mildew and dry rot. Damage from squirrels, birds, snakes and other pests also poses a risk to these structures because they can gnaw holes through screen materials or wood.
Repairs should be made right away to avoid frequent replacement costs.
Get Quotes From Pool Enclosure Contractors
Average Cost to Rescreen a Pool Enclosure
Complete rescreening of a pool enclosure costs an average of $8 per square foot, which includes the costs of materials and labor. The total average cost to rescreen a 600-square-foot pool runs homeowners between $4,000 and $5,000.
Pool Rescreening Costs for a 600-Square-Foot Pool

| | |
| --- | --- |
| Labor | $1,000 |
| Prefabricated Materials | $3,000 - $4,000 |
| Additional Parts & Tools | $50 |
| Total Estimated Cost | $4,050 - $5,050 |
Screen enclosures are a great way to enjoy insect-free swimming at an economical outdoor living cost when compared to glass structures that demand higher material and labor costs.
Cost to Replace a Glass Pool Enclosure
Glass pool enclosures are installed as separate panels, which cost between $45 and $65 per square foot. Labor costs to replace sections are estimated at $50 per hour. Glass is expensive, but it is more durable and long-lasting than screens.
Get Quotes From Pool Screen Repair Pros
Pool Cage Painting Cost
Since pool cages are made from aluminum, the average labor cost of aluminum painting is $1.75 per square foot, with an extra cost of about $46 per gallon for paint. Breaking up the price per gallon into square footage, paint materials average $0.20 per square foot. In the long run, painting a pool cage saves nearly half the price of replacing it entirely. This also help prevent costly repairs down the line.
A pool cage is another name for the structure or frame of the screen or glass enclosure. For screen models, additional costs to remove and reattach the screen may incur. For those outfitted with glass, laborers tape the edges to prevent smudging or staining.
Other Common Repairs
There are many reasons why pool enclosures experience damage and need repairs:
Corrosion from Animal Waste: Ducks and other birds sitting on screens may cause corrosion from their waste products.
Natural Disasters: Storms, hurricanes, thunderstorms and hail can damage the entire structure, or may cause minor issues like holes, dents, and broken doors.
Mold and Mildew Growth: Mold on fixtures and casings may cause corrosion on metal parts and damage to wood fascia, which leads to costly repairs for sun-rooms or patio enclosures.
Moisture: Salty air for homeowners who live near the ocean may cause the metal screening, junctions and fasteners to corrode.
Sun damage: Enclosures located in extreme climates may degrade from the sun, warping, dry rot, and faded paint.
Accidents: People and pets may cause damage through everyday use. Ask your contractor about pest- and claw-resistance screening.
Each warrants a different response when it comes to repairing parts or a full replacement. The good news is that any of the above issues are manageable with experienced service and flexible rates.
Get Estimates From Pool Screen Repair Pros
Pool Screen Updates
When installing or rescreening an enclosure, there are many additional updates to make to enhance the overall experience of the pool:
Solar or Privacy Screens: These can boost the amount of time that homeowners are able to enjoy the pool.
Higher-quality Materials: Upgrades to better screen materials with sturdier weaves are more effective at preventing insects from getting into the pool area.
Stronger Hardware: Homeowners can upgrade to sturdier doors and aesthetically pleasing hardware when installing a new enclosure.
Childproofing: Adding childproof safety locks or other pool safety products enhances the security of the pool.
Fresh Paint: Property owners who are looking for a change in scenery can update the color of the enclosure with paint that can handle exposure to the chlorine and other chemicals used to treat the pool's water.
Other Safety Measures: Adding extra tie-downs to pool covers, screens and doors helps to protect the pool during severe weather such as hurricanes.
Heater Installation: The cost to Install a swimming pool heater is between $1,617 and $3,803. It's a great investment for early morning swims or a dip on a chilly night.
Find Pool Enclosure Repair Pros Near You
DIY vs. Hiring a Pro
Rescreening or repairing a pool enclosure is no easy task. Those looking for a DIY alternative should research pool screen enclosure kits that average about $5 per square foot. Kits are also available in different materials, such as aluminum or glass, which cost around $20 per square foot or higher.
Aside from that, repairs and replacements for pool enclosures are best left to professionals with years of experience. Their skills ensure that both time and money are well spent, especially when it comes to remodeling a swimming pool or creating an attractive structure.
FAQs
How much does patio screen repair cost?
Patio screen repair costs depend on the type of materials used during installation. On average, most homeowners spend $5 per square foot on their patio installations. However, many selections, such as fiberglass, polyester, nosseum, and aluminum are inexpensive at about $0.20 to $0.50 per square foot. Average labor costs land between $1 and $3 per square foot.
When do I need rescreening vs. pool screen repair?
Rescreening should be done when large amounts of damage affect both the integrity of the structure and the screen itself.
Corrosion: Fasteners are rusty or corroded
Torn Screens: Multiple screen panels are torn or punctured
Old Paint: Paint has chipped away and faded
To maintain the enclosure's safety, an experienced repair team may suggest removing the old screen, replacing the hardware, and giving the structure a new coat of paint at one time to avoid repetitive repairs down the line.
An individual screen repair is reserved for instances where someone accidentally tore the fabric or a certain section has issues with mold or mildew.
How much are window or door screen repairs?
Hiring a handyman to repair and install a screen costs an average of $68 per hour, which includes materials and installation. Replacing a single screen should take no more than an hour.
Average Professional Labor Costs:
Professional pre-assembled screen replacement: $6 per screen
Screen mesh repairs, cutting and installation: $13 per screen
Building a custom frame and screen: $24 per screen
Estimated DIY Prices:
Window screen frame kits: $9-$13
7 inches of framing: $5 (requires cutting)
Screen materials: $6-$20
Finished screen from home improvement stores: $13-$15 per screen.
An average screen door replacement costs anywhere from $30 to $70 per job depending on the size of the door and materials used. Extra installation costs range between $50 and $100. Sliding screen door replacements cost around $100 per panel, and labor costs fall between $75 to $125 per job.
What is a pool lanai and how much is it?
A pool lanai is similar to a pool enclosure, except it is considered an extension of a house. They are built under an existing truss roof, rather than a separate shelter. They still maintain aspects of pool enclosures with partially encased areas, but they are typically viewed as an amenity. Homeowners outfit lanais with furniture, home décor, and other additions like audio/visual systems.
A small lanai with square features costs as low as $1,000 for materials and labor. Most stay within a $3,000 price range. Intricate layouts or large extensions overhanging a pool cost more with consideration to materials and square footage.
How much does pool lanai screen replacement cost?
Pool lanai screen replacements share the same screen repair costs as an average pool enclosure at $35 per hour for labor. Screens done in vinyl-polyester or similar materials range from $5 to $15 per square foot. Glass enclosures range from $45 to $65 per square foot in materials or $50 per hour in labor for a replacement.
Find Pool Enclosure Pros Near You
Thank you for submitting your feedback.