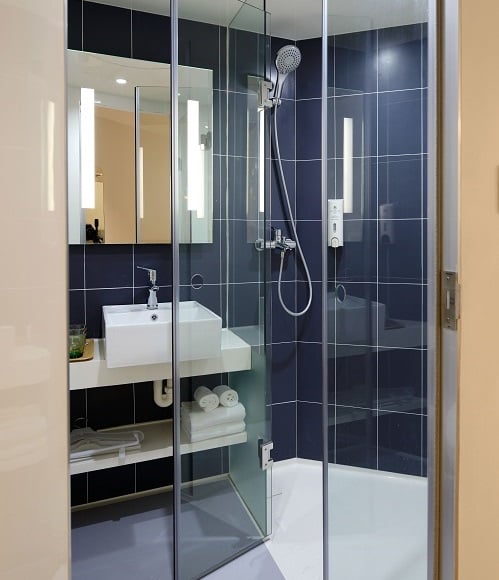 A new walk-in shower can revitalize a bathroom and a morning routine. Getting to this point, though, requires creativity, strategy and inspiration. Before starting this home project, it's important to consider the bathroom's layout as well as your personal style. This gives way to seemingly endless possibilities for the shower's shape, structure, materials and fixtures. With that in mind, we compiled 10 walk-in shower design ideas that marry utility and style, helping you create a shower that's a harmonious addition to your bathroom and lifestyle.
Check out Shower Installation Guide for average walk in shower costs.
1. Frameless Glass Shower
Frameless glass showers help a bathroom feel larger and more open. Because they lack metal framing around the glass, the frameless varieties provide unobstructed views and a contemporary, elegant finish. They're also easier to clean because they don't have a frame collecting water and mold.
2. Steam Shower
Installing a steam generator turns a walk-in shower into a soothing spa-like experience. When constructing a steam shower, the enclosure must be watertight to trap the vapor. Also, a built-in bench is the perfect feature to relax and savor the steam.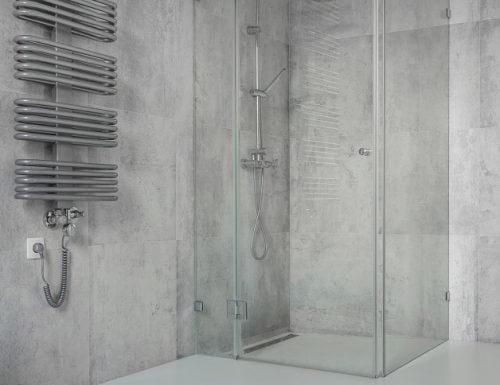 3. Concrete Shower
Using concrete (vs. tile) on a shower's surface has many benefits. In terms of appearance, concrete has a modern, minimalist aesthetic. In terms of utility, it's cheaper than many other materials, easy to clean with soap and water, and lasts for decades.
4. Doorless Shower
Doorless showers help the entire bathroom feel more spacious and contemporary. In most cases, these large showers are framed with walls and/or glass, but they don't require a door. Simply walk in and enjoy. This luxurious design concept also removes the need (and expense) for a shower lip.
5. Spa-Inspired Shower
Drawing inspiration from a spa's tranquility can transform a walk-in shower into a relaxing haven. Soft earth tones (e.g. white, cream, taupe) produce a calming yet sophisticated palette, while a wooden shower floor adds texture and warmth. A full range of fixtures, including a rain showerhead, hand shower and body sprays, create a luxurious and revitalizing experience.
6. Statement Shower
Creative tile motifs can turn a shower into a work of art. To make a statement, consider using three different tiles inside the shower. For example, use one tile on the floor, another on the walls (and even the ceiling) and a third as an accent. The accent can be woven into the floor, walls, ceiling and inside a built-in shelf.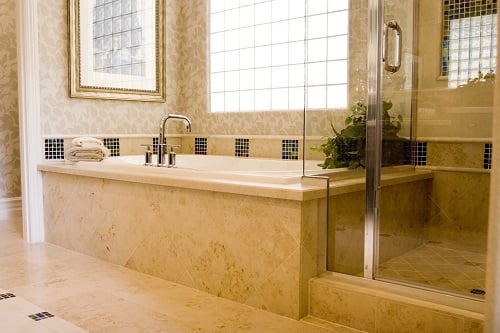 7. Tub-Shower Combo
The tub-shower combination is a chic addition to roomy bathroom layouts. It joins together the two features in a separate, waterproof space that's tiled like a shower and houses a detached tub. The walk-in shower is typically stationed alongside a built-in, sunken or freestanding tub, combining functionality with opulence.
8. Small Shower
Many small bathrooms could benefit from a walk-in shower. It can nestle into a corner or an abnormally shaped nook, such as under a slanted ceiling. This capitalizes on a bathroom's underutilized space and increases its practicality. Installing a clear glass door (vs. a shower curtain, for example) helps the small space feel open and airy.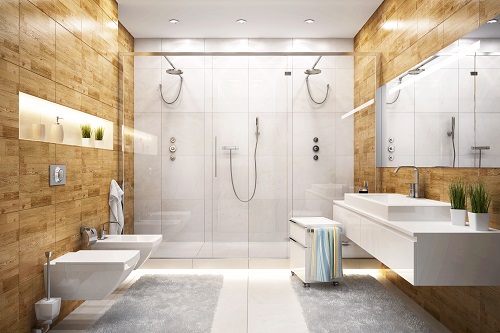 9. Two-Person Shower
Large bathrooms can afford a two-person shower, a lavish design that holds two or more showerheads (any combination of rain, hand and body sprays). It can also house a build-in bench(s), which can break up the open space and provide a useful place for toiletries.
10. Sunlight Shower
Natural light can do wonders, turning a dark shower into a sunlit sanctuary. If you don't have a window or skylight in the bathroom, considering installing one inside the shower. It not only floods the bath with sunlight, it spotlights the shower's design and tilework.
No Comments Yet