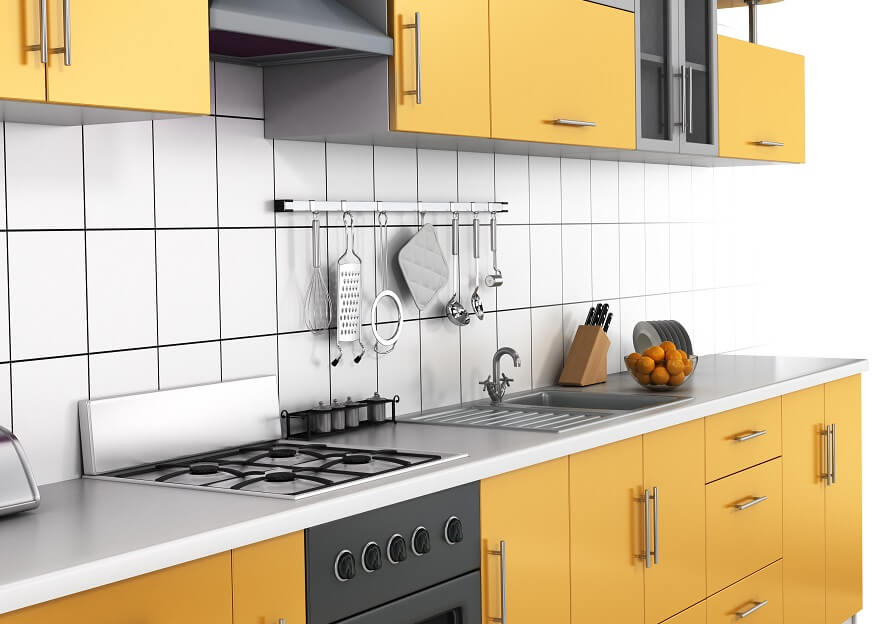 10 Cheap Countertops Options & Ideas
Granite remains king of the countertop design world. But it, along with most other natural stone slabs, remain the most expensive options. You can update your kitchen on a budget without compromising beauty or elegance. This guide is the first step to designing and install a luxurious and expensive-looking kitchen without paying top dollar in countertop installation cost. We'll explore all the popular options for cheap kitchen and bathroom countertops.
On This Page:
Inexpensive Countertop Options
Finding a beautiful, inexpensive option comes down to your choice of countertop material which can range from $20 to $200 per square foot. Labor costs of $35 to $100 per hour for installation remain constant across all types of materials.
Best budget options: tile and any type of laminate.
Best DIY options: Any type of tile or wood. Some experienced DIYer's can also attempt laminates.
Environmentally responsible choices: Wood or recycled counters made with materials like paper, glass or aluminum combined with resin.
Cheap Countertop Options per Square Foot*

| | |
| --- | --- |
| Ceramic Tile | $5-$30 |
| Natural Stone/Granite Tile | $10-$30 |
| Vinyl Laminate/Formica | $25-$50 |
| Corian | $35-$65 |
| Solid Surface | $35-$70 |
| Recycled Paper | $30-$80 |
| Recycled Glass | $50-$80 |
| Recycled Aluminum | $35-$95 |
| Engineered Stone/Marble | $35-$150 |
| Silestone Quartz | $50-$100 |
| Travertine | $50-$100 |
*Does not include labor of $35-$100 per square foot.
Most other natural stone, like soapstone, slate and marble cost slightly more per square foot than granite that averages $45 to $200 per square foot. Other more expensive options include stainless steel and custom wood. However, high-end granite commands a greater price than most of the lower end solid stone, metal or wood counters.
Get the Best Price On Countertops
Cheap Kitchen Countertop Ideas
Are you looking to update or remodel your kitchen on a budget? There are dozens of ways to get that granite or marble look while leaving a little leftover to redo your kitchen cabinets, floors or update your appliances.
1. Ceramic and Stone Tile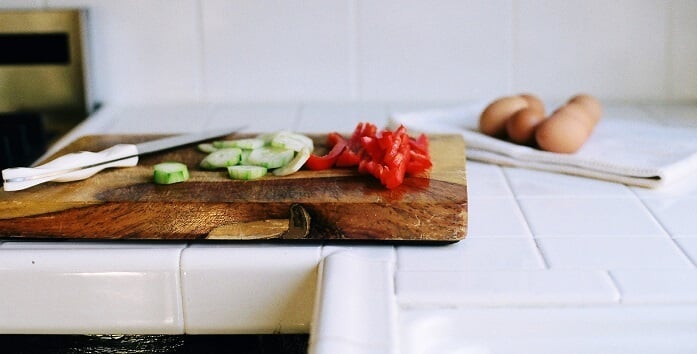 Ceramic or porcelain tile costs $5 to $30 per square foot while natural stone tiles tend to double the price. Tile counters even beat laminate for price and looks.
Pros:
It allows the most creativity for artistic expression in the kitchen.
Makes the best cheap solution for a DIYer.
Cons:
Requires regular maintenance and sealing.
Hard to clean unless you add a layer of epoxy.
Very cheap materials but requires the most time to install. If you're going with a professional installation, consider laminates instead.
2. Inexpensive Laminate Counters
Laminate counters have always been the inexpensive route to updating your kitchen. Entry-level laminate countertops cost around $25 per square foot.
While they won't win any design awards, they'll still update your kitchens look. Upgraded options, like Formica's 180fx line come in stone, marble and wood grains for a comparable look of stone or wood at a fraction of the price.
Other major brands include:
Wilsonart
Bevella
Pionite
Nevamar
Hartson-Kennedy
Panolam Surface Systems
Hampton Bay
Belanger
VTI Fine Laminate
Corinthian
CustomCraft
3. Cheap Quartz Countertops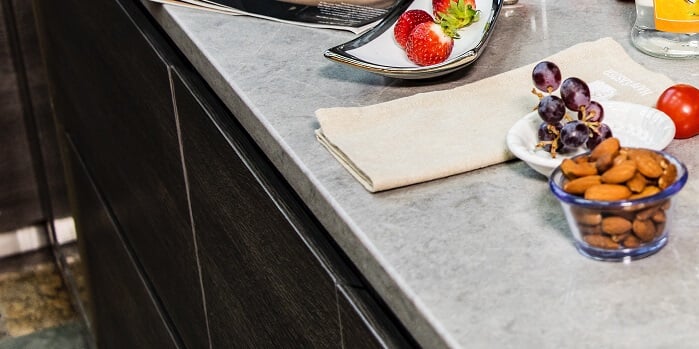 Quartz countertops cost $50 to $150 per square foot. Different brands will vary in price; for instance, Cambria and Corian may differ from Silestone quartz counters cost of $1,500 to $5,000 to install.
On par with granite for cost, it's still a much cheaper option for those looking for a marble or slate look for half the price. Unlike granite, it's incredibly durable and requires no sealing.
4. Cheap Solid Stone Counters & Alternatives
Granite countertops cost and solid stone, like Soapstone, Slate, Granite and Marble, costs anywhere from $40 to $200 per square foot. Stone has always been the most expensive and luxurious option. With a little patience and research, you can find some cheap slabs.
Tips for finding cheap options:
Look for overstocked or oversized chipped slabs.
Settle for a slightly off color or plainer option to stay on the low end.
Big box stores, countertop specialty shops and even some online retailers offer discounts and closeouts.
A professional installer can easily reshape these unwanted parts to fit your kitchen or bath.
Cheap alternatives to natural stone slabs include:
Engineered stone. They're often more durable and require less maintenance.
Stone tile comes in a wide range of varieties and make excellent DIY projects. They're the most economical choice but require regular maintenance.
5. Cheap Corian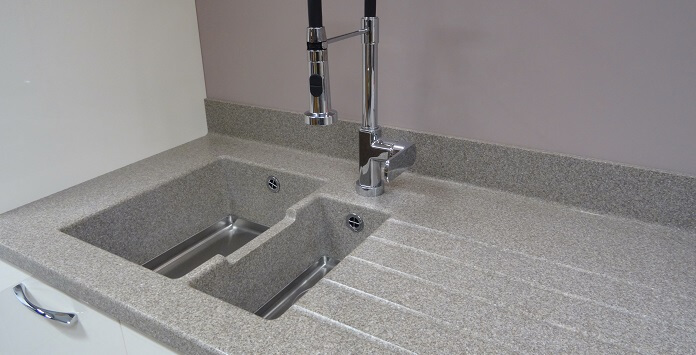 Corian countertops cost $35 to $65 per square foot. Solid surface countertops cost $2,000 to $4,500 with installation. After the patent on Corian solid surface counters expired, multiple competitors have entered the market, driving prices down. Check on competitor brands, like Avonite or LG HI-MACS for cheap alternatives and eco-friendly options.
Get the Best Price On Countertops
6. Epoxy and Affordable Custom Counter Ideas
On par with tile and laminate, covering your existing counters with a colored epoxy for $3 to $10 per square foot gives you a vast array of artistic options. It can mimic stone or any solid surface. You also have the option to go ultra-modern or add a metallic finish.
Epoxy Kits: $500 for DIY application.
DIY Warning: While it is easy to install, it's equally easy to make a mistake. Sanding off and redoing epoxy professionally costs nearly twice as much as simply hiring a professional initially.
7. Recycled Paper, Glass and Aluminum
Recycled options range from aluminum, glass and even paper mixed with resin for $30 to $95 per square foot. Recycled glass counters cost $2,600 to $4,200 installed.
Recycled Counters not only keeps trash from the landfill, they also cut costs. They are only slightly more expensive than laminate and much cheaper than most stone choices.
Brands includes:
IceStone
QuartzStone
PaperStone
Squak
ALKEMI goes one step further and uses acrylic to enclose post-consumer industrial scrap like aluminum, copper and even recycled solid surface materials. It also helps qualify for LEEDS ratings.
8. Wood/Butcher Block
Wood counters cost from $35 to $200 per square foot due to the wide range of tree types, finishes and thicknesses. Butcher block countertops cost $1,700 to $5,000 installed. Wood requires a high level of maintenance, or simply have it professionally sealed with epoxy.
DIY-able: Simple unfinished, premade varieties available at a big box store, for under $300 total.
Custom Work: living edge, clear epoxy and wood combos can reach $10,000 or more.
9. Stainless Steel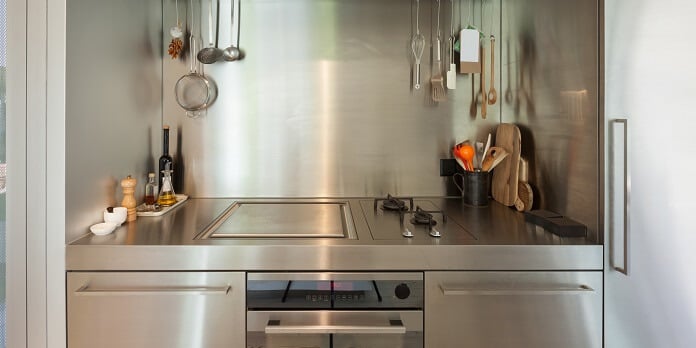 Stainless steel counters cost an average of $95 per square foot or $4,000 to $11,250 installed. It's one of the most expensive materials you can use. Choose stainless steel counters for cheap maintenance. Because they last the life of your home, they might just be the cheapest in the long run.
Pros:
Durable, corrosion resistant and will last a lifetime.
Requires no maintenance.
Easiest surface to clean.
10. Concrete
Concrete countertops cost $75 to $150 per square foot or $5,000 to $10,000 installed. Once of the most expensive options also gives you some of the best options for finishes.
Pros:
Multiple finishes and colors available.
Built-in concrete sinks for added cost.
Very durable with low maintenance.
Get the Best Price On Countertops
Cheap Bathroom Countertop Materials & Options
Your choices don't change much when you move from the kitchen to the bathroom. But you will want to consider a few things when you decide.
Matching bath and kitchen countertops helps with cohesive design and can help sell a home.
Bathrooms have higher humidity, making unsealed wood a bad choice. If you do use wood, consider a laminate or epoxy sealed hardwoods.
Epoxy can unite the design of currently mismatched kitchen and bath counters for a fraction of installing something new.
Replacing Kitchen Countertop Ideas On a Budget
After you've decided on the designs and purchased the materials, you'll need to get them installed. Professional installation runs $35 to $100 per hour. Cutting the install time down cuts the price by half or more.
Tips For Cutting Your Install Budget:
Do it yourself

Wood, laminate, tile and epoxy are good choices.
Mistakes can add up quickly and might cost more than hiring a pro.

Do some of the prep yourself.

Take out the fixtures yourself.
Negotiate a price break for doing the prep and cleanup yourself.

Hire a handyman.

Find a professional handyman with experience for half the cost.

Hire a professional.

Are you ready to pay more for mistakes you make?
Talk to a Pro About Your Countertop
FAQs
What's the cheapest countertop?
The cheapest are tile at $5 to $30 per square foot or laminate at $25+ per square foot.
What are the most expensive countertops?
The most expensive countertops at $40 to $200 per square foot are natural stone slabs including soapstone, slate, marble and granite
What's a cheap kitchen countertop alternative to granite?
The cheapest kitchen countertop alternatives to granite are quartz, granite tile or a recycled solid surface. Granite remains the most popular kitchen counter material in use today.
What's the most inexpensive, durable countertop?
Solid surface, like Corian, remains the cheapest and most durable available. However, for nearly the same price, consider a recycled type for more durability and eco-friendliness.
Where can I buy cheap counter?
You can buy premade laminates, the cheapest type, in big box stores like Home Depot, Lowes and Ikea.
What's the most low-cost countertop that looks expensive?
Choose a professionally installed colored or stone design epoxy counter. They look luxurious at a fraction of the price of stone.
What's the best budget kitchen island countertop?
Unfinished wood counters for $300 to $500 make the best budget kitchen island countertop while also blending into almost any type of design.
Get The Best Budget Countertops
No Comments Yet