Last Updated: July 15, 2020
Written by HomeAdvisor.
Glass Countertops Cost
Expect to pay about $2,700 for a 30-square-foot recycled glass countertop, or about $90 per square foot, installed. The cost falls between $65 and $140 per square foot. This project can vary in price from as little as $1,800 to as much as $3,750 once complete. Factors that could affect cost include color, glass thickness, finishes and number of seams.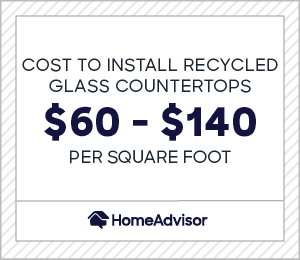 Recycled glass countertops are seeing an increase in popularity. This durable, environmentally-friendly material consists of post-consumer and post-industrial recycled glass held together with a binding agent. That agent comes in either cement or resin. Some brands offer solid glass surfaces made by melting the reused glass particles.
Thank you for submitting your feedback.