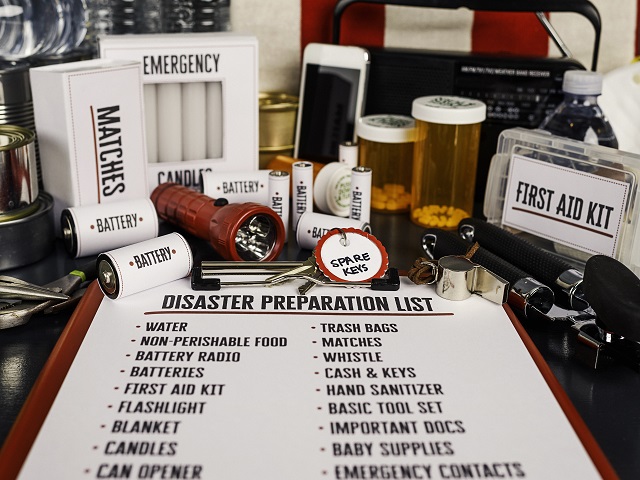 If earthquakes are common in your area, you know they can't be predicted. There's no time to brace your belongings or evacuate. That's why it's so important to prepare yourself — and your home — in advance and as best you can.
Prepare Your Emergency Kit
Start by packing an earthquake kit. Keep one at home, one at work, and one in the car, since you never know where you'll be when an earthquake hits. You can purchase pre-filled kits from online retailers or big box stores, or you can fill a 10-gallon bucket with all the supplies you need, including:
Batteries and battery tester
Flashlight
Candles and matches
Radio (hand-cranked or battery-operated)
Whistle
First-aid kit
Food for people and pets
Can opener
Blankets
Tarps
Extra clothes and shoes
Personal hygiene items
Small tool set
Portable solar charger for phones
Emergency contact information
Trash bags
If you need to leave your home in an emergency, also grab your:
Cash and keys
Cell phone
Form of ID for the family and pets
Insurance policy
Having an emergency kit isn't enough. You should also take steps to prepare your home. Some projects you can do yourself. Others will require a professional.
Remember: there is no "earthquake season." Because earthquakes strike year-round and without warning, you should take care of these preventive measures as soon as possible, and you should leave them in place indefinitely.
DIY Projects
Whether you're moving into a new home or just looking to upgrade the safety in your existing space, these do-it-yourself projects will help protect your family and give you peace of mind:
Apply shatter-resistant safety film to all windows and glass doors.
Move sharp and heavy wall hangings away from sleeping areas. Anchor bulky items, like televisions and mirrors, to studs.
Place beds on interior walls that are away from exterior windows.
Install latches on cupboards to keep items safely inside. Secure valuable items and keepsakes in place with adhesive, Velcro®, or putty.
Hang planters and light fixtures from wooden beams in the ceiling instead of through plaster or sheetrock. Close hooks by bending them shut to prevent items from falling off.
Anchor bookshelves, heavy furniture, and large appliances to the wall. You should also remove heavy objects from top shelves. For extra protection, install guardrails or shelf lips to help keep objects in place.
Store flammable liquids inside low, locked cabinets and, if possible, outdoors in a garage, garden shed, or utility closet.
Locate your gas and electric meters as well as your water supply, and be sure you know how to turn them off. If you require a wrench to do so, secure one near the shut-off valves for easy
When to Go Pro
Some of the things you need to do to earthquake-proof your home are better left to professionals, either because the tasks are too dangerous to DIY or because they pertain to the structural integrity of your home. Call the right pro to take care of these projects:
Prevent Gas Leaks
If you have a gas oven, grill or fireplace, find an appliance professional to replace rigid connectors with flexible ones to reduce the chance they'll break from the shaking.
This pro should also bolt your water heater to the concrete and install a strap to keep it from toppling over. The same goes for your propane tank.
Prevent Chimney or Roof Collapse
Hire a roofing contractor to check your chimney's stability and safety, mainly if your home was built before 1960. Your pro may need to reinforce the ceiling joists around the chimney with plywood to prevent damage or injury from falling bricks.
Inspect Your Foundation
Call a foundation professional to inspect your foundation, ensuring that your home is bolted to the foundation. Homes built before 1935 are at the most risk. For homes with raised foundations, check that your crawl space has shear plywood walls instead of cripple walls.
Hire a structural engineer to make recommendations for seismic retrofitting. Homes built in the last 25 years under modern code will have more protective features than older homes.
Homes older than 25 years may need:
positive connectors at the joints of posts and beams and beams and footings
plywood between studs on exposed pony walls
redundant post-and-beam systems to reinforce weak foundations made of post and pier, masonry block, stone, or brick
If the engineer recommends any of these steps, you'll need to hire a reputable general contractor to oversee the work.
Prepare Your Yard and Driveway
If your yard slopes or your property borders a hillside, hire a professional landscaping company to install artificial grass to manage erosion and runoff and build a retaining wall. These features will help stabilize the ground and prevent landslides.
When you are replacing, repairing, or adding new patios, driveways, or walkways to your home, consider installing pavers instead of poured concrete. Hire a brick paver installer to install paving stones which are more flexible, provide better weight distribution, and are easier to repair than a concrete slab.
Get Earthquake Insurance
Unfortunately, there is no such thing as an earthquake-proof home. That's why you should consider purchasing earthquake insurance — most homeowners' insurance policies won't cover earthquake damage.
Still, if you complete this list of DIY tasks and professional projects, you can rest easier knowing that you have done everything in your power to keep your family and your property safe on solid ground.
No Comments Yet