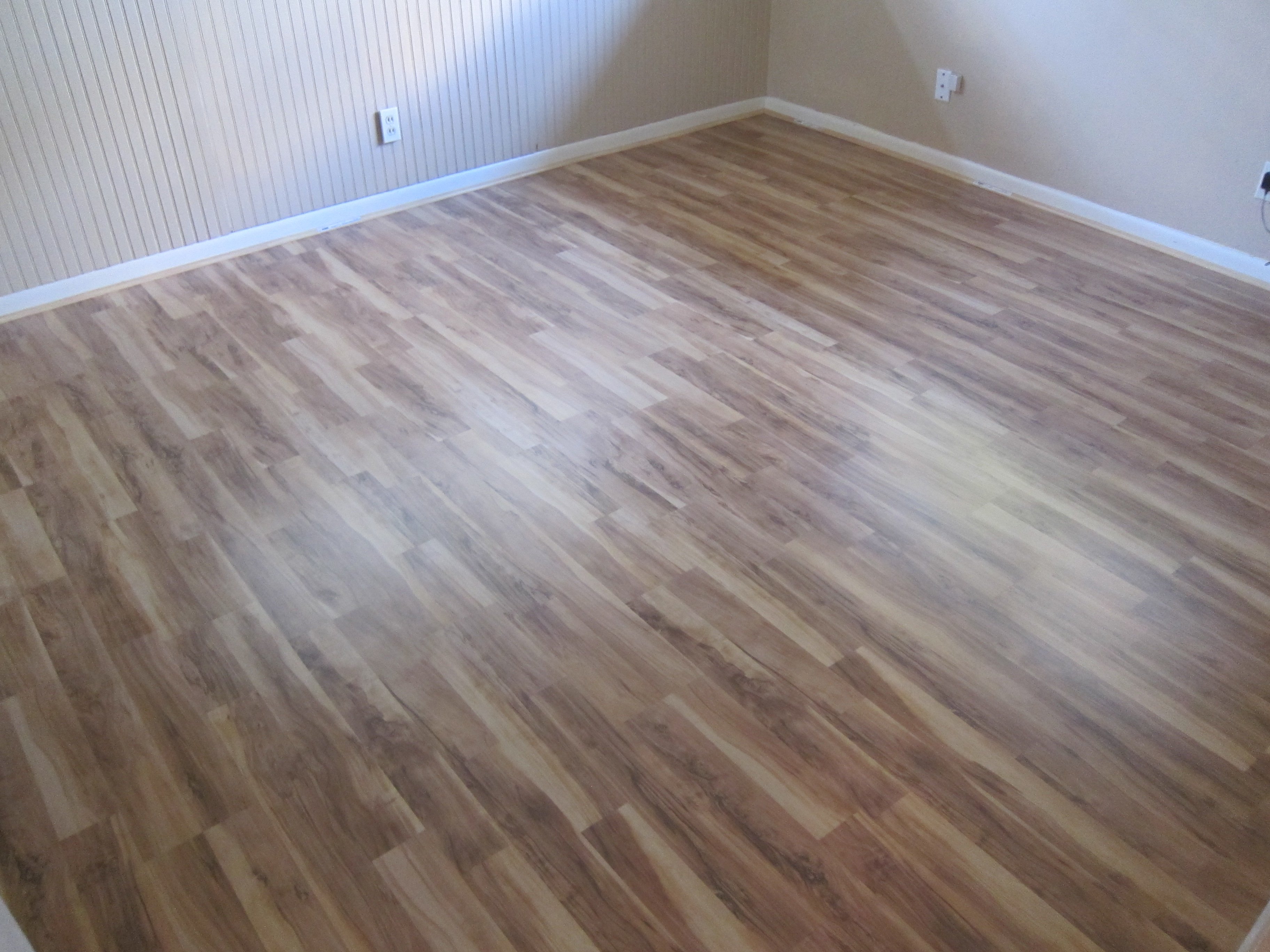 Glueless laminate flooring is a new flooring alternative that makes installing laminate floors easier than ever. Instead of applying adhesive to the laminate planks where they join together, glueless laminate flooring is manufactured with special tongue and groove edges that click together and hold without the need of extra adhesive. It makes installing these floors about as easy and straightforward as a homeowner could hope for.
Glueless Laminate Flooring Prep
The amount of prep you need to do depends a lot on the type of pre-existing floor you're dealing with. One of the most attractive qualities of glueless laminate flooring is that it can be installed over just about any pre-existing floor, with the exception of carpeting. If you want to be thorough, it's certainly not a bad idea to tear the old out before you put in the new, but be careful about getting in over your head. For example, if you've got old vinyl or linoleum floors, it's best to let them be. Many contain asbestos that is released as a dust if you start tearing them out. They're not dangerous if you leave them alone, but if you decide to remove them, you'll need to hire a licensed asbestos abatement contractor to come in and do the work for you. Besides those precautions, however, all the prep work you really need to do is make sure the old floor is clean before you begin to lay down the new.
Let Your Laminate Age Before Installation
Once you purchase your glueless laminate flooring, you'll want to remove it from the box and let it sit in the room where it's going to be installed for 48 to 72 hours. This allows it to acclimate to the humidity in your home, and prevents it from tearing apart your floor during initial phases of expansion or contraction. Once the laminate has been aged properly, however, you're all set to begin installation.
From Here on Out, It's a Snap
Things from there on out are pretty straight forward. You'll need to lay down a vapor barrier and a sound underlayment before you put down the laminate itself, and since glueless laminate flooring is a floating floor product, you'll want to measure the space carefully and cut your boards such that you leave a 1/4″ gap at the walls in order to allow for expansion. Also, be sure to follow all of the manufacturer's instructions carefully, and utilize the aid of a tapping block and tightening straps so you get your flooring installed as tight as possible. Glueless laminate flooring can separate slightly over time if improperly installed, though it's extremely rare if you follow installation guidelines or have it done by a professional flooring contractor. Other than that, all you've really got to remember is to snap the pieces together. Before you know it (usually in a long weekend, depending on the space you're covering and your level expertise) you'll be sitting back and admiring a beautiful new floor.
Glueless Vinyl Flooring
While glueless laminate is by far the most popular glueless flooring material on the market, glueless vinyl flooring is gaining in popularity as well. Unlike laminate, these vinyl products come manufactured with adhesive strips attached to the underside of the tiles or strips. Simply fit the flooring pieces together, remove the protective tape from the adhesive, and attach each piece to the sub-floor. Glueless vinyl flooring usually has a composite fiberglass surface, and is made to mimic everything from hardwood to ceramic tile to natural stone. It's not as proven as laminate flooring as of yet, but as a new, easy to install flooring material, it is certainly worth a look.
Ready to start your
Laminate Floors

?Find Pros
3 Comments