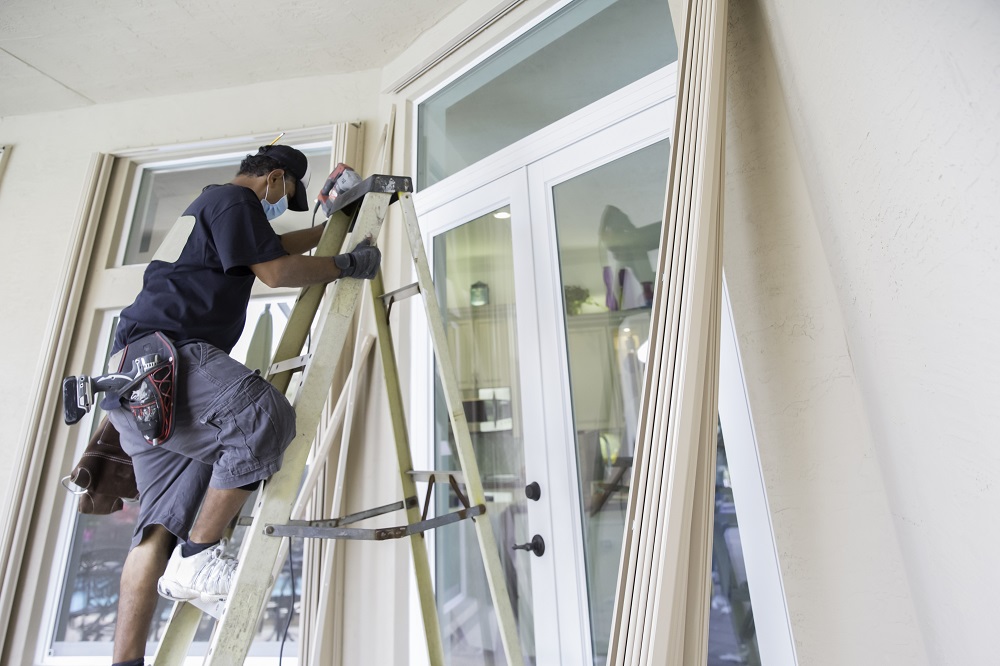 Hiring a Hurricane Shutter Installation Contractor
Hiring a storm or hurricane shutter contractor involves dedicated research and asking the right questions. But it's a niche market with specialists who do nothing but hurricane shutters and often windows and other storm retrofits. Like any other professional, have them do a site inspection, check credentials and get multiple quotes. This guide covers everything you need to know about hurricane professionals.
On This Page
What to Look for in a Qualified Hurricane Shutter Installer
Licensed and Insured. Never hire an unlicensed company. This lets you know you're dealing with a reputable contractor. To avoid scams, always verify a license. In Florida, you can verify these at the Florida Department of Business & Professional Regulation
Previous work. Always check on a portfolio of previous work. More importantly, ask to see work that's been through a hurricane. If possible, visit a site in person.
Length of Time in Business. Due to the prevalence of storm shutter scams, always check to make sure the company has an established work history.
Questions to Ask Your Hurricane Installer
Are you licensed and insured? Always verify the license and check the insurance.
Do you have previous work I can look at? Never hire a pro without checking on previous work, particularly work that's survived a storm.
How long have you been in business? Length of time means they're legitimate and most likely do quality work.
Do you guarantee your work? If they don't, it's a red flag.
What type of shutters do you recommend for my home and area? You'll be able to choose from a few different types of storm shutters to meet your needs and style.
Do you take care of the permits? You can always ask to see the permits after they're pulled.
Do your shutters meet Florida Hurricane Building Code? They should be rated to withstand at least 110 mph winds. Even outside the state, Florida has some of the standards most other hurricane-prone areas conform to.
Ready to start your
Storm Shutter Installation

?Find Pros
Can I Install Hurricane Shutters Myself?
In some places, you can install your own hurricane shutters, but they must meet code requirements, pass an inspection and require a permitting process. Installed improperly, they're of little use and won't protect your home. Save yourself the time and gain peace of mind by finding a local hurricane shutter installer. You'll also want these in place long before a storm arrives.
FAQs
Do you need a license to install hurricane shutters?
In most states that experience hurricanes, you do need a license to install shutters.
How do you install hurricane shutters without a track?
If you're installing colonial or Bahama shutters, they don't require a track. Only roll down and accordion styles require tracks.
Are hurricane shutters worth the cost?
Hurricane shutters are worth the cost if you factor in both water cleanup and new windows. Plus, you'll save the time it takes to clean up water damage and losing anything sentimental or irreplaceable.
How do you install hurricane shutters on a front door?
You install hurricane shutters on a front door the same way you do on windows, depending on the style. You'll either lay tracks or place an accordion-style next to the door.
What is the best type of hurricane shutters?
The best type of hurricane shutters depends on the type of home you have. Any style can adequately protect your home. However, accordion and roll down types tend to have more success.
How long does it take to install hurricane shutters?
Initially, it'll take a professional a day or two to install hurricane shutters on your home. For homeowners as a storm approaches, it depends on the style.
For panels that hang on tracks: 5-10 minutes per window. You'll need to take the panels out and hang them.
For colonial or Bahama style: 2-5 minutes per window. Simply close them and latch them shut.
For roll down or accordion: 1-2 minutes per window. The most expensive choice, but also the fastest to batten down and the most durable.
Ready to start your
Storm Shutter Installation

?Find Pros
No Comments Yet